Posted on
Heavy, persistent showers wreak havoc throughout SVG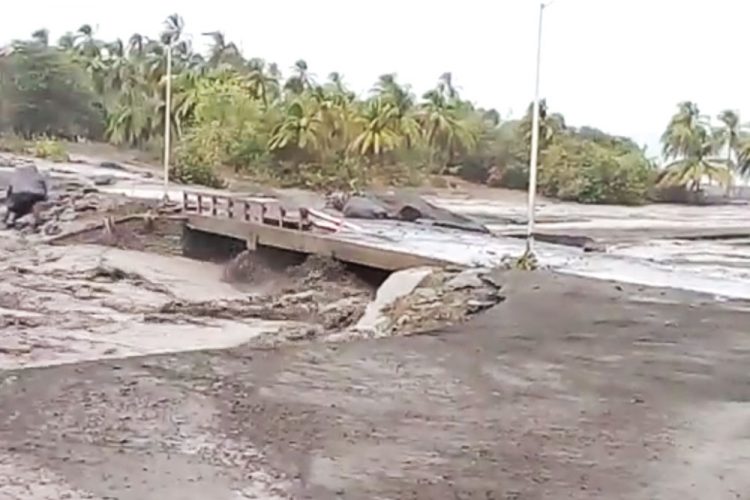 Landslides and severe flooding affected various parts of mainland St Vincent yesterday as a consequence of torrential rains that began to beat down on the country on Wednesday night.
Local emergency management authorities are cautioning members of the public to remain safe by avoiding sightseeing and staying off the roads, as these heavy rains are expected to continue into the weekend.
When Vincentians woke up on Thursday morning, they were greeted with videos of significant flooding in several well-known areas in the country, including at Heritage Square, the decommissioned ET Joshua airport, now known as the Joshua Centre, and at the Rabacca Bridge.
A release from the National Emergency Management Organisation (NEMO) yesterday, April 29 after midday said "rainfall accumulations ranging from 75 to 125mm (three to five inches) have already occurred over some parts of St Vincent and the Grenadines during the past six hours and a further 50mm (two inches) with isolated higher amounts are possible across the island over the next 24 hours after which a gradual improvement can be expected".
In the videos circulated on social media, parked vehicles in the streets of Kingstown were surrounded by flood waters and debris, and the rails of the Rabacca bridge were bent and out of place as muddy waters raged under the sole bridge connecting the Northern communities on the Windward side, to the rest of the island.
Motorists slowed as landslides affected the road ways including at Casson Hill, Arnos Vale and on the Villa stretch.
At least one Rockies family narrowly escaped to safety as a landslide enveloped their home, while another house in that area was also affected significantly by floodwaters.
And as a result of accumulated volcanic ash on the roofs of some houses, homewoners have reported that their roofs have caved in under the weight of the wet ash.
Others in several parts of the island also reported having experienced power outages yesterday morning.
Members of the public were being advised to exercise caution, especially those living near rivers, streams, and in areas prone to landslides as flood waters are dangerous and can result in loss of lives and property.
Residents, especially in the yellow, orange and red zones are particularly advised to avoid areas within the vicinity of rivers due to destructive mudflows (lahars).
A weather advisory remains in effect and the Met Office is urging residents to be alert for possible impacts resulting from rain-soaked ash.