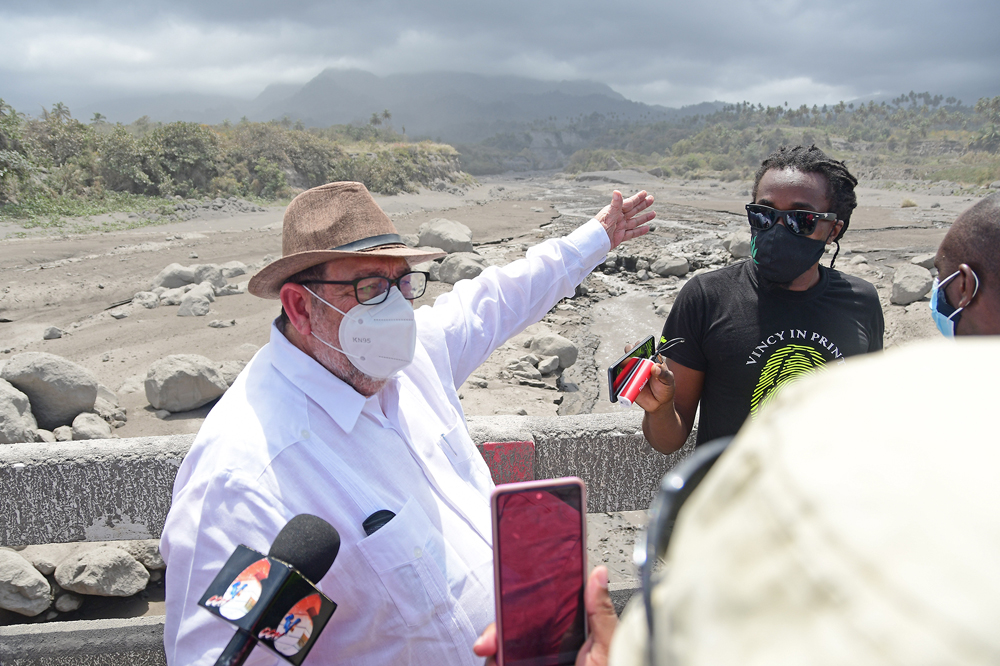 Front Page
April 20, 2021
SVG struck terrible blow from Soufriere's fury
Prime minister (PM) Dr. Ralph Gonsalves has described as a "terrible thing" seeing the areas that have been severely affected by La Soufriere volcano.
Using words like "wasteland", "challenges" and "problems", the PM told a group of local, regional and international journalists that the ash-fall from the erupting volcano is creating several issues, including contaminating water supplies and destroying houses and crops.
Standing on a bridge in Georgetown on Saturday, Gonsalves said a lot of poor and working people have lost their homes and it will take "several months" to get things back to normal.
The Prime Minister is also warning persons to be wary of La Soufriere as at times it may seem as if the volcano has gone into a lull and has stopped erupting, but that is when it is most dangerous.
"This is a dangerous period for life and limb. In Montserrat a few years ago, the people who died, died when you had a lull like this and decided they were going to go back to their homes, and when the Soufriere blew again, cataclysmically, when it blew again violently, that is when people got covered in ash; and also in the case of Monterrat the areas where persons went back to, there were pyroclastic flows," Gonsalves warned.
He said this country has sustained millions of dollars in damage so far.
"There are hundreds of millions of dollars of assets at risk in the red (zone), in the north east and north west and in the orange zones because we have a lot of agriculture," Gonsalves pointed out.
He noted that agriculture is shot through completely in the red zones.
"There is nothing there…breadfruit, coconut, fruit trees the other forms of fruits and vegetables are covered. Yams, dasheen, tannias, root crops of one kind or another, those are covered over in ash.
"A lot of animals, as you go further north have died, and then houses, especially for the poor…" the PM said noting that roads and at least two bridges have been badly affected.
Gonsalves, who is also the Minister of National Security, said that public and private infrastructure and animal husbandry have suffered tremendously and a lot of people cannot work.
"We have to provide social safety net support. It is a huge undertaking.
"Way in the northeast, agriculture has to start afresh…" Gonsalves stressed.
He added further that cleaning and replanting will take months.
"It is a major, major operation ahead of us," he stressed, however, he does not want to use the word 'crisis'.
"A crisis for me is a condition in which the principals are innocent of the extent of the condition and have no clear ideas as to the way forward.
"We are not innocent of the condition in which we now find ourselves, and we have credible ideas of how we get out of this…
"We can't speak in a language of lamentations because if we do that, you will take away hope, you will take away a sense of faith in yourself…," the Prime Minister said.