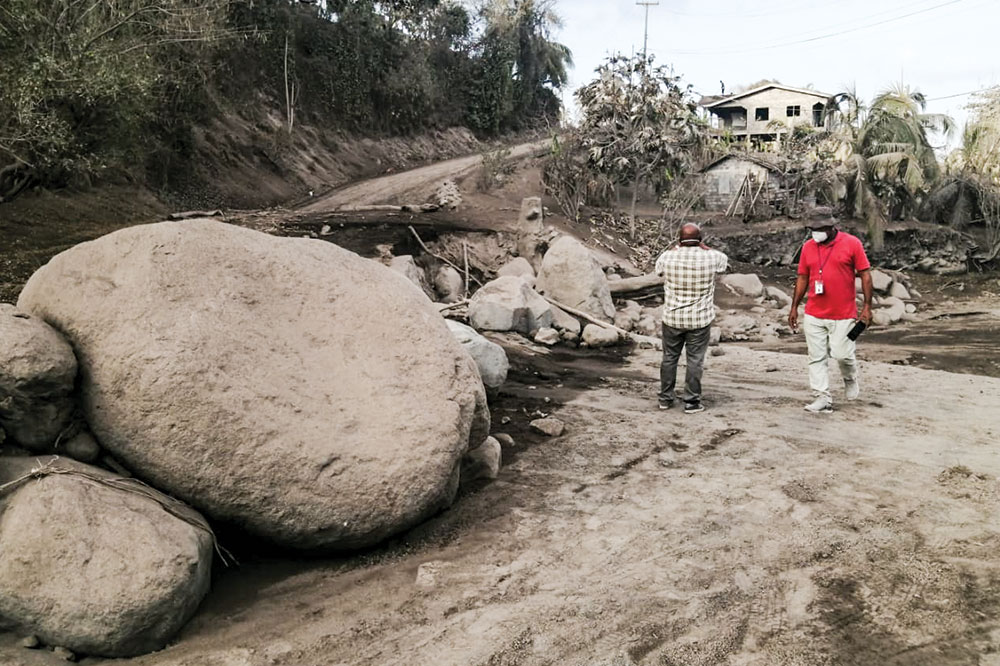 Front Page
April 16, 2021
Farms gone, tree crops stripped bare – Minister Daniel
Farms are gone, and tree crops stripped bare in North Windward, Minister Montgomery Daniel says.
The Deputy Prime Minister, on NBC radio on Monday, April 12, recalled driving to the North on Sunday, April 11, reaching Colonarie first, where there were a "number of stones still falling down."
He drove to Georgetown and then the Rabacca River, which was steaming from hot materials, and eventually beyond Rabacca.
"..what I saw, it was indeed terrible – It reminded me of times like in 2010 when Hurricane Tomas swept," he said.
"What you would have seen is that the forest areas, both primary and secondary forests, all are gone that is very close to the Soufrière volcano. You come down onto the farm, and the farms are basically gone," the Minister and representative for North Windward said.
"The tree crops, they have been denuded. There is only, in some cases, their stems that are standing," he said, listing soursop, coconut, breadfruit and mangos among the tree cropss that have perished under the soufriere's fury.
"Things like plantains and bananas, all those are gone."
When it comes to root crops like arrowroot, Daniel reckoned, "the ash fall in some areas would have been so deep that all of the vegetation would have been covered with these (types of) crops – whether it's arrowroot, yam, tanias, dasheen, ginger, you name it, all of – there's not a single blade on the outside on some of these farms."
He described the farm areas as being "levelled".
"There is not going to be much food in that area," the Minister concluded.