Posted on
PM Gonsalves lauds efforts of evacuation personnel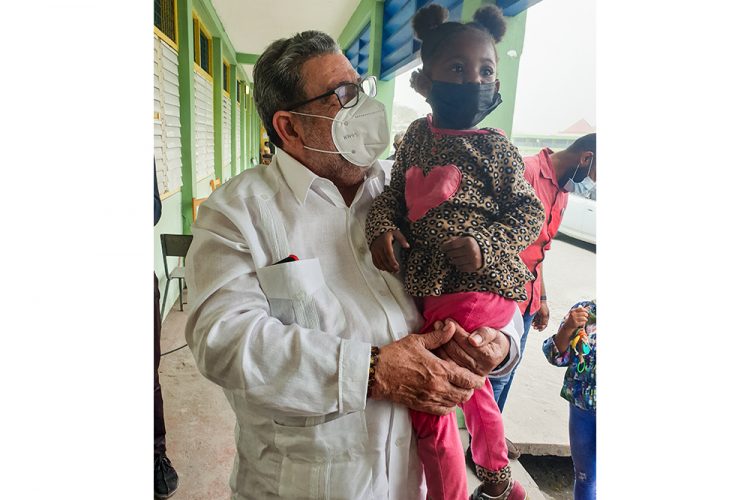 Prime Minister Dr Ralph Gonsalves, on a visit to some emergency shelters on Saturday, said that personnel charged with evacuating persons from the red and orange zones have done well.
"…in that nobody get injured, nobody dead," Dr. Gonsalves told persons at the Thomas Saunders Secondary School (TSSS) shelter on Saturday morning.
On Thursday April 8, Dr. Gonsalves issued an evacuation order for persons located in the red zone of La Soufriere volcano. The order was issued under Section 31 of the National Emergency Disaster Management Act, Chapter 388 of the revised laws of St Vincent and the Grenadines (SVG).
The volcano erupted explosively on Friday April 9.
Dr Gonsalves visited several of the shelters on Saturday where he mingled with, and spoke to evacuees. He said that phase one the evacuation, was successful despite some persons refusing to leave their homes in the danger zone.
The PM noted that phase two involves taking care of the persons in the camps, and one of the problems being encountered is that sometimes shelter managers may cater for a specific number after which, others arrive and things like food and sleeping accommodation are affected.
"All I'm asking is that everybody be calm, be patient. I know you would get frustrated, I get frustrated to…," PM Gonsalves said while noting that he understands how persons could become annoyed being in a strange place while worried about their property and other belongings under threat of destruction by La Soufriere.
The PM said he has made arrangements for some elderly persons, and persons with children to move to guest houses and hotels rooms.
"We have organized 800 such rooms.
If everybody take up on that, it going to cost about a million dollars a month for that accommodation, and the persons are giving good rates," Gonsalves commented. He proceeded to take down the names of persons who he thinks should be housed in these accommodation.
Approximately 3200 persons are in local shelters and PM Gonsalves noted that over 16,000 persons have evacuated, but most have gone to the homes of friends and family, while some have gone to rented accommodations.
At the TSSS shelter, PM Gonsalves met Sweet-I Robertson, a paraplegic young woman who in 2009 as a secondary school student, was crippled by a gunshot on her way home, caught in the crossfire of two rival gangs.
Over the years, the PM has helped the former star athlete, who has to use a wheel chair to get around, to achieve some of her dreams, including attending the community college.
The PM said that Sweet-I and several other persons he has encountered at the TSSS shelter, would be better accomodated at hotels or guest houses. He spoke with the young woman who seemed to be in high spirits.
From the TSSS, the PM moved to the Calliaqua Anglican School shelter where he met with persons from Sandy Bay, Owia and Georgetown.
One elderly gentleman expressed to the PM that he was concerned about persons who were refusing to be evacuated.
At the Calliaqua shelter, Minister of Finance Camillo Gonsalves, told reporters that conditions at the shelters are improving as the days go by.
He said that initially, the shelters registered a need for cots and mattresses, while there were hiccups in the food supply, but those things have seen improvement.
"There are some local volunteers, caterers and other members of the community who have stepped up," the finance minister said.
"I think that there has been tremendous difficulties, people have been displaced. People are worried about their homes, but the spirit has been good, and people recognize that this is an extraordinary situation," Gonsalves commented.
He added also that the government is financing the process partly through the contingency fund, money put aside to deal specifically with the eventuality of a disaster.
"In excess of $35 million is currently in that account. That is money that we can draw down on immediately," said the finance minister who added that in discussions with the World Bank a few years ago, he asked that they not put all of the country's allocated money into projects, but set aside US$20 million that the government can draw down immediately in the event of disaster.
He said that when the COVID-19 pandemic hit, there was a lot of pressure on the ministry of finance to use that US$20 million, but they were aware that the volcano was acting up and the hurricane season was pending.
"We did the instrument yesterday to access that money. That money will be in our account on Monday morning so we will have $54 million in the account there.
"We have the other $30 plus million that we raised locally from the one percentage point on the VAT and the money that we have been charging to hotel rooms. So in the aggregate, we will have close to $90 million immediately that we can access," Gonsalves said.
He said further that the government in responding to the disaster is liquid, as they have the money in hand, so it is possible to keep those affected by the volcanp as comfortable as possible.