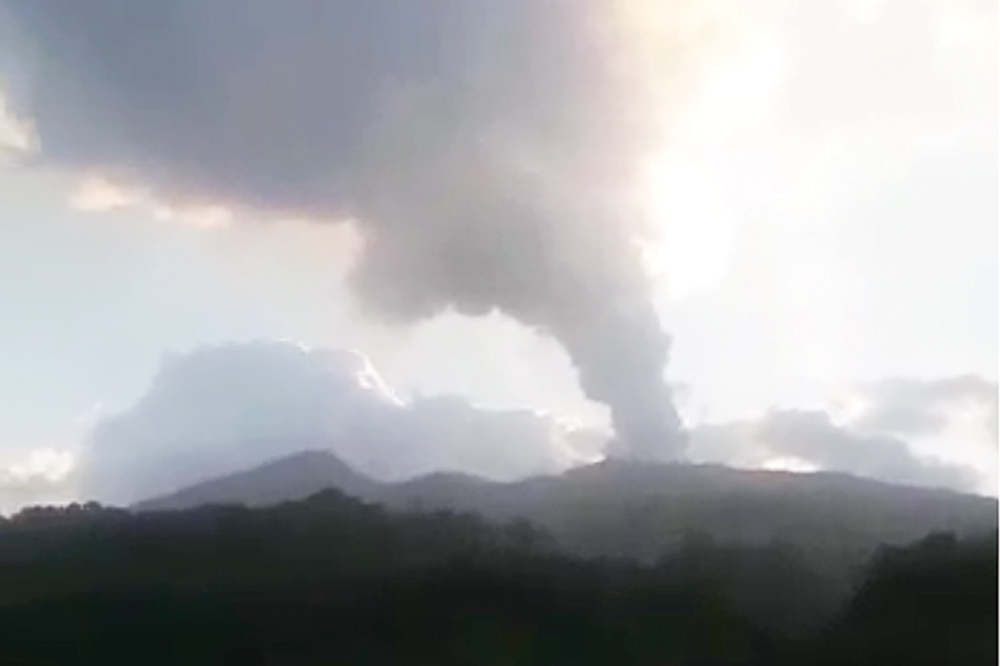 Order given to immediately evacuate Soufriere Red Zone
Thousands of Vincentians are currently being evacuated from their homes as a result of further increased activity at the Soufriere volcano.
And, St. Vincent and the Grenadines's (SVG) neighbors, as well as countries with which we share diplomatic ties, have come to our assistance in our time of need.
On Thursday, Prime Minister Dr. Ralph Gonsalves who also has responsibility for disaster preparedness, issued an evacuation order for persons located in the red zone of La Soufriere- leeward and windward communities.
The volcano has been erupting effusively since December 27 last year, and on Thursday volcanologist Dr. Professor Richard Robertson, of the University of the West Indies Seismic Research Unit, said at a press conference called by Prime Minister Dr Ralph Gonsalves, that at about 3 a.m. (April 8), there was another change in seismicity at the summit of the volcano.
Persons are being evacuated from the designated red zone areas by land and sea by several private and government owned vessels and vehicles.
With evacuees numbering over 20,000, neighboring islands, St. Lucia, Barbados, Grenada and Antigua have offered to house persons.
Also offering assistance in other areas like transportation and logistics are the United States Southern Command, Venezuela, Cuba and the Regional Security System (RSS).
PM Gonsalves said in a press briefing from Cabinet Room on Thursday that he has been in touch with the Cuban authorities, the RSS and he has already spoken with Barbados's Prime Minister Mia Mottley and St. Lucia's Allen Chastanet.
During the press briefing ,he noted that Antigua and Grenada have also given a commitment that they will take Vincentians for a period of time, although he is not certain of the exact number of persons that will be evacuated.
Grenada has offered a facility that can hold about 1800 persons, Antigua 500 (a hotel) and St. Lucia between 250 to 300. Persons are being housed at local shelters and in addition, the Royal Caribbean Cruise Line has offered one or more ships for transportation purposes to Barbados.
Gonsalves said that Professor Robertson estimates that if the volcano erupts explosively, the country will have a period of about four months in which it will likely be in a condition of evacuation.
"Hopefully it would be a shorter period, but that is his estimate," Gonsalves said while noting that persons who go to Barbados or St. Lucia will have to be vaccinated against the COVID-19 virus.
He said that St. Lucia will vaccinate persons when they arrive there, while the cruise line has indicated, through PM Mottley, that persons who will be on the cruise liner will also need to be vaccinated.
"We have also activated a contact which has been made to us by a cruise line to make available one or more cruise ships to hold persons, in addition to those who will be put in shelters," Gonsalves said while noting that a lot of space is needed, and the process entails a lot of logistics to move people and house them.
"We can't do the evacuation and the housing of persons in any slipshod manner. We have to do it in a proper way," the PM stressed.
"I want to say that we do not need to panic. We need to be calm. We need to be disciplined. We do not have any contentiousness.
"We don't need to have any confusion. If we are all calm and disciplined, fortified with our belief in almighty God, and that his grace will see us through, then we are going to be fine, and we will rebuild this country as we rebuilt after 1979 if the worse happens," the PM told the nation.
He added that this is a massive exercise and not everything will go perfectly and there will be challenges as is expected in every aspect of life and living.