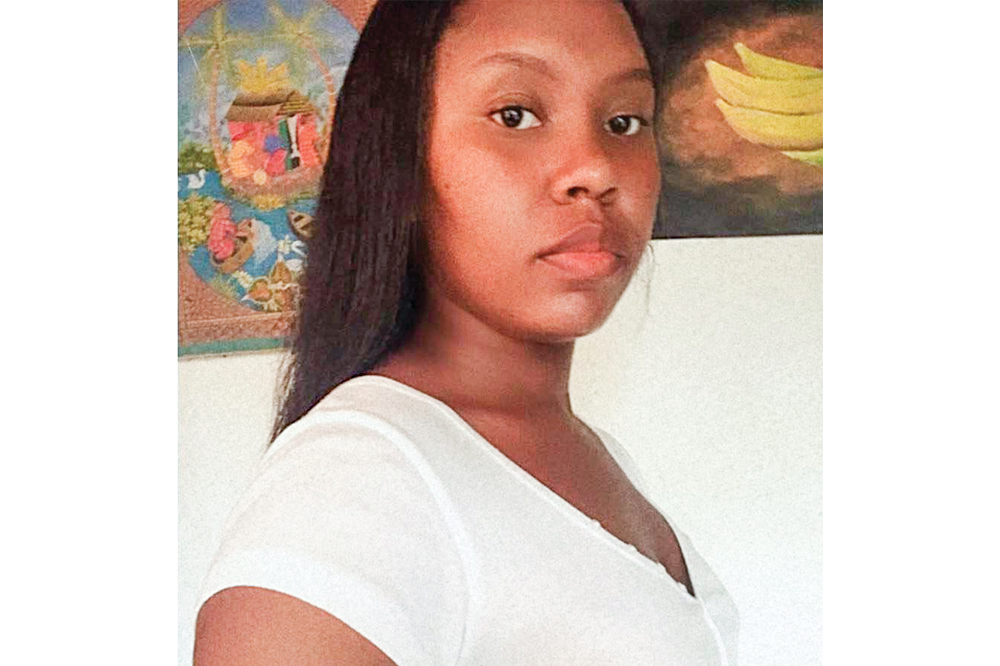 My cousin beat, raped me – victim
A Bequia woman who alleges that she was raped by a family member, is urging persons to stop sharing the sex tapes of her which are currently making the rounds on social media.  
She is also encouraging persons to log on to her Facebook page, Oleen Horne, and share her live video where she explains how she was manipulated, threatened and raped for months before gaining the courage to speak out.  
Horne explained that a few years ago she met a man and they began speaking. She said the man gave her a wrong name but later told her he was her relative. She said she told him they could not have a relationship and he seemed okay with her decision.  
Horne said that one day in 2019, she had a dental appointment and the man offered to take her and she accepted the ride.  
"He didn't show any signs of anger or anything… and you know what happened? I am not telling you no lie, he kidnapped me, he didn't carry me to where he said he was gonna drop me off, where I intended to go," said Horne.
 
She said he took her phone, and locked the vehicle doors and "he became a whole other person."
Horne said she was forcibly taken to a hotel on the Windward side of the island where she was beaten.
 
"This guy he beat my head to the ground, he kick me, he slap me, he box me, anything possible, he put a belt around my neck, he tried to poke out my eyes, and he did this for hours," Horne said while displaying a photo of the alleged abuser.  
"What this man did to me was unacceptable and I am tired of staying quiet…I am fed up and I am letting people know what really happened. So when you all sharing those videos and those photos you would know it was not consented," Horne said on her Facebook page. 
"This man is insane and he told me he is going to rape me again and I have the screenshots of the messages from him telling me that he would rape me again…," Horne said while adding that her abuser is releasing selective videos where she is not crying, and holding back the ones where she is screaming and pleading.  
She said she did not press charges because she did not want to upset another family member.  
"That was my worst mistake. I Oleen Horne, I have a big heart, you know, I have a really big heart, and I just don't know when to not forgive, so I forgave him and I said I not  going to press charges".  
She said her abuser is tech savvy and when he kidnapped her, he kept her phone, and she later realized that he had hacked into it.  
"He went back to Canada and he was like, he had control over my phone," Horne said while noting that her alleged abuser had different WhatsApp applications and generates phone numbers that he used to message and torment her.  
"The whole of last year, I have been suffering with depression, anxiety, everything, because I was being blackmailed. You know, I had to do crazy stuff for this man," Horne said while noting that he had taken images of her, and she knows what society does to persons whose nudes and porn videos are made public.  
She said that apart from the fear of having her naked body all over social media, she was also afraid of the physical abuse for which he has medical records.  
Horne said that in November 2020, her alleged abuser came to St. Vincent from Canada where he lives.
 
"Now anyone who knows me, I am very timid, I'm fearful of everything, literally I am afraid of chickens. He used that against me, he manipulated me, he blackmailed me, anything possible. I am tired of staying quiet, I'm telling everybody what happened," Horne stated.
She said her alleged abuser took her phone and was contacting her friends and forcing her to tell persons she had "12 man" so they wouldn't want to speak to her.  
"He made me tell these people I am having sex with six of them and I am doing this and doing that," Horne said but added that she would rarely leave her home.  
She said one day she was beaten in her head and forced to do things she did not want to do.
 
"I know usually when people say, 'man if I ever in that situation, he can't do me this, he can't do me that' but listen me, until you in that situation, you really, it's like I was paralyzed, I couldn't think, I couldn't move, I couldn't defend myself in no way possible," Horne lamented.
 
She claimed that one night he threatened that he was going to take her to be raped my multiple men, then took her to a building at Ratho Mill, told her nobody could hear her screaming, and put a knife to her throat.  
"..and it was either I do or I die and I didn't want to die so I chose to do," she said insisting that she was raped.
She claimed that a recording of a man and a woman having anal sex that was released on social media last week is not her and she is begging persons not to send the pornographic videos that are circulating of her to her phone.  
  "I want to clear the air as to what happened because people seem to think this is something that I did willingly and it's not." and I am here to show you guys.
 
In a written post, Horne said, "for months you have been silencing me. I have cried myself to sleep so many night! You knew exactly how to manipulate me because I am naturally a very coward and timid person.   
"For months I had to act as though I was okay with being with my first cousin, my rapist because you told me so. 
 
"You have about 12 girls prostituting themselves, and they dare not tell you no, otherwise you will punish them by releasing videos of them. You have been doing this for years. They have to deposit all the money that they get from those men into your account. And if they don't, they get punished. I HAVE PROOF!".  
The matter has been reported to the police.