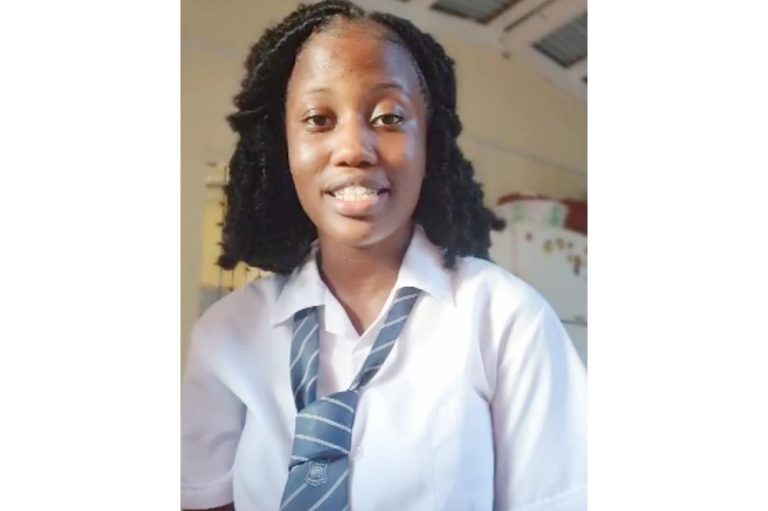 Vincentian lass confirms her public speaking prowess (+ Video)
Marika wins again!
Marika Baptiste continues to demonstrate her public speaking prowess, and in her latest effort she has called for more to be done to encourage women to participate in politics in St Vincent and the Grenadines (SVG).
Baptiste, a fifth form student of the St Vincent Girls' High School is the 2021 winner of the United States Embassy's fourth annual Black History Month secondary school speech competition.
The competition is held each February in recognition of Black History Month and this year, secondary school students from Barbados and the Eastern Caribbean (EC) were invited to give speeches on leadership and how women of colour have broken through barriers to achieve success.
Due to the COVID-19 pandemic, this year's competition extended the field of participants beyond Barbados to the Eastern Caribbean and students were required to submit recorded videos
This is the first time that SVG has entered the competition.
In her three-minute presentation, the teenager, a resident of the north eastern village Fancy, noted that the late US court Supreme Judge Ruth Bader Ginsburg once said that women belong in all places where decisions are being made.
"Yet here in St Vincent and Grenadines the parliamentary representation of women is notably minimal," Baptiste stated, while adding that in 1957, a mere six years past adult suffrage, the honorable Ivy Joshua blazed the trail by becoming the first woman to win a parliamentary seat in SVG and later, the first woman to hold onto to it for five consecutive elections.
"This was a momentous achievement for a woman in a male dominated society, steeped in colonialism and gender roles that erroneously said, 'a woman's place is in the home'," Baptiste stated.
She however noted that being of a darker skin tone and possessing no formal education, Joshua became a figure of ridicule and was deemed unfit to be the leading lady of the day, and so despite her phenomenal achievement her name is hardly ever mentioned or given the respect it deserves.
"This is one of the reasons why I, a young Vincentian female, do not believe that enough is being done to encourage females to aspire for careers in politics.
"Woman are often seen at the forefront vocally supporting their parties, being cheerleaders and organizers but how often are they actually seen contesting in general elections?" Baptiste questioned.
She also noted, "this lack of female candidates, I believe, is tied to gender roles that still project that politics and power are male domains."
In the last General Elections in SVG, four women contested, two from the Unity Labour Party (ULP) and two from the New Democratic Party (NDP). None were successful.
Baptiste said in her speech that the onus is on policy makers to dismantle stereotypes that see women as bystanders and men as go getters. She said this can be done by creating a curriculum that supports an encourages female participation in non-traditional fields.
"A popular quote states that behind every successful man is a strong woman. But why should we, as women simply be content to stand behind a man? Why aren't we encouraged to break gender roles without having to face societal backlash for doing so.
"Too often is it seen where woman are bashed for stepping outside societies' expectations for them while men simply do as they please," Baptiste said.
The scholar, who is the reigning Lions Club St Vincent South Flow Secondary Schools' National Public Speaking champion, said in her most recent speech that she is encouraging all Vincentian women to aspire to not just blindly follow rules, but to be involved in making them.
"Like woman such as Honorable Valcina Ash, Honorable Rene Baptiste, Honorable Girlyn Miguel, Honorable Judith Jones Morgan St. Vincent's first female Attorney General and Her Excellency Susan Dougan St Vincent's first female Governor General just to name a few, because as Michelle Obama once said, 'there is no limit to what we as women can do'," Baptiste said in her winning piece.
The lass, who is also an accomplished athlete and her school's reigning victrix ludorum, submitted her three-minute speech to the US Embassy on February 24.
"I am elated. I think it's a great accomplishment because it is the first time the competition was extended to other countries so to win it, I am very proud," Baptiste told SEARCHLIGHT on Monday.
Baptiste started taking part in public speaking contests as a grade one pupil of the Fancy Government School and has won 10 such competitions so far.
Apart from giving the GHS a hat-trick in the 2020 Lions Club St Vincent South Flow Secondary Schools' National Public Speaking Competition, she also took the top spot in the Methodist Church Youth Month Public Speaking Competition in 2019, as a member of the Chauncey Methodist Church Youth Group.
She said that she learnt about the US Embassy's competition from a friend who is a Ranger Guide, and her guardian Carleen Heather Marshall, with whom she resides at Rilland Hill, was her speech facilitator.
"I came to the conclusion that women are left out of politics because you don't see many women contesting elections," Baptiste said while noting that it is time that changes.
Baptiste won the competition from a pool of entries from seven countries.
"Fifteen-year-old Marika Baptiste's speech shined brightly. She gave a passionate explanation of the importance of the role of women in politics, challenging the women of St Vincent and the Grenadines to 'not just blindly follow the rules, but to be involved in making them', "an Embassy release said.
Baptiste was rewarded with a prize package valued at US$1000. It comprises of a tech suite including a laptop, printer, Bluetooth speaker, wireless mouse and 64GB flash drive, along with a trophy and books. She also won a desktop computer for her school.
In second place was Tahirah Mann of the Harrison College in Barbados while Asaiah Yankey of the Portsmouth Secondary School in Dominica and Dejonte Stephen of Presentation Brothers College in Grenada tied for third place.