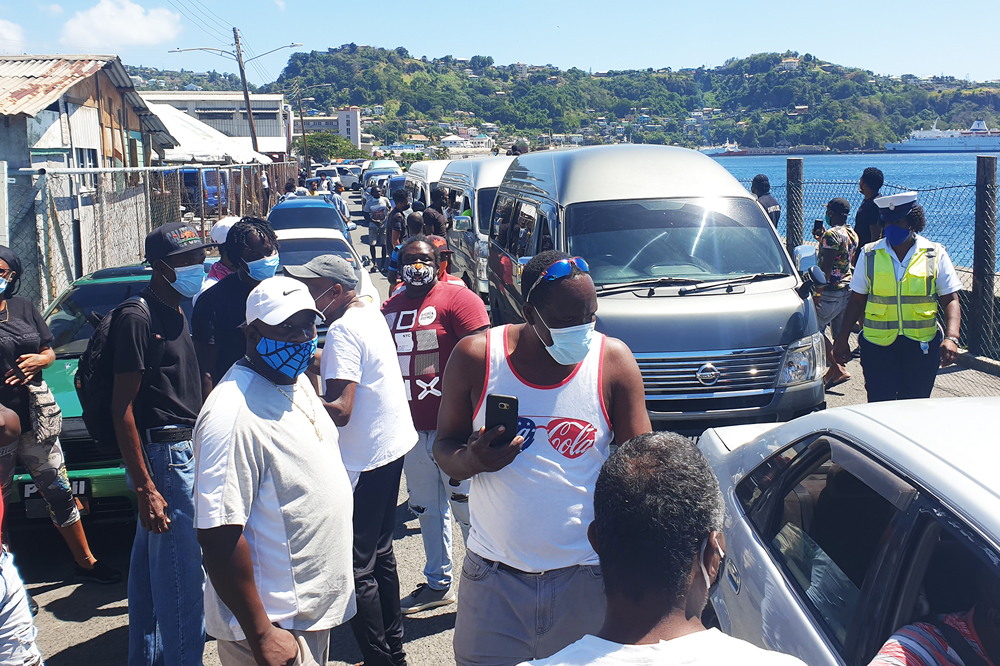 Front Page
February 16, 2021
Minibuses stage strike in SVG
Buses on strike!
by Lyf Compton
Yesterday, minibus drivers protesting the government's COVID-19 public transportation protocols created traffic jams and havoc on some of the country's main roads.
Bus operators from throughout the length and breadth of the country formed long lines as they drove slowly through the streets, in some instances bringing traffic to a halt.
Several van drivers involved in the protest were ticketed for blocking the road and at least one man was detained.
Lower Questelles resident Omar Phillips, a conductor, says he was born into the van business and has been doing it all his life. He said that minibuses are part of Vincentian fabric and they help out persons on a daily basis.
He said his business is not always about collecting a fare, as sometimes they give free rides to persons who are in need, but with the new protocols which force them to carry only half of the load they're licensed to transport, many people are suffering, not just owners.
"Right now we trying to make sure everything normal. People nah go see it so, ah nah. But we see it so because hear now, when everything been nice and everybody been ah get free ride from van, and this and that, nobody nah been ah say nothing.
"Now we have to carry eight, we can't give nobody no free ride and plus is a waste ah time, is ah extreme waste ah time because we get tire to buy, we have to buy gas, we have to buy brakes, disc pad, all kinda thing we have to buy," Phillips said while standing outside the Leeward bus terminal.
He said many persons think that van operators have it easy and make a lot of money, but that is far from the truth.
"Which par we ah make the most money? Especially [a total of] eight dollars a trip now. So way me gwine Campden Park again for?
"This is the worse time ever inna me life, me hate van right now, trust me. Nah no joke thing," Phillips lamented.
He opined that minivan operators are being taken advantage of during the pandemic.
"The people them just get this mentality that they can do we anything …we does give the most free ride. You could hungry like wah…go by a supermarket and ask for something to eat, go by the gas station all the days you ah buy gas and ask them for a drop of gas, see wah gwine on…but everybody could come and ask for a ride and get it. We have to come together and look into the thing and do something better for van man," Phillips offered.
The Rapid Response Unit (RRU) of the Royal St Vincent and the Grenadines Police Force (RSVGPF) were out in full force yesterday. Some vans carrying more passengers than the COVID-19 protocols allow were pulled over and the passengers asked to get out.
Several van drivers involved in the protest were ticketed for blocking the road and at least one man was detained.
Shane Williams who plies the Campden Park to Kingstown route said they decided to protest because of the new protocols and the fact that no one is helping them.
"Them ain't come with no kind of package at all to assist the van drivers. Because now instead of trying to help we, they trying to take money from us because they have these new ticket books that they saying they could charge we if we break the protocols," Williams complained.
He said vans are operating at a loss as sometimes you can get eight passengers and sometimes none.
"I working the Campden Park area so one trip for me is [a total of] eight to ten dollars and this is a gas van, so all the money I putting back in gas," Williams said while adding that they were waiting on the Vincentian Transportation Association (VINTAS) to address the issue but the organization is moving too slowly so they decided to protest.
A meeting will be held with prime minister Dr Ralph Gonsalves today on the issue and Williams said they are hoping to send the message that they are small business owners and should not be made to cut their income in half without a subsidy.
"Bare pressure," another van owner, Xavier "Bad Feelings" Bowens told SEARCHLIGHT when asked why he was protesting.
"Slow; can't pay bank, hardly could buy tire and them want to tell we bout carry seven. They need to do something better than that, me nah mind carry 13," said Bowens who runs his van from Sandy Bay to Georgetown.
He said something better needs to be done and he is willing to protest for as long as it takes.
President of VINTAS Royron Adams noted on Monday that the actions being taken by minibus operators is an indication of the severity of the challenges.
He said the meeting with the Prime Minister today will see the executive advocating for relief for members and several things can be done by the government to produce results that are favorable to minibus operators.
He spoke about addressing the gas price, the possibility of a subsidy, the license fee, the cost of traffic tickets and duty free concessions.
"These issues if discussed, we can find a solution," Adams said while adding that the situation as it is, is not about a quick fix, but about recognizing the challenges now and issues that may arise.
On Friday, February 1, minister of health St Clair "Jimmy" Prince announced that St Vincent and the Grenadines (SVG) now has community spread of the coronavirus, causing public health officials to mandate that minivans carry only half of the passengers that they are license to transport.
Then on Friday, February 5, Government gazetted Statutory Rule and Order No. 4 of 2021-Public Health (COVID-19) Rules 2021, which gives the police the power to ticket persons who act contrary to these rules.
A person who drives or rides in a public service vehicle without a face mask, "fitted to his face so as to cover his nose, mouth and chin" can be fined $100.
Drivers can also be fined $100 if they drive a public service vehicle which is carrying a passenger who is not wearing a face mask. The driver will also be fined $100 if their vehicle carries more than 50 per cent of the persons for which the vehicle is registered and licensed to carry.
Expected to attend today's meeting on behalf of VINTAS are Adams, vice president Eldon John, public relations officer (PRO) Wade Charles, secretary Kelvin Andrews and committee member Rohan Scott.