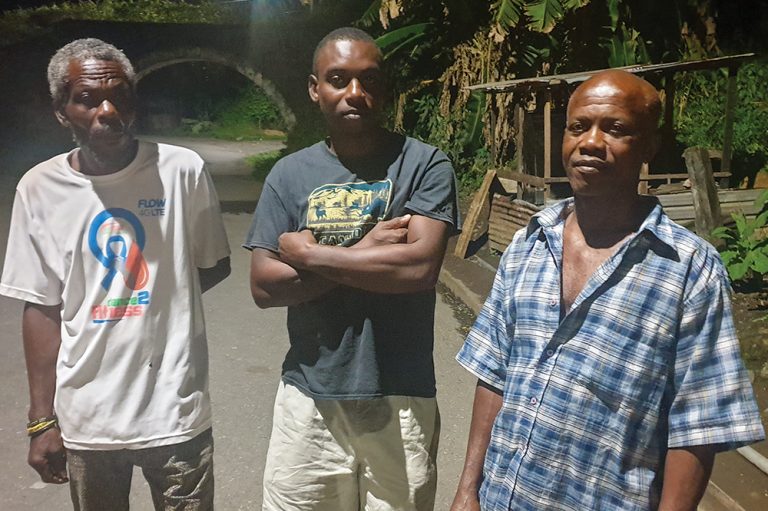 Front Page
January 21, 2021
Volcano's red glow causes panic
by Lyf Compton
The panic and chaos that took place last Saturday in North Leeward after a red glow was observed coming from La Soufriere was fuelled by lack of information and fake news spread on social media.
On Tuesday, Dain Walters of Fitz Hughes told SEARCHLIGHT that it became very "hectic" on Saturday night when persons observed the red fiery glow coming from the volcano that sits on a perch looking over the North Leeward community like a god.
He said it was not the first time he had seen the glow and he knew exactly what it was as he has been following the news and updates on his phone since the volcano started erupting effusively.
"It is very important to listen to the radio. Plenty ignorant people dey pon the streets and plenty propaganda. The thing with people on the streets if you say 'A', them don't know what 'A' mean and them does just act from your 'A' what you say.
"It was hectic, real crazy, people start to run up and down. People start to go for bag. Screaming like something really happen," Walters said of the scene in his village last Saturday.
He said he told some of his friends that since the arrival of Professor Richard Robertson and other scientists from the University of the West Indies Seismic Research Unit (UWI-SRC), they have been speaking about the possibility of a glow and its origins.
"…But just mean people nah really pay attention to dem thing dey.
"When people start to act up, I dey normal. Me sit down same place, me nah move. From the block ah straight home me go and sleep," Walters said.
He noted that he first saw the glow about two weeks ago and it can be seen at nights once the sky over the volcano is clear
Also speaking to SEARCHLIGHT on Tuesday, amidst the strong smell of sulphur coming from the volcano, was a man calling himself "Noriega".
He said he saw the glow after 9 pm and that was the first time he had seen the sky look like that since the volcano began acting up.
"People say Soufriere ah blow but me know that wasn't no explosion because normally you would see smoke and fire," he said while adding that he was a boy of around 11 when the volcano erupted in 1979 so he knew what an eruption looks like and did not panic.
With a laugh, he said he saw persons running in the streets with bags and suitcases.
"Me just dey right here humble. Me just tek out a spliff and bun he," he said while adding that the panic ended after about two hours.
Noriega however noted that the volcano has many persons in the community "jumpy" but even if it becomes explosive he will not leave his home as he did in 1979 when he went to Barrouallie to a shelter.
He said the situation at the shelter was not ideal so he left and went to an aunt's home.
Fitz Hughes resident Godfrey Grandison said the sight panicked him as he had never seen the glow before Saturday and it brought back memories of the 1979 explosion when he was about 18.
"I think it was fire how it go up in the air. So when I see that now I go and wake up by family and tell them Soufriere in action.
"I never really frighten, but is how I see people talking and I see a girl coming up and say 'Soufriere in action pack up pack up' and me go and tell them (family) aryo come out," Grandison said.
He said he saw persons with bags, and trucks began mobilizing so he did the same as he had never heard about the warning that the dome would glow.
He said that if the volcano explodes, he will not be leaving his downstairs apartment unless the explosion brings strong earthquake and heavy rock falls. Grandison noted also that in 1979, there was heavy ash fall and the mountain was shaking.
Rose Bank resident Carl Alexander saw the glow after 10 pm only after someone called him from Kingstown and told him the volcano was erupting.
He said he decided to take a walk to see for himself and he called some friends.
He said he believes the panic was fuelled by phone calls residents received from family and friends in the Diaspora and people not living in North Leeward.
"Like that causing more panic than the people them from down here. When I go into the city and people ask me about the situation is like they more concerned and scared than we down here…the panic come from them ends," Alexander said while adding that he has been following the updates from Professor Robertson so he did not panic.
He said if the volcano blows, he will evacuate as he will not risk staying behind because he is not sure how big the eruption will be.
"If them not want to go, they will face the consequences," Alexander said of persons who choose to stay behind. He said an explosion can cause power outages and food shortage and he will not be risking that although he has a business that can be looted.
A dreadlocked man who did not give his name said he to saw the glow but did not panic.
"People down here going about life normal, but two things on their mind, corona and volcano. They just want the volcano to blow so they can get that over with and concentrate on corona alone," the Rastafarian told SEARCHLIGHT.
Professor Robertson has assured persons that the glow does not mean an eruption is taking place and should the volcano move to an explosive stage, they will try to give notice of at least 24 to 48 hours.
"This is natural because the volcano has been erupting and has been erupting hot material which has created a mountain of very hot material. The material is between 500 and 600 degrees Celsius. These materials naturally give off a glow," Robertson said last weekend.