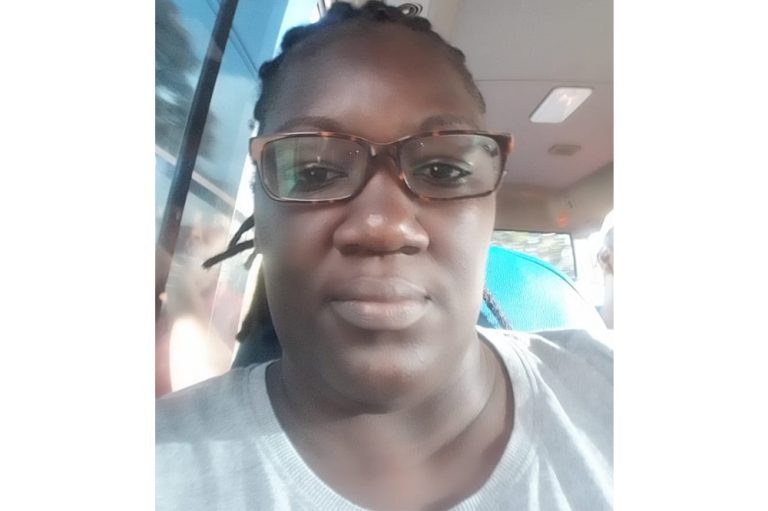 Front Page
January 21, 2021
Covid positive Lowmans Windward woman forced to sleep in school – No where to isolate!
by Katherine Renton
While social media buzzes about a Covid-19 positive woman who slept on cardboard in a school because she couldn't find an adequate place to isolate, the state is finalizing plans for more isolation accommodation for those in dire need.
The woman in question, when she spoke to SEARCHLIGHT yesterday, January 20, identified herself as 33-year-old Elizabeth Pope of Lowmans Windward.
Her plight became public on Tuesday, after she called into a radio station, Boom 106.9 FM, and relayed her story. Furthermore, a voice message she sent to lawyer Israel Bruce explaining her situation, was posted to social media.
The young woman explained in a telephone call on Wednesday, that she tested positive for the virus on Monday, January 17. After visiting someone at the hospital earlier that day, she began to feel weak, cough and experience chest pain.
After feeling this way for some time, she went to the Health Centre in Mesopotamia, where, upon hearing about her symptoms, the nurses told her she needed to be tested for Covid-19.
The test result came back positive.
Pope called her boyfriend, and told him about her having tested positive, and he came down to the health centre as well. She said they were given orders to quarantine and isolate respectively, and told if they broke them, they would have to pay.
When this was explained to her, Pope explained to the doctor that she could not quarantine at home.
Living in the same five-room house as her, is her niece's five-month-old child, her two children who are 10 and 12 years old, and her diabetic mother.
She said that she told the doctor about the layout of the house and that she could not "go round [her] family members."
At first, Pope told the doctor that she had somewhere she could go, but that did not work out.
"…When me and my boyfriend now make calls and so, the people them say they cannot do that, they will be in trouble, we cannot come there," she stated.
At that point, the doctor had left, she said, but the nurses called him. "He (the doctor) said we have to find somewhere to go, he cannot help me with that," Pope claimed.
"I was so frustrated, the condition I was, I was crying, I did not know what to do," she said.
Pope apparently made several calls to persons, and was given numbers for hotels.
Some of them she didn't get through to, and other hotels were full. A worker at one hotel apparently told her "the amount is $4000 and something dollars and if I have to get something to eat, it will be more."
"I said miss you sure you check that right?," she said, and that the payment information was repeated to her.
"God in heaven knows!… this is the truth," she continued.
One of the persons she contacted was lawyer Israel Bruce, who advised her to go to the Argyle Isolation Facility, tell them her situation and then not to move.
"When I call back the nurse, she say out Argyle is full, I start to cry," the young woman said.
"I say I don't know what else to do. Well I left and I went by the primary school in Mesopotamia," the Lowmans Windward resident said.
When she went on the radio with her problem, she was criticized for this.
Pope confirmed, "I was scared, I was frightened, I don't know what else to do. That's why I went by the school. I slept on piece of cardboard, I was not in no class."
"Today I have a lot of enemies because I did that, people say I don't have sense, I'm stupid, and this and that," she commented.
"Never mind," she concluded, "I did this because I want accommodation and need help to get myself somewhere because I can't go around my family with this thing."
Persons also accused her of wanting money, but she said she wasn't trying to do this, and only wanted a place to isolate.
"Because the state I am in, I cannot go around my family them. I love my family, I cannot go around them with this thing, because it might get worse."
She believes if she did not go to the radio no one would have assisted her.
Her boyfriend was also told to quarantine. "..This is a country where not everybody is rich to have a big apartment," Pope expressed, and that where her boyfriend lives is a three-bedroom house, which is occupied by four or five children.
She and her boyfriend returned to the Health centre in Mesopotamia early Tuesday morning, before she went on the radio, as they were apparently told her boyfriend should be tested. However, that was a mistake and they instead told her that her boyfriend should quarantine for 14 days first.
They tried to work out how she could isolate at her home, but Pope said it wasn't possible.
Someone assisted her on Tuesday night, by allowing her to stay with them.
Yesterday, the 33-year-old was admitted to the Argyle Isolation Facility, continuing to have pain, coughing and headaches.
Meanwhile, Prime Minister Dr Ralph Gonsalves has revealed that the state is making arrangements for accommodation for persons who need to isolate, but do not have appropriate accommodation, having exhausted all other avenues.
The Argyle Isolation Facility, built to accommodate 24 patients, was being used to house such persons, and in some cases those who needed to quarantine as a contact of someone who tested positive, but did not have adequate facilities.
However, the number of Covid-19 positive individuals has been increasing, with 481 active cases as at January 20, therefore necessitating the need for health authorities to make further arrangements.
"The Permanent Secretary in the Ministry of Health (Cuthbert Knights) alerted me that he has concluded an agreement," the Prime Minister told SEARCHLIGHT on Tuesday, "and he told me the terms for I think it's a 25 or 30-room guesthouse."
The Prime Minister okayed the agreement, and told the Permanent Secretary that "he could go ahead and send the matter up to the Cabinet for me (Wednesday)."
"I suspect that if the numbers get larger we'll need more, and the demand grows significantly. You might have to have more than one such kind of a facility," he added.
"We can provide particularly in cases, persons who may not have the families or the family connections, or the resources, but you will have to circumscribe it naturally. The nature of circumscribing it isn't easy, but we have to do that," the Prime Minister also indicated.
The intended date for the guest house to begin operating is sometime in the upcoming week, as there needs to be cleaning, and placement of staff, including a nurse.
The Prime Minister reiterated that in appropriate cases they are "certainly going to seek to provide some accommodation", but he also noted "this is not supposed to be the first port of call, you'd have to exhaust your family members."