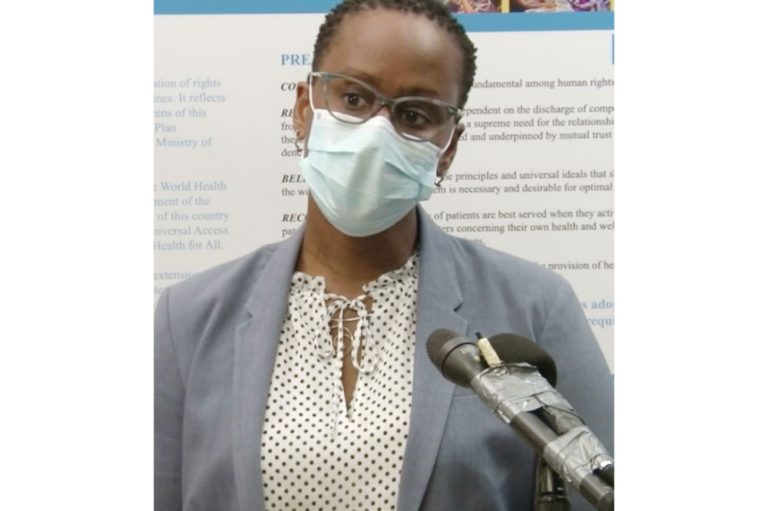 Front Page
January 19, 2021
Local Covid spike cannot be termed community spread – CMO
by BRIA KING
LOCAL HEALTH AUTHORITIES have objected to the World Health Organisation's (WHO) recent classification of this country having community transmission with respect to COVID-19.
As of January 18, SVG was among five CARICOM countries that were listed on WHO's website as having community transmission – a term that has not been used by local health authorities in the recent spike of local cases.
"We have since written to them and formally made an objection, based on the definition of what community transmission is, where you don't know where it's coming from. That's not the situation here," chief medical officer Dr Simone Keizer-Beache told SEARCHLIGHT yesterday.
She explained that "the majority of our cases are contacts of those positive
cases so we lodged that objection and they have since replied that they intend to go back to the original categorisation which is in keeping with categorisation of Barbados and St Lucia, who both have similar situations and so that will be altered".
According to a January 18 release from the National Emergency Management Organisation (NEMO), the WHO's change in categorisation for SVG from 'sporadic cases' to 'community transmission' was based on information gathered from a press release on January 10.
Yesterday's release said the change by the WHO IHR Regional contact point was made without input of the IHR National focal point in SVG and that the "miscommunication resulted when an email notification of the intent to change was sent to an inactive email address".
SVG had recorded 540 COVID-19 cases up to press time, 119 of which have recovered.
Of the 419 active cases, 402 are local cases that are currently under investigation by the Ministry of Health. These local cases were all confirmed in less than one month, with the first two of these cases being recorded on December 28, 2020.
Two COVID-19 deaths have also been recorded.
According to WHO, community transmission is "evidenced by the inability to relate confirmed cases through chains of transmission for a large number of cases, or by increasing positive tests through sentinel samples (routine systematic testing of respiratory samples from established laboratories)".
Local health officials note that based on this definition, the recent spike in cases cannot be termed community spread.
Keizer-Beache told SEARCHLIGHT yesterday that the ministry rejected the categorisation because "we don't think that the majority of our cases are without any link to a known positive".
Because there is a link,
where the majority of cases can be linked to coming into contact with a known positive, it is considered a cluster and not community transmission.
"There's a big jump between what is sporadic cases or sporadic clusters to community transmission. With community transmission, the majority of cases turn up and…can't tell you that they were in contact with a known positive and that's not the situation now. It's not that the majority of cases are like that," she said.
The chief medical officer added: "Yes, there are certain cases which we have not been able to link as yet but it's not the majority of cases".
On Sunday, SVG confirmed 16 new COVID-19 cases, all of which were nationals who had no history of recent travel.
Eleven of these 16 cases were detected during exit screening.
Keizer-Beache told SEARCHLIGHT that there have been instances where upon investigation, persons who test positive during exit screening can be linked to somebody who travelled or was ill.
She also said there are at least 12 clusters among the active local cases.
Up to press time, SVG was still listed on the WHO website as having a community transmission classification. But the chief medical officer anticipates that the classification will be corrected upon next update.