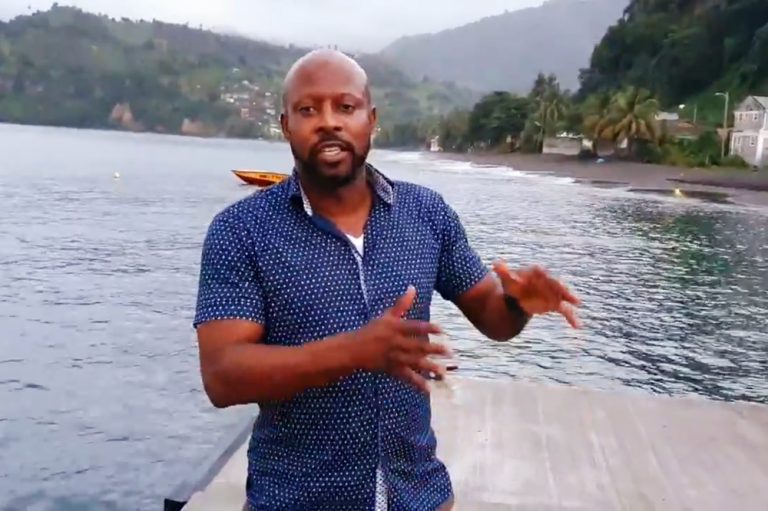 Front Page
January 19, 2021
Evacuation plan in place
by LYF COMPTON
RESIDENTS OF AREAS earmarked to be evacuated should La Soufriere become explosive have been assured that this will be done in a safe and effective manner.
The public is also asked to desist from spreading false information, but instead look to reputable sources like the National Emergency Management Organization (NEMO) for word on the volcano.
Parliamentary representative for North Leeward Carlos James spoke to SEARCHLIGHT yesterday, days after a red glow from the volcano on Saturday night flung residents of North Leeward and other areas into a state of panic.
Some persons from the area packed their bags and were ready to leave although no evacuation order had been given. The panic was fueled by social media broadcasts that falsely said the red glow meant that the eruption taking place at La Soufriere had become explosive.
Many persons believed that the red glow meant impending danger, although Professor Richard Robertson of the University of West Indies Seismic Research Unit (UWI-SRC) and the National Emergency Management Organization (NEMO) had days before said a red glow coming from the volcano should be expected.
On Monday James said from the reaction of some persons, it became evident that the message, in relation to things like the glow, was not reaching the desired audience.
He said to help with this, loudspeakers would be mounted on vehicles to take the message to the communities as not everyone has access to television, radio or social media and some who do are not tuned in to the right channels.
James said the evacuation procedure, if it becomes necessary, will follow the country's National Volcano Emergency Plan and this will be led by Commissioner of Police (COP) Colin John with support from agencies like NEMO, the Red Cross and the Roads, Buildings and General Services Authority (BRAGSA) among others.
He said there are several muster points in the villages and discussions have already taken place with owners of the larger boats used for transportation in the Grenadines as well as several minivan and truck owners. Pastors have also been brought into the mix to help with getting person together if the need arises.
James noted also that the jetty in Chateaubelair, although not fully ready, can be used for evacuation purposes. He stressed that the finishing touches on the jetty will be completed by the end of this month.
He said some persons are politicizing serious national issues which could have dire consequences if things go wrong and this should stop in the interest of safety.
"Everyone has his or her role to play," James said.
The North Leeward parliamentary rep noted also that what has also been taken into consideration is the spike in COVID-19 cases and therefore, the authorities are shying away from housing persons in communal shelters.
He said the country has empty hotel rooms and these would be used, while Antigua, St Lucia, Barbados, Grenada and Trinidad and Tobago (T& T) have reached out and offered accommodation in terms of rooms.
If the need arises, transportation is expected to be provided from sources ranging from the United States and Venezuelan military, while LIAT may also help to fly persons overseas.
"All of these things are in place, so follow the direct source for the information and not just hearsay," James said.