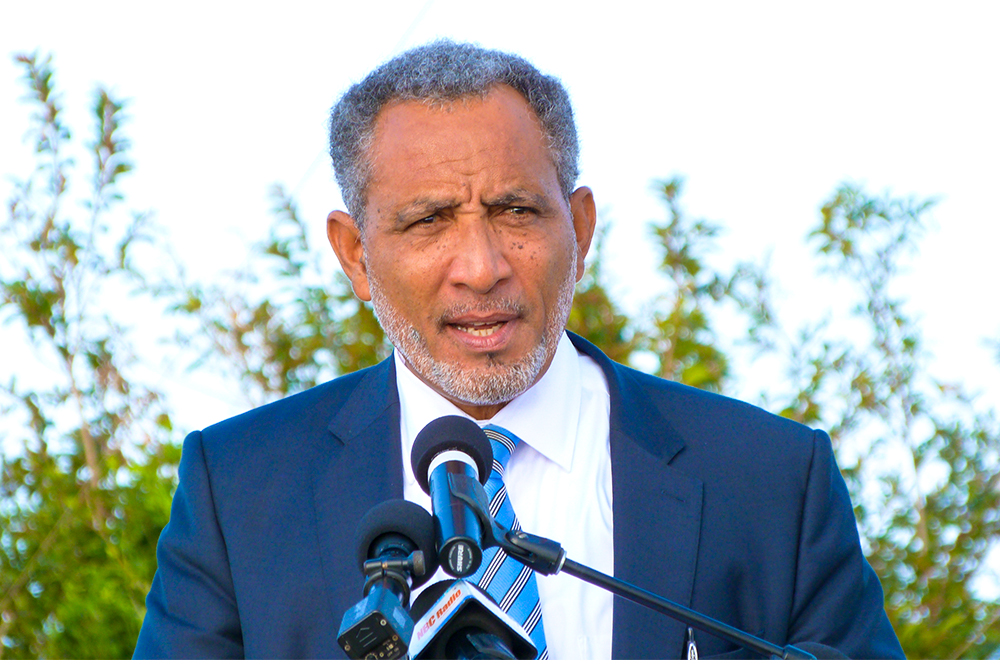 Front Page
January 15, 2021
Government was boastful about COVID-19 situation – Friday
Opposition Leader, Dr Godwin Friday says the way the government has managed the COVID-19 situation has resulted in St Vincent and the Grenadines (SVG) being one of the highest risk areas per population in the world, however a regional public health official has indicated otherwise.
"They became boastful as though it was a competition, that they were winning. They also became complacent and allowed the situation to get out of control with the risk for greater economic fallout and God forbid, the lives of our people," Friday said on Wednesday at Democrat House about the government's approach to the pandemic locally.
But Dr Joy St John, the executive director of the Caribbean Public Health Agency (CARPHA), said SVG is doing well in terms of the rate of infection per 100 thousand citizens.
During a virtual press conference held by the Ministry of Health on Wednesday, St John presented a graph which showed that as at
January 11, 2021 SVG had an infection rate of 224.4 per 100 thousand, which placed SVG as having the seventh lowest infection rate among the 24 CARPHA member states.
"Although you have had an uptick of cases, and although there is national concern, St Vincent is still doing quite well in terms of rate of infection per 100 thousand citizens," she said.
SVG, up to press time on Thursday, had recorded a total of 340 COVID-19 cases, 234 of which were active.
Of the active figure, 211 cases are under investigation, following the emergence of local cases in persons with no recent travel history.
The first two cases with no recent travel history were recorded on December 29, 2020 but the number has since grown rapidly, with as many as 55 cases being recorded in a single day.
"…So many cases coming out of the communities and they're not sure how far its gone, where it emanated, says to me that that the common-sense approach is to find out – not just test those persons who are exposed…who has tested positive…but to get ahead of it and test as many people as possible," Friday said.
Several government officials have tested positive for COVID-19 recently including Commissioner of Police, Colin John, Deputy Commissioner of Police Frankie Joseph and Minister of National Reconciliation Dr Orande Brewster.
In his presentation, NDP's president expressed concern for the growing number of local cases under investigation, while pointing out that officials refuse to use the term "community spread".
Friday questioned the health system's capacity to treat people in critical condition, once admitted with complications due to COVID.
He also asked several other questions of the country's capacity to handle the uptick in cases, including how the isolation of all active cases and contact tracing were being managed.
The politician added that citizens were scared and confused by the current state of affairs in the country.
"The government appears quite frankly to be paralyzed, unable to act decisively and effectively in the face of this mountain crisis. On the one hand, you have the Prime Minister and other members of government, who were giving the impression that we had this thing licked, that it was beaten, the worst was behind us," Friday said.
He said "they gave the impression that they managed it so well and all the measures that they took helped to mitigate the economic effects of the pandemic in St Vincent and the Grenadines, that it was worse elsewhere in the region…"
The opposition leader further noted that the government gave the impression that things were getting back to normal when in fact, the situation is presently worse than it has ever been.
The opposition leader said officials must do all that they can to bring the situation under control.
In order to do this, Friday made several recommendations that he says will help to manage the current situation and safeguard against major economic fallout in the future.
Among these suggestions is that all ports of entry be secured to ensure that persons are properly checked and handled appropriately.
The opposition leader said quarantine measures must be enforced strictly through effective monitoring and follow-up and that random testing should be conducted, in an effort to make testing more widespread.
"The goal must be to test as many people as possible. That is the only way we can reassure people as to the extent of the spread that is taking place now and of course, this has to be done on a continuous basis…" Friday said.
Persons have been wearing masks increasingly in the past weeks and most business places have made it a requirement for entry into the establishments.
However, persons are not required to keep wearing their mask in public settings.
The NDP's president is of the view that masks must be made mandatory in public spaces with many people, publicly used buildings and public transport.
Friday stressed that the wearing of appropriate facial coverings should not be an option and that the government should facilitate the importation of masks to make them more widely available.
The opposition leader also recommended that a system of work rotation, especially in the public sector be implemented, which will help reduce the number of persons using public transport at one time.
He also suggested that names of persons be recorded at churches, funerals and other gatherings.
"…If we don't take these steps, we may have to take more drastic steps in the near future, which will have more serious repercussions for our way of life and for our economy," Friday said.