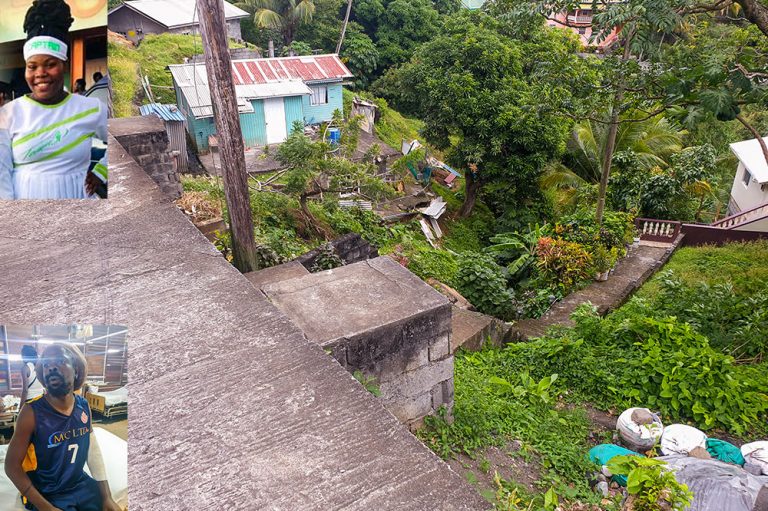 Front Page
January 12, 2021
Three shot at Largo Height
One of three persons shot at Largo Height on Friday, January 8 says they were in the wrong place at the wrong time.
Officers attached to the Criminal Investigations Department (CID) are investigating the shooting incident that occurred between 9:05 and 9:10 p.m.
Up to press time, Nickalson Stanley, 42, and Jadeesha Hall, 18, were nursing gunshot wounds at the Milton Cato Memorial Hospital (MCMH) while the third person, Javer Lewis, 25, was released on Monday.
Speaking to SEARCHLIGHT from his bed at the male surgical ward, Stanley, a Vincentian / Canadian, said he was liming, "when I heard bang bang and I said 'boy them thing is right behind we" so I touch he (Lewis) and tell he 'boy run'…"
Stanley said he fled the scene and hid behind a rock after which he felt his left arm burning from a gunshot and realized he had also been shot in his right foot.
He said he is in St Vincent visiting his mother and was scheduled to return to Canada on Monday and it is very unfortunate he got shot.
Stanley said he still has the bullets stuck in him and may have to get them removed when he gets back to Canada.
"I feel weird; I get shoot, he get shoot and the next girl…wah kinda scene this?" Stanley questioned while adding that some people are saying the intended target escaped unhurt.
Hall also spoke to SEARCHLIGHT and noted that she was also shot twice, once in the back of her neck and once on her left shoulder.
"I feel terrible…them things never use to happen up there and to see it happen right where I live and I in all this pain," Hall said, while adding that she was the last person to react when the shooting started.
"To me was like it happening and not happening; come like a dream to me so I didn't know what to do…shocking," Hall explained.
Lewis said he was hanging out with his girlfriend, some friends and cousins when someone came out of a vehicle and fired two shots into the air.
He said he ran and he heard more shots, one of which caught him in the side and another in his back.
"I only see one man jump out the jeep first; is two man, but I only see the one jump out and the one who jump out is who fired the shots in the air, and I push my girlfriend and I run off," Lewis recalled.
"It sad, but then I was in the wrong place at the wrong time because I don't really get in anything with anybody," the wounded carpenter said.
This is the third shooting incident in the area in less than two months. On December 5 last year, Malachi Cyrus, who coincidentally would have been 21 last Friday January 8, was fatally shot multiple times in his upper torso while sitting on a block he frequented.
Last month gunmen also shot up another area of Largo Height, but no one was injured.