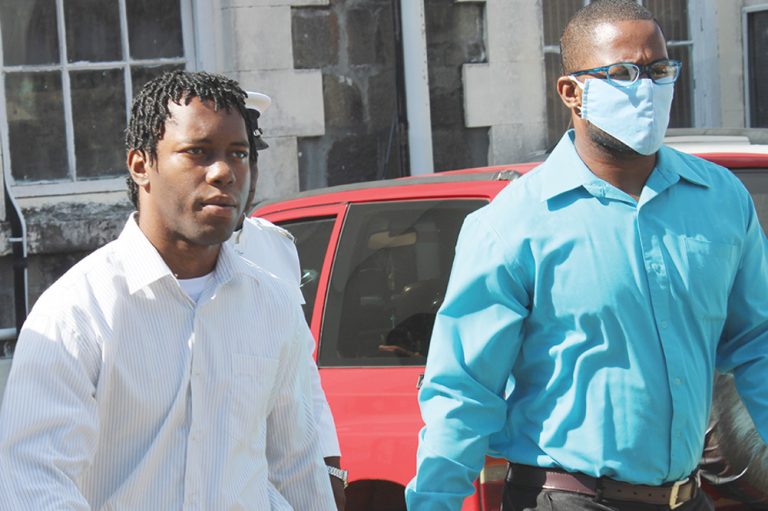 Front Page
December 18, 2020
Man to serve 31 years in prison for 'revenge' murder of Bishop
A 26-year-old male who elaborately planned out the chopping murder of a bishop because the said bishop allegedly drugged, raped and manipulated him; must now serve a 31-year prison sentence.
Anwar Jack, a security guard from Georgetown, in a complete confession to the police hours after the murder, said that he was drugged and raped by Spiritual Baptist Bishop Ian Enoch, a 50-year-old travel agent supervisor from Brighton.
From what the young man told the police, from the evidence the police recovered themselves, from the words of Enoch's widow, the members of Jack's community, officials of the Mental Health Centre, the prison authorities etc – a picture emerged as to what happened before, during and after this murder, and the kind of person Jack was and is.
This picture was formed as the sentencing Judge, Justice Brian Cottle, delivered his sentence on Tuesday.
Firstly, Cottle examined the facts, as agreed by the prosecution, Assistant Director of Public Prosecutions Karim Nelson, and defense counsel Grant Connell.
It is said that Enoch left his home on August 17, 2018, telling his wife and stepson that he was going to a birthday party. This was the last time that the wife saw her husband.
At about 4:10 am on August 18, police on patrol came across Jack walking in the rain, along the Fair Hall public road.
The police knew nothing about the murder when they met Jack, but when they questioned the 24-year-old Georgetown resident, his replies caused them to take him into custody. They also found a knife on him.
Five hours later, he confessed to the police, telling them how he had killed the Bishop, and offering to take them to the scene.
"At Argyle the prisoner pointed out a hut, and said that the body was inside," the judge read.
The police found Enoch's body inside and a concealed cutlass at the entrance of the hut.
A condom was found on the deceased.
It is confirmed that the deceased was HIV positive, and so is Jack. In listing his motivations for the killing, the young man explained he had feelings of self-loathing. He also blamed the Bishop for giving him HIV.
Jack claimed that years before the murder, Enoch had drugged and buggered him. "He said that subsequently, the deceased continually contacted him, seeking to have a relationship with him," the judge read.
Therefore, Jack invited Enoch to Argyle, and concealed the cutlass.
They had intercourse, and at a point where the deceased was replacing a condom, preparing for them to have sexual intercourse a third time, Jack said he seized the hidden cutlass and dealt Enoch several blows about the head and face.
"He watched as the deceased man took his last breaths," the judge continued.
After this, he took Enoch's belongings and drove the Bishop's vehicle for a while before accidentally driving off the road. He then abandoned it.
Enoch's wife would find the crashed vehicle after she went in search of her husband at 1 am.
The social inquiry report revealed more details about the events leading up to the murder.
Apparently, Jack was raised in a tight knit family where the parents, though facing poverty, tried their best to provide for him.
"At age 20 he began to involve himself in consensual heterosexual relationships," the report reveals.
One of his girlfriends was much older than him, and after the two broke up, Jack discovered she was unfaithful to him and was "more interested" in the financial support he could give her and her children.
From this, the young man became depressed and prescribed an antidepressant which he takes to this day.
He explained that he met Enoch when he was looking for a job.
After he was raped by the Bishop, he was apparently given $50 for help with documents to help him get a job. The Bishop also called a security firm of which he was a customer and asked them to employ Jack. Jack got the job.
The young man then cut off contact, changing his phone number, until he met Enoch on the streets in 2018.
Enoch apparently accused him of ingratitude and propositioned him again. When Jack threatened to go to the police, "the deceased told him that he would not be believed because of his low social standing as compared to that of the deceased."
It was then that Jack said he decided on his revenge. In the months leading up to the offence the two would meet and have sexual intercourse.
Jack said that Enoch tried to encourage him to have a homosexual lifestyle, and coerce him to sleep with other men. He said he refused both.
"He formed the view that the deceased man would never leave him alone and so he decided to take matters into his own hands," Cottle read.
Enoch's widow revealed that her husband of eight years was the main breadwinner for the family and since his death things have become difficult for them.
"She feels a keen sense of loss for her husband, who was always caring towards her," the report disclosed.
Jack has no previous convictions, no children, and is now 26 years old. He is HIV positive, but his condition is being managed by an antiretroviral medication regime. He has also been diagnosed with Bipolar and Antisocial disorder.
In the latter half of his mitigation Jack's lawyer pointed out that the emotional trauma his client was put through is a mitigating factor.
He also noted that Jack looked up to and trusted Enoch. "Bishop Enoch was supposed to pray for him, but instead he made him his prey," Connell stated.
"Anwar Jack, in his own words: 'I am very, very sorry', 'He bring it on me, he force me', 'I'm sorry that it happened', his own words, 'I am even sorrier for his wife and children. But when he was doing me that, he shoulda think about he wife and family too', the lawyer informed.
Connell also indicated, "We are not trying to trivialize a loss of life, but Bishop Enoch was no ordinary man, he abused his position, he did not practice what he preached."
He further pointed out that the social inquiry report said that Jack was a good prospect for rehabilitation.
"It is somewhat of an issue that I hope will be addressed. Too often we hear of young ones, male and female, desperate, have to succumb to this kind of abuse, sexual predators," he ended.
Justice Cottle followed the new sentencing guidelines for murder recently brought out by the Eastern Caribbean Supreme Court (ECSC), which have four options. He had to go down the route of a "determinate sentence" as Jack pleaded guilty. Therefore, the figure set according to these guidelines was 40 years.
After this, aggravating and mitigating factors were considered.
Notably, the judge mentioned, "the actions of the deceased in drugging and buggering the prisoner and continuing to make unwanted sexual advances in the particularly homophobic society that is still St Vincent and the Grenadines," as one of the mitigating features.
"While I take this into account, it must not be thought that this court is in any way condoning violence towards persons simply on the basis of their perceived sexual orientations," he added.
"What I found to be significant in this case is the backdrop of non-consensual homosexual intercourse and the continued unwanted advances by the deceased."
Ultimately, he decided to move down by nine years to 31 years. The guilty plea was already taken into account at the start.
Jack has already spent some time in jail, and has 28 years, and eight months of his sentence left to serve.
Finally, "the state will continue to provide the prisoner with the medication that he needs, at no cost to him. He is also to be offered counselling to assist him in his rehabilitation."
However, after he concluded, the judge noted that he is mandated to follow the sentencing guidelines, but observed that sometimes when they apply the guidelines, they arrive at a position "that without those guidelines we might not have arrived at."