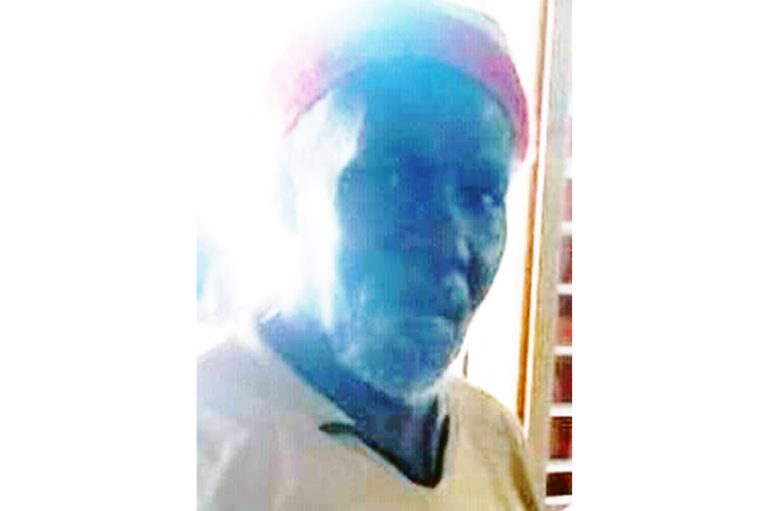 Front Page
December 4, 2020
Watchman found dead in abandoned quarry
by Lyf Compton
The killing of 68-year-old watchman Irwin "Charmer" Patterson has left his colleague, 64-year-old Cowdery Hamlet in a quandary.
Hamlet and Patterson had been charged with keeping eyes on machinery at an abandoned quarry in Mt Wynne, but on Tuesday, November 24, sometime after 2 pm, Hamlet found Patterson lying on his back next to a container at their work site.
Earlier this week, Hamlet told SEARCHLIGHT that on Monday November 23, he was not feeling well, as he suffers from hypertension/high blood pressure, so he did not go to work.
He said that around 9 am, on November 24, he was told that Patterson did not return from work, which he found strange, as they would normally go to work at 6 pm and return at 6 am.
Hamlet said he went looking for his workmate around 2 pm and when he arrived at the site, he saw that his and Patterson's sleeping areas had been ransacked while Patterson's bag was against a wall and his hat on a step.
He then saw Patterson lying on his back.
"So me ah call him and call him, and he bare ly been ah blow, so me come down and go to the station," Hamlet said while adding that he was not sure what to do, so he left Patterson how he had met him.
"Me nah feel good. They lock up someone but me understand them let him go," said the frightened guard who added that he was told that Patterson was struck with something in his head that resulted in his death.
The duo had been hired to provide security services for a company called Concrete and Aggregates and Hamlet said that to him, the site is a dangerous place to work alone as it is far from the road, and "when you go up there you lock off."
He said he has worked with the company for over 12 years and nothing like this has ever happened before.
He however acknowledged that a few days before the incident, someone stole his radio and a few other items, so he had told Patterson that things were changing so he should not go to the work site alone.
"I tell he, 'boy thing ah get strange up ya, wait for me to go up dey because when you up there and thing happen to you nobody can't know'.
"After me see all me things outside, I make a report a week before," Hamlet noted while adding that his children are encouraging him not to go back to work and the police also made come comments about the loneliness of the area.
Hamlet said when the police discovered Patterson, they took him to the Buccament Bay Polyclinic after which he was transferred to the Accident and Emergency (A&E) Department of the Milton Cato Memorial Hospital (MCMH) where he died.
The death of Patterson has once again raised questions about the wisdom of hiring elderly, unarmed men to carry out watchmen duties.
"The condition (at the quarry) not nice. We don't have no weapon. Only sometimes we have a little cutlass and cell phone," said Hamlet.
On June 23, 2020, the body of Henry "Farmer" Neverson, 57, was found bound with chop wounds at the private Windsor Primary School where he worked as a night watchman.
Patterson's death is considered the 27th homicide for 2020 and he is the second elderly man to be killed here in less than a week.
On November 26, 83-year-old Ulric Hutchinson died in Valley, Ashton, Union Island. He is listed as the 29th homicide as an autopsy revealed he died from strangulation.
Sheba Lenisha Charles, a 25-year-old Vermont resident who resides in Union Island is currently on remand, having been charged with Hutchinson's murder.