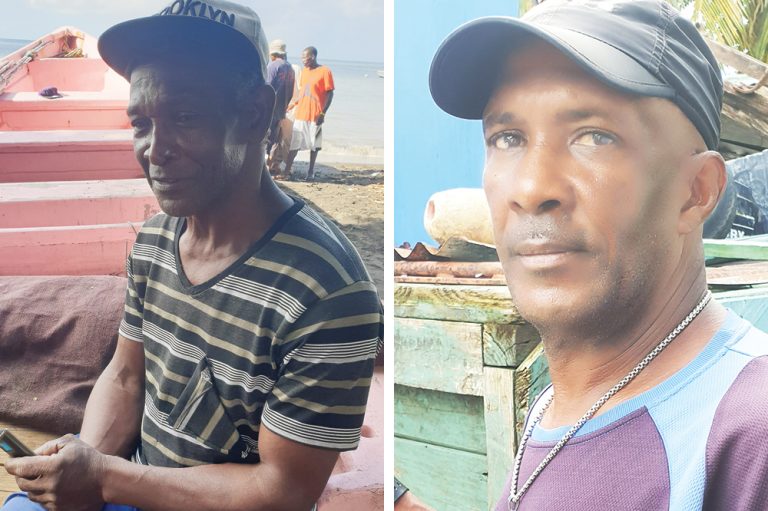 Front Page
November 20, 2020
Fishermen uneasy about reports of armed pirates
by Lyf Compton
Members of the local fishing community are uneasy.
This, after two of their own, Barrouallie fisher 38-year-old Canold Miller and Questelles resident Cliff Young, were robbed at sea by 10 Spanish speaking men with AK-47 assault rifles.
The incident, in which the men's lives were threatened, took place in the waters off Mustique on Thursday November 12.
Miller told SEARCHLIGHT last week that the pirates asked if they had rich relatives and wanted to take them back to Venezuela and have their families pay a ransom to secure their freedom. The fishermen, who were held captive for several hours before being released, were robbed of their GPS equipment, cellular phones, food, water and money.
Yesterday, McClement St Rose, a St Lucian residing here, and who has been a fisherman for over 20 years, told SEARCHLIGHT that the pirate scenario is not a nice thing for the fishing industry.
"I hope the government put a little more interest into the sea for fisherfolk so that incident that happen will not happen again," said St Rose who noted that he too has seen men and vessels of the type described by Miller, but they never came close.
"Whenever I am on the sea, I always open up my eyes so if I see them in advance I move away," St Rose said while adding that the coast guard should have more frequent patrols of the outer regions.
Campden Park resident McFarlane Jack, a fisher of 30 years' experience described the robbery at sea as "a bad situation", but said he is not surprised at what happened because of the economic situation in Venezuela. "I know to myself we ain't really safe out there with a one engine and man have all six engine, you can't get way from them," Jack voiced.
He is of the opinion that the local coast guard is no match for boats like the one Miller described.
"If you meet 10 man on them boat, is 10 man with big gun, plus gun on them side so you done know is real fire them man have. You taking a risk," he said.
"This did not stop me from going, sea water is my thing so I won't done, but it's frightening," he said.
Fishing since he was 12 years old; some 21 years now, Elson Robinson of Clare Valley says he has never heard anything like this before.
"That is the first time I ever hear that kind of experience which and while we meet vessel already, not like that shape dey and they not studying we.
"I would glad if everybody could organize and face the problem because right now we can't go fishing and it hard and you get family to mind.
"Men skeptical about going out, we went out yesterday and we did not go the distance we accustom to go so right now is more red fish. Man afraid to go fishing for dolphin," Robinson told SEARCLIGHT.
He said there are fish aggregating devices (FADs), placed at sea to help them but some fishers are scared to go to the FADs. One is about 29 miles out to sea and the other a little further according to Robinson.
A FAD is a man-made object used to attract ocean going pelagic fish such as marlin, tuna and mahi-mahi (dolphin fish).
"Fisheries and coast guard should come together and do something because you have family and bills to pay and the bank nah play when it come to them money," Robinson quipped.
Lennox Phillips, on the sea for more than 20 years said he went fishing on Wednesday but the incident has stopped him from fishing the way he would wish.
Arnold Jack, a fisherman of over 30 years described the situation as "sad" and the fact that it happened right in our back yard is frightening.
"Man can't fishing out there and feeling happy right now because we go out to fishing and your life is at stake and anything can happen," Jack said while sitting under a shed on the beach at Rose Place.
"We have some coast guard here but I don't call them coast guard I call them port guard because if they are doing their work as a coast guard they should be on the coast at all times," Jack opined while noting that the coast guard boats should be strengthened by the presence of a helicopter.
"The Spanish men are wicked fellows because they take everything the men had on them…so they left them totally stranded so if them did break down now, they can't make a communication to nobody," Jack stressed.
Coast Guard Commander Brenton Cain was not available for comment yesterday, while Chief Fisheries Officer Jennifer Cruickshank-Howard said on Thursday that she will seek advice on the issue before responding.