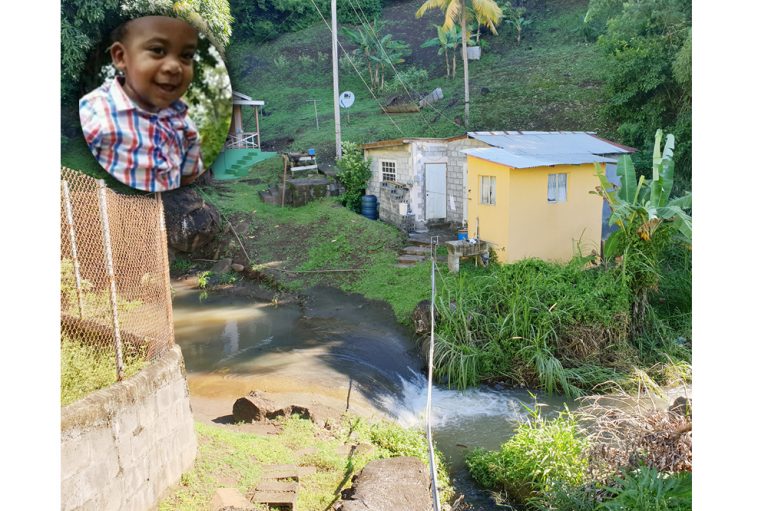 Front Page
November 17, 2020
Child swept away in flood
A child was swept away on Sunday amidst an islandwide flood warning, reminiding nationals of how dangerous rivers and streams can be during the rainy season.
Reports are that at about 11:30 am, Malachi Ballantyne, a 23-month-old infant of Upper Cane Hall was taken by a river close to his home.
A police report said that members of the Criminal Investigations Department (CID) and the SVG Coast Guard Service responded to a call about a missing child and mounted a patrol after it was suggested that the toddler may have been taken by the river.
Malachi's body was recovered in the sea, 100 meters off the coast of Arnos Vale and was taken to the Coast Guard Base, Calliaqua where it was identified by relatives.
Police have launched an investigation.
Malachi lived with his mother Mishka Ballantyne and brother in an area of Cane Hall that can only be accessed by crossing a river. One other house is located on the riverbank and persons can only get to this location by walking through a river as there are no stepping stones or bridge.
A resident of the area said he was told that Malachi's mother had left him in the living room playing with a toy as she tended to a window in the house that had an issue.
The man said the child's mother, after finishing with the window, came to look for Malachi and discovered he was not where she had left him. His brother, who was also in the house, is said to have been in the bath when Malachi went missing.
Neighbours say the river usually floods during the rainy season. Relatives of the toddler were not available for comment up to press time yesterday.
West St George area representative Curtis King described the situation as "very sad and unfortunate." He said he visited the area on Sunday and again on Monday and offered his condolences to family members, but he has not yet spoken to the child's mother as she is staying with a friend.
This incident brings back memories of similar situations where persons were swept away by raging rivers.
In December 2013, heavy rains on Christmas Eve caused the Vermont river to overflow its banks and flood the Cane Grove/Pembroke area resulting in the death of eight persons, including two-year old Shalani Headley.
In November 2016, when 10-year-old Jaafan May saw his eight-year-brother Jacquan May being swept away by a raging body of water, he did not hesitate to try to save his sibling, after all, the two were very close. Unfortunately, Jaafan couldn't hold onto Jacquan and both were swept out to sea. Jaafan was eventually rescued, but Jacquan was swallowed by the waters of Roucher Bay, Campden Park.
On Friday, October 1, 1999, five families in Mesopotamia Valley were flung into mourning when the Farm River overflowed and washed away five children, the oldest not yet 11 years old. The battered and bruised bodies of Dolleson Hamlett, 10; Jason Gibson, 10; Demani Cupid, 9; Kosankie Shallow, 7; and Zinniera Shallow, 5; all of the Mesopotamia Government School, were recovered a day or so later in the Peruvian Vale -Stubbs area.
Meanwhile St Vincent and the Grenadines remains under flood watch while the chance of occasional moderate to heavy showers remains high across the country as an upper level trough remains anchored over the region.
Model guidance is indicating about 2 inches (50mm) of rainfall during the next 36-hour period, therefore, a flashflood watch is in effect until 6 am today.
Soils are already saturated, roads are already wet, and river levels are already high, therefore, residents and motorists should be prepared in areas prone to flooding and landslides or near rivers and streams.
A Flood-Watch is issued when conditions are favorable and there exists the possibility of flooding during the watch period, and may be upgraded to a warning if conditions warrant.