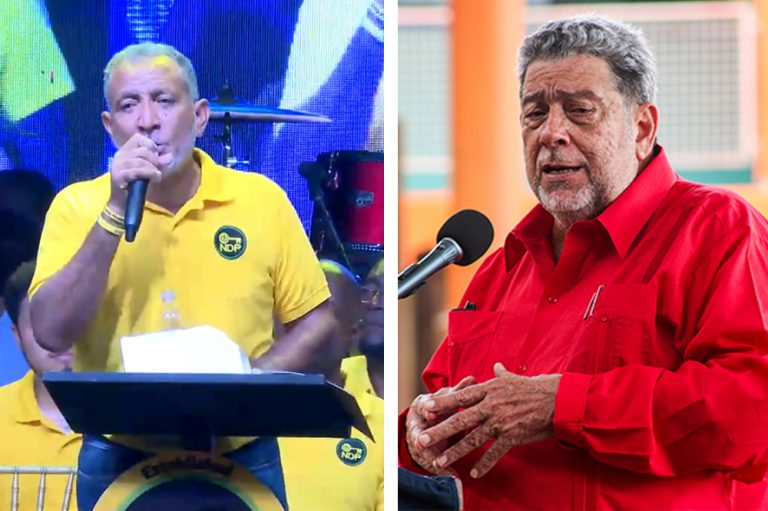 Front Page
November 3, 2020
Campaigning expected to reach fever pitch over next two days
Campaigning by the two major political parties in St Vincent and the Grenadines is expected to increase to a feverish pace over the next two days, leading up to General Elections on November 5.
Heavy rains over the weekend caused events to be rescheduled and relocated in some instances.
Both major political parties, the New Democratic Party (NDP) and Unity Labour Party (ULP) went ahead with events on Sunday, November 1 with the NDP moving their meeting indoors with a virtual meeting in West St George.
The ULP on the other hand, persevered with their planned gospel concert despite the torrents of rain. The concert, which was initially scheduled to be held in Layou was relocated to the northern end of the runway of the former ET Joshua airport in Arnos Vale.
The NDP also held its youth rally yesterday at Heritage Square. This event also saw many persons walking from South Leeward to attend the meeting in Kingstown.
The main opposition party also has plans to host several events today, November 3.
These events include a Jobs Rally at the Barrouallie Square, beginning at 7 pm. Special performances can be expected from Magikal, Flanka, DJ Fugitive, ZJ Tuffa and others. A whistle stop will also be hosted by the NDP today, beginning at the Arnos Vale playing field at 3:30 pm.
Despite heavy rains on Saturday, October 31, the ULP held meetings in Glen and Clare Valley, which are located in the East St George and South Leeward constituencies respectively.
The party, which is hoping to be elected for a fifth consecutive term, also held meetings last night in three Leeward constituencies simultaneously — in the Central Leeward, South Leeward and North Leeward.
There was also a "Jump up and Red Lyme" in South Windward.