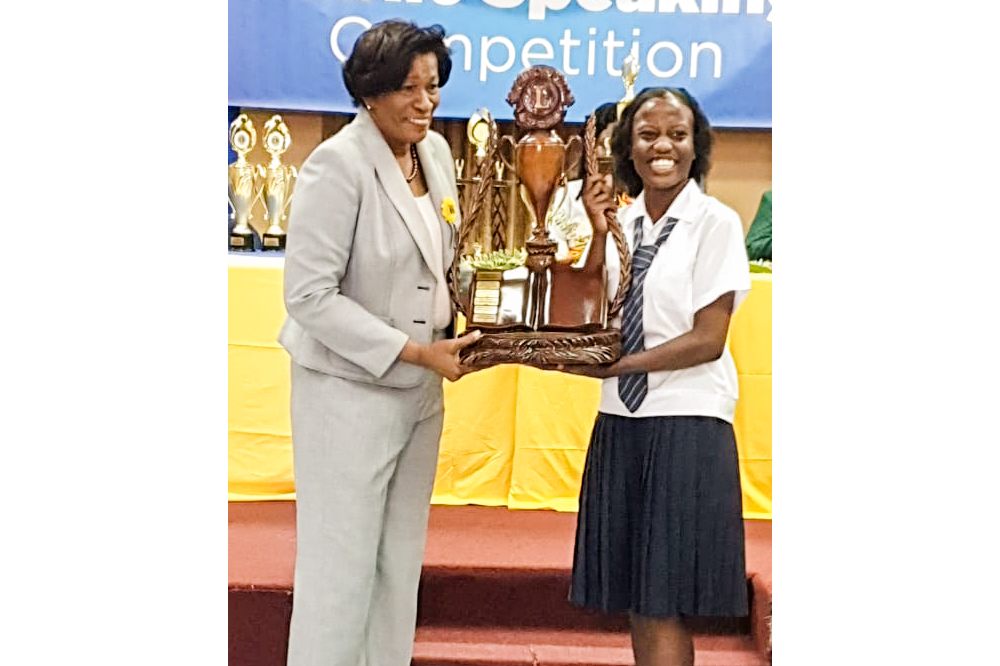 Front Page
October 27, 2020
Garifuna descendant says no to stereotyping and poverty (+Video)
Marika Baptiste is fed up of the stereotypes placed on persons from North Windward, more specifically, the villages of Fancy, Owia and Sandy Bay.
And with this in mind, the fifth form student of the Girls' High School shouted, in Garifuna, "Baundada Alfalara" (the struggle continues) while chastising this type of behaviour in her speech on the topic: "Challenges faced by the people over the Dry River."
https://youtu.be/zcILWqkzYv0
"Centuries after the Kalinago, led by His Excellency Joseph Chatoyer, fought relentlessly against the colonization of this blessed isle, the war still rages as today we his descendants struggle against the issues of stereotyping, poverty and geographical constraints," Baptiste told the audience at Methodist Church Hall and viewing online last Thursday during the 2020 Lions Club St Vincent South Flow Secondary Schools' National Public Speaking Competition.
Baptiste, who was overall winner of the competition, told persons in her student prepared speech: "Baundada Alfalara", for respect and the end to stereotyping by persons "who look like us and not like the colonizers."
A resident of St Vincent's northernmost village of Fancy, Baptiste said that Garifuna women are unfairly sexualized, seen as having loose morals because of the perception "that their blood is close to their skin" and that is "rubbish".
"Secondly, recently on social media the villagers of Sandy Bay were vilified for their support of a political party and were labeled as ignorant, lacking basic common sense and even being oblivious to the fact that man had landed on the moon.
"People over the river are seen as lacking the ability to speak the Queen's English unlike more affluent areas of the island. Yet in 2016, I Marika Baptiste of Fancy was one of two top English performers in that years CPEA exam dismantling the misguided notion that standard English skills are linked to ones place of residence," Baptiste declared.
She said that during the preliminary round of the competition she was approached by someone who said, "from Fancy, wow".
"…so much for the elitism of my school, but I digress, although most likely well-meaning, I couldn't help but think you would never hear 'Kingstown, wow'…"
In relation to living conditions in her community,  Baptiste noted that the Kairi Report of 2007/2008 spoke about crippling poverty which it said was at 55 per cent for communities over the river.
"This is almost twice that of the national average of poverty which is 30.2 per cent. The struggle continues when we are forced to be absent from school due to economic situation which in turn lessens our job opportunities. When the food that we can afford isn't what is most healthy for us.
"Baundada Alfalara when we are labeled as being behind God's back, when we are left isolated from other parts of the island during natural disasters, when rough terrain claimed the lives of seven young souls at Rock Gutter on their quest for education," the GHS student told the gathering.
She said that "the struggle continues" when electricity came to Fancy as late as the 16th July 1995 and where cell service is often sketchy causing one to have to move to higher ground just to gain signals. "(The struggle continues) when students like myself, attending secondary schools in Kingstown must leave the safety of our homes to live with relatives or friends, leaving our parents unsure if we will be abused or neglected."
Baptiste, a student athlete, said despite the challenges, persons who live north of the Rabacca Dry River continue to make their mark on the Vincentian landscape through things like the National Hero's Day celebrations, "where everyone is eager to travel in droves behind God back."
She said their community spirit is second to none as shown by the way they band together to light up their communities, "knowing that Point is the six time winner of the national lighting up competition" while students from above the river have dominant performances in the primary school performing arts festival.
"We have also produced notable persons such as calypso Monarch Tajo, ace distance runner Pamenos Ballantyne, renowned midwife Nurse Sarah Baptiste, Elma Francois of Overland who rose to become a national hero of Trinidad to mention a few and I, Marika Baptiste whose story is yet to be written," Baptiste declared.
Baptiste, who won the student prepared category with the speech, took her school to a second consecutive win in the competition.
"I am very excited and I am happy that I made my parents and my school proud," Baptiste told SEARCHLIGHT after her win.
She added that because she hails from Fancy, sometimes persons think she is at a disadvantage in a many things but that is not the case.
"I never think that is a disadvantage, but I know some people see it that way, but I will continue to stay true to myself," said the lass who also won the impromptu category of the competition.
Baptiste is no stranger to national success as in 2016, she gained 94 per cent in Language Arts, the highest score that year in the Caribbean Primary Exit Assessment (CPEA). She was then a pupil of the Fancy Government School.
In 2018, she was the junior champion and the Victrix Ludorum at the annual sports meet of the GHS. A member of the IT DAT sports academy, Marika continued her dominance on the track on 2020, when she was crowned the school's intermediate champion and Victrix Ludorum. She is presently captain of the school's netball team and vice captain of Headmistress house.