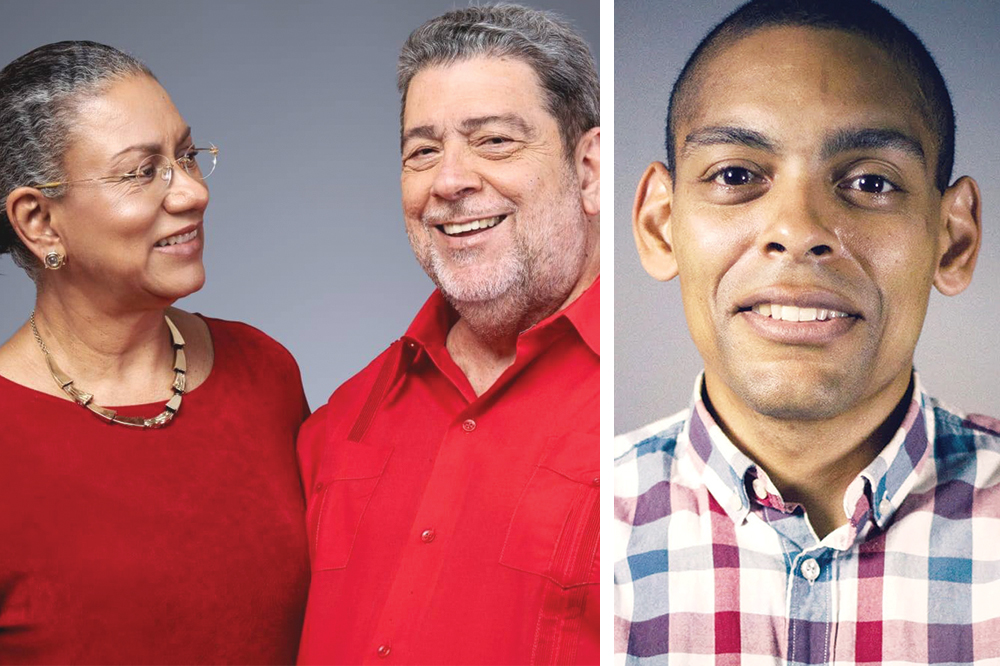 Front Page
September 11, 2020
Prime Minister Gonsalves' wife, son ill
The wife and a son of Prime Minister Dr Ralph Gonsalves are both battling serious illnesses, the Prime Minister has disclosed.
On Wednesday, during his weekly programme on NBC Radio, Gonsalves told listeners that his wife Eloise has a "potentially debilitating" cyst growing on her spine, while his second son Adam, "has been struck by a debilitating cancer."
Adam, 38, a product of Gonsalves' first marriage, is a sound engineer who lives in Portland, Oregon.
The Prime Minister did not give details of Adam's illness but said his first son Camillo, also a son of his first wife Sonia, "…is very close to him, very, very close."
Gonsalves said the family has known for a few months that his wife Eloise has a cyst growing on her spine.
"…We have had it investigated and we consulted a neurosurgeon in Cuba, consulted in Trinidad and there is an American of Indian descent, he came to St Vincent whom we got to know, who is a top neurosurgeon and he works in Boston, I want to go and see…," he further revealed.
Gonsalves said he is making arrangement to travel abroad with his wife for about a week to be with her during the consultation, but she may have to stay longer.
"I am hoping that I can leave maybe sometime next weekend, God's willing," the emotional Prime Minister said.
He said his wife's cyst, "is potentially debilitating" because of the way it has grown and it causes great discomfort.
"…And she could end up in a wheelchair and it's, we don't know, well we will find out more, and of course it's tricky business but one hopes for the best," Gonsalves further said.
He added that he has to be strong for his family.
"I have to be strong for those around me, I have to be strong for myself and my staff, I have to be strong in the country.
"So that sometimes people, you can't involve in lamentations and there are persons who, of course, in far worse situations. They could be dead. You know what I mean?" Gonsalves said.
He said that recently, a young female nurse in her 20s had to be assisted by the government to the tune of over EC$40,000 to pay for a neurosurgical operation on her brain.
"Of course, in my own case, in Eloise's case, I can't go to the government for any resources to help with medical so, I, we do like what everybody does. You try and organise it, whatever financing," Gonsalves said.
He said that persons should avoid lamentations and negativity as that is not how our lone national hero Joseph Chatoyer and the Garifuna people confronted colonialism.
"That's not how in the depths of a condition called slavery that our African forebears found strength to build and to come out of what is worse than Dante's Hell and the same thing with the Madeiran and Indian indentured servants.
"We have built a viable civilization. We have a lot of challenges and we have some tremendous vulnerabilities. Don't bother with people with pie in the sky solutions and mirages," the Prime Minister said.
"Mirage is for carnival day, not life, living and production," Gonsalves, this country's longest serving prime minister said.