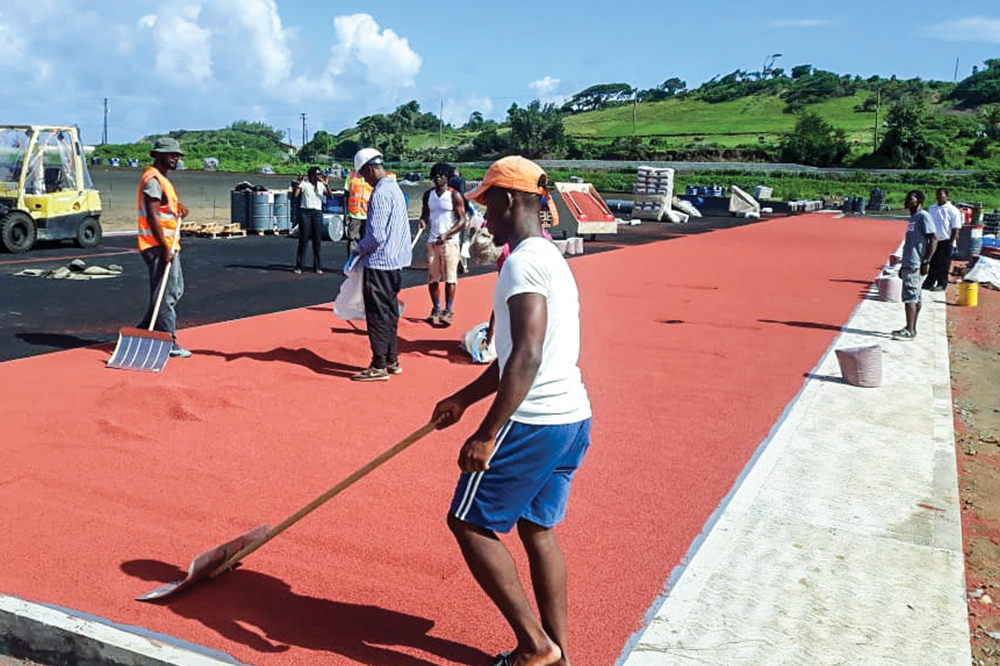 Front Page
August 28, 2020
Synthetic track heading closer to the finish line
The synthetic track which is currently being laid at the national stadium site at Diamond, is heading to the home stretch.
Earlier this week saw the placement of the oliver red granules on the track. Completed thus far (Thursday) has been the one-half of the bottom D, as well as the 30 metres of the straight away and the the long jump areas.
That process of placing granules on the entire track is set to be completed next week, once the weather is favourable.
One person close to the project told SEARCHLIGHT that when the placement of the granules is done, the next phase is to have a certified IAAF personnel come in from Germany to have the dimensions of the track and other configurations approved.
The 400m synthetic track forms part of the EC$4 million phase one of the national stadium project.
Apart from the track, provisions are being made for field events, namely the discus, shot putt, javelin, high jump, long jump, triple jump, steeple chase, hammer throw and pole vault.
Enclosed by the track is a full size football field. Other amenities to be installed are dressing and wash room facilities.
Meanwhile, a bleacher, a grass bank or mound, the fencing of the facility, as well as erection of a parking lot, a small administrative and a store room, will complete the phase.
The project, an undertaking of the government of St Vincent and the Grenadines, is expected to be delivered in the upcoming months.