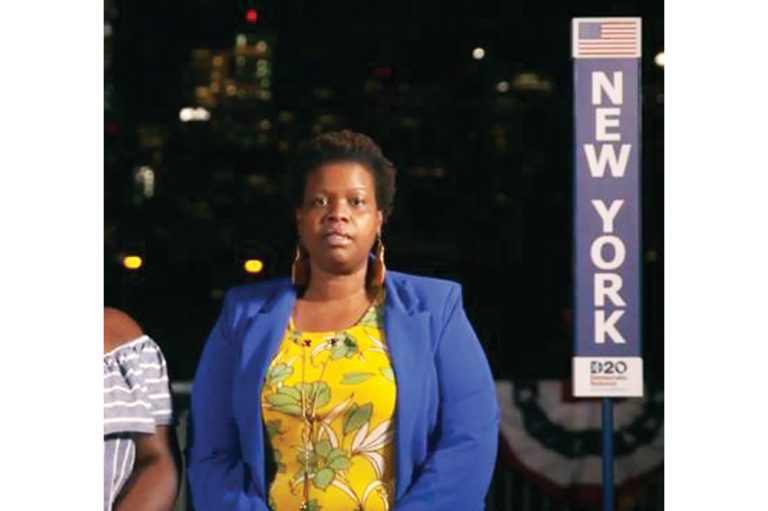 Front Page
August 21, 2020
Vincentian casts New York's votes for Joe Biden
by Katherine Renton
A Vincentian who works as a Registered Nurse in the United States lifted her voice for the healthcare workers and immigrants, as she cast New York's votes for Presidential Candidate Joe Biden this week.
"As an immigrant from St Vincent and the Grenadines and 1199SEIU Registered Nurse I am proud to be part of America's fight against Covid-19," 41-year-old Scheena Iyande Tannis recited during the Democratic National Convention's (DNC) Roll Call on Tuesday, August 18, which involved messages from 57 states and territories as they cast their votes for Biden.
Standing dressed from head to toe in the colours of the Vincentian flag, the healthcare worker stated, "but many healthcare workers don't get paid sick leave or have enough protective equipment. I have two children with asthma and a mother who's high risk. I worry every day about bringing this virus home to them."
"Joe Biden's plan will help us take better care of your loved ones as well as our own. Along with Lieutenant Governor Kathy Hochul, I cast New York's votes: 44 votes for Bernie Sanders, and 277 for our next President Joe Biden. It'ssss Joe Time!," Tannis told the citizens of the United States.
When SEARCHLIGHT contacted the former Rose Cottage, Villa resident, who is the daughter of Charlene 'Faye' Cato and Godwin 'Bruds' Tannis originally from Georgetown and Bequia respectively, she commented on how she came to stand on such a platform.
"The Democratic National Convention reached out to my union 1199SEIU (National Benefit Fund) as they wanted to honour real life heroes as part of the convention," she revealed.
She was on the union's radar after two interviews she had given at the "height of the pandemic" and they asked her to participate: a request which she could not refuse.
The healthcare professional does not consider herself a hero, saying "I am truly humbled by the honour. I am not a hero. I get up and go to work. I try my best to take excellent care of my patients as they are dependent on my skill, compassion, and knowledge."
However, with the COVID-19 pandemic ripping through America, and with New York having been one of the states badly affected, the registered nurse of 13 years, who has been working as a nurse for 20, recalled, "It was the most difficult experience of my life."
"The patients were so sick, their families were so scared. They were unable to visit their loved ones which was heart breaking," she revealed. But the nurse was one who used her personal phone to video call families "so that they could see their loved ones."
"That was traumatic because the grief the families were experiencing was so heavy. I felt as if I was an intruder as many intimate conversations and goodbyes were said to family members."
For herself, she had to have grave conversations with her mother and two children, 17-year-old Siboney and eight-year-old Ajani, and made sure she did not even touch them for five months even though they are an affectionate family.
On the topic of her pride as an immigrant, displayed in her message on Tuesday, Tannis, who migrated to the US in 1989 when she was 10, explained "all Vincentians would recognize my nod to our homeland with my choice of clothing.
This country, the United States, which is now my home, is built on the contributions of generations of immigrants and I am one as well."
"As Becket said St Vincent my homeland…I love you a million. I am a proud daughter of the native soil if St. Vincent and the Grenadines," she explained, adding, "I believe that we are a proud and robust community that is rich with culture, beauty and intelligence. The fact that I was given an awesome opportunity, I wanted to take my country people along that journey with me."
Since her political debut Tannis has received a volley of texts, calls, Facebook and Whatsapp messages from colleagues and friends.
"Some have even teased me saying they can't wait for me to run for Congress because I have their votes," she recalls; but her interest does not lie in the political arena.
"I have no political aspirations but I will continue to advocate for our communities as we face many health disparities," the medical professional informs.
This assurance comes from a woman who began as a nursing assistant, then became a licensed practical nurse, moved on to attain her Bachelor's degree in nursing, a Master's degree as a Family Nurse Practitioner, and is now pursuing a Doctoral degree in Nursing.
Presently she is the Assistant Head Nurse of the Coronary Care Unit on the night shift at Brookdale Hospital and an Adjunct Clinical Instructor for a local College.