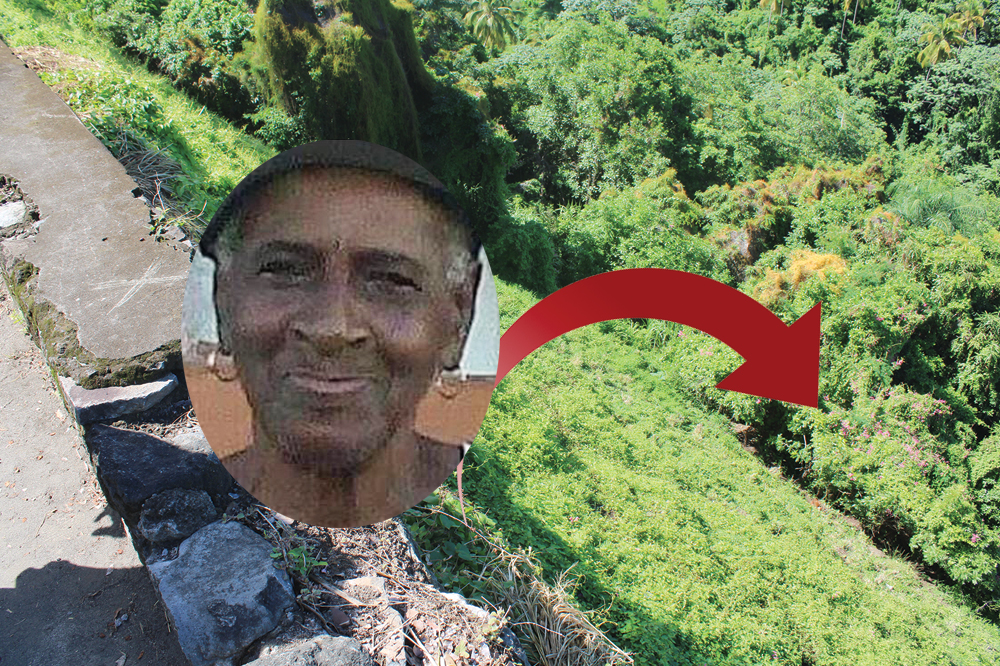 Front Page
August 21, 2020
Elderly woman falls to her death over embankment
by Bria King
When Winifred Ghent prepared to go to bed on Tuesday night, the last thing she expected to hear was that her mother had fallen over an embankment in their hometown of Coulls Hill.
Ghent, the first of four children for her mother, Eileen Watson told SEARCHLIGHT that she received a call from a cousin on that night, to let her know what had happened.
According to police reports, Watson fell over an embankment adjacent to John Francis' Liquor and Provision Shop. She was subsequently pronounced dead at the scene by the district medical officer.
Police say no foul play is suspected.
"I was told that my mother, my sister and my niece was going to a meeting, a Carlos James (Unity Labour Party's candidate for North Leeward) meeting round the road at Pasture in Coulls Hill…" Ghent said.
"…And when they reach a certain place my sister said man, let's turn back because they didn't eat dinner and my mother said she's not turning back, she's going. So she say she hold she hand and tell she let's go back and she foot slip and she went over. She say she foot butt up on something and she went over."
She told SEARCHLIGHT that her mother celebrated her 86th birthday on May 29th this year and while she was an elderly woman, she was still a very active person.
Ghent said for as long as she knew her mother, she has always gone to the ULP's political meetings because that is the party she supported.
She also said that in her earlier years, her mother liked going to the mountains, gardening and telling jokes from time to time.
"It's really painful, you know. Painful because on the 25th of December last year, I lose my first son, which [he] was 36 years. He died from a heart attack and now that my mother has had such an unfortunate death, it is really painful," she said.
When SEARCHLIGHT visited Coulls Hill this week, residents pointed out the area where Watson fell over the embankment.
One resident said that it appeared as though the woman had hit her head before tumbling to the bottom of the embankment because when the body was brought from below the road, the woman's head kept bobbing back and forth.
The resident recalled a car going over in the area some years ago and said it was quite possible that people had fallen over the embankment before as well.
A date has not yet been set for Watson's funeral.
Ghent said one of her sisters who resides in Canada would like to be home for the burial and that a post mortem is to be carried out on her mother's body.
"I'm trusting God for comfort and strength because he is in control; he knows best and I am not questioning him. Just keep on trusting him. It's hard, it's rough but it done happen," she said.