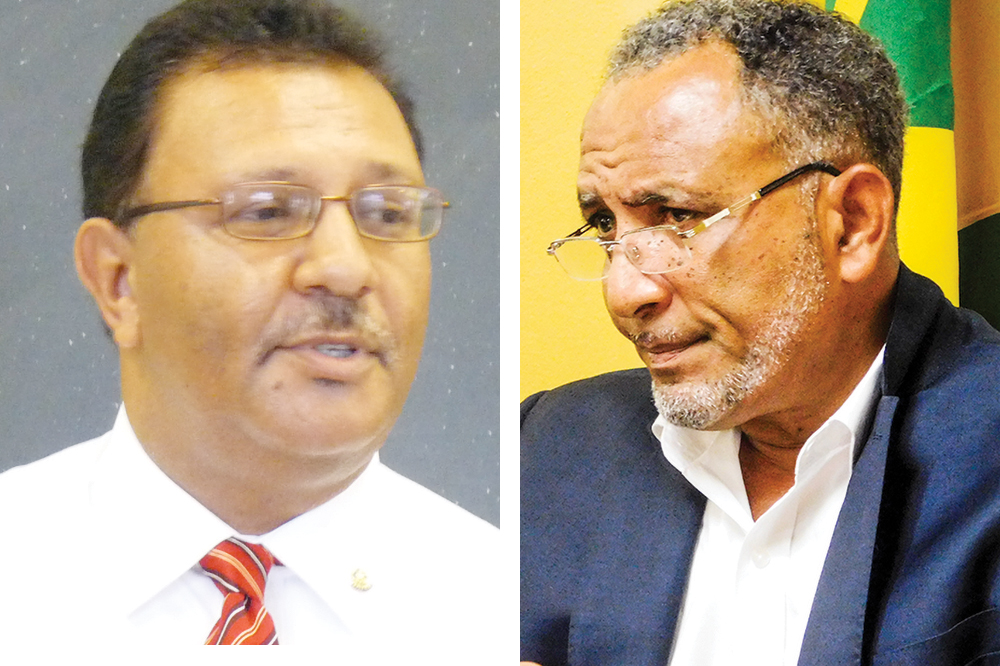 Front Page
August 14, 2020
Kirk DaSilva is Marriaqua pick for NDP
The selection by New Democratic Party's (NDP) Marriaqua constituency council of accountant Kirk DaSilva to represent the party in the next General Elections is not sitting well with some supporters.
So much so, someone going by the name Keson Baptiste has used an online site, change.org, to start a petition to oust DaSilva and replace him with civil servant Phillip Jackson.
The survey appeared hours after the Marriaqua constituency council selected DaSilva over Jackson, pharmacist Curtis Bowman and former NDP parliamentarian Bernard Wyllie.
DaSilva received 15 votes, Wyllie got 8, Jackson, 4 and Bowman, 2.
Bowman contested the last two elections on an NDP ticket and lost both times to the Unity Labour Party's (ULP) candidates Girlyn Miguel in 2010 and St Clair 'Jimmy' Prince in 2015.
The petition asks for 100 signatures and 36 hours after being launched had secured 46 signatures.
The petition's text asks the NDP's Central Executive, "to step in quickly and appoint a more favourable candidate than Kirk."
It goes on, "Frankly, the NDP's leadership should have stepped in long time to orchestrate a better result in Marriaqua. This was not a display of hands-on leadership by the higher echelon of the party. It lacked political craftsmanship."
It further states, "Kirk does not bring national appeal. His selection has made the NDP's position in Marriaqua weaker. There is no added value to the party overall image in selecting Kirk.
"An NDP campaign in Marriaqua with Kirk as the candidate requires 100% support from Phillip and the other candidates.
There must not be one iota of discontent displayed by these candidates. The NDP can show that they are a party open to everyone even former ULP stalwarts and that they believe in democracy."
The Baptiste petition further states, "good political strategy can present the party in the good image especially for those who fear victimization and so on.
"The members and supporters of the party need to display discipline – something that is ever so often absent in their display. They need to recognise that there is a bigger and more important fight to them. That fight is to get into goverment. There is enough room in an administration of Phillp, Bernard, Kirk and all of them. They however must first win government. If they lose sight of this then the party will just stay in opposition. Nobody wants to be a politician out of office."
Contacted on Thursday, Leader of the Opposition Dr. Godwin Friday told SEARCHLIGHT that the candidate selection process will take its normal course and the party' central executive has to now look at DaSilva in Marriaqua; Laverne Velox in East St George and the North Windward candidate whose name he did not reveal.
He said the central committee is adhering to the party constitution and they will soon look at the recommendations from the party's constituency councils.
"We will make the decisions as we ultimately did in East Kingstown (with Fitz Bramble). We don't presume until the central committee decides. The next step is to forward to the central committee," Friday stated while adding that the central executive does not always go the way of the consistency council, "but it normally gives recognition to the decision."
He said the constituency councils have their work and so does the central executive.
He said there were some persons who opposed Bramble taking over from Arnhim Eustace in East Kingstown but that has been rectified, while the candidate for North Central Windward, Chiefton Neptune, was ratified online due to COVID-19.
The Central Committee is made up of over 60 persons and Friday said it is not unprecedented for a decision to be changed during scrutiny.
He said also that he was unaware of the petition to get DaSilva out and of some the comments being made online by NDP supporters. He however noted that a few persons had called him expressing concerns.
"I don't know that person (Keson Baptiste). My job as president is to seek to get the best candidate for each constituency and the person who represents the best chance for the NDP and the people who are doing the work," Friday commented while adding that he does not want to alienate persons who have good intentions.
He said one must not presume that the constituency council's decision is final and while persons may be upset about a pick, the decision is made at the higher level where the concerns raised will be looked at.
On Thursday, DaSilva said he is not worried about the concerns being raised by persons as he is sure good sense will prevail.