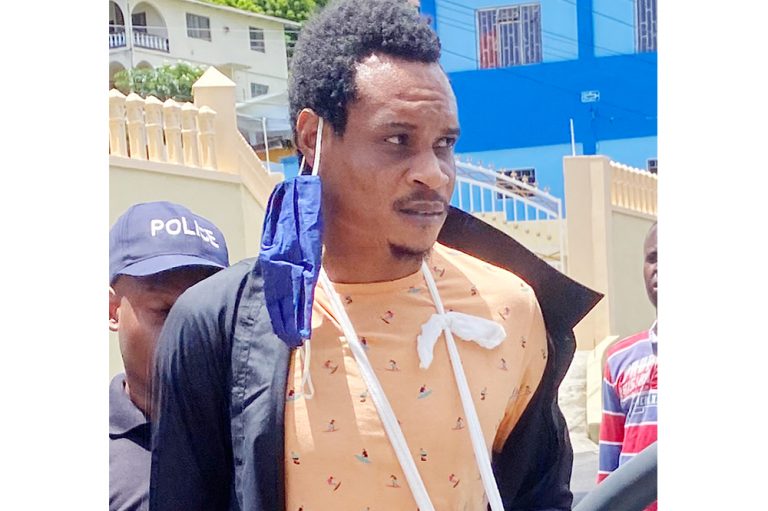 Front Page
August 11, 2020
'Chiefman' appears in court on murder charge
With one of his arms held up by a sling, Devon "Chiefman" Charles appeared at the Serious Offences Court (SOC) yesterday, facing his fourth murder charge in 12 years.
At the court, it was put to 34-year-old Old Montrose resident that he, on August 2 at Block 2000, with malice aforethought, caused the death of Kimron "Warlord" Hannaway, by an unlawful act.
Hannaway, also known as "Dogman", was a 38-year-old labourer of Block 2000 at the time of his death.
One week ago, "Warlord's" dead body was filmed and shared across social media, showing him with what seemed to be a cutlass in his right hand. Hannaway is thought to have died after being hit with approximately five bullets, some of which struck him in the head.
On the other hand, reports are that Charles has made a report against the deceased, which says Hannaway chopped him.
The accused, who says that he is a businessman, is represented by lawyer Grant Connell.
"Chiefman" is not entitled to bail, given the nature of the charge, nor was he required to enter a plea at this stage.
Senior Prosecutor Adolphus Delplesche indicated that the investigator had approximately 15 witnesses, and had requested a three-month interval before the preliminary inquiry examining the evidence begins.
Chief Magistrate Rechanne Browne adjourned the matter to November 30.
Charles has been in this predicament three times prior to this, but on all previous occasions he was discharged at the early stage of the preliminary inquiry.
His former charges include the July 23, 2015 murder of 39-year-old Andre "Sweat" Chewitt/Durham, who was shot five times (once in his head and four times in his back) some time after 8 p.m. in front of his Upper New Montrose home.
Additionally, he was charged in November, 2016, with the September 15, 2015, shooting murder of Andre "Judge"Garraway/Bowens, who was killed on the spot after being riddled with bullets.
In 2008, "Chiefman" joined six others on a charge that he did shoot Atiba "Crimo" Walrond to death at the Shell Gas Station in Pembroke on August 28, 2008.