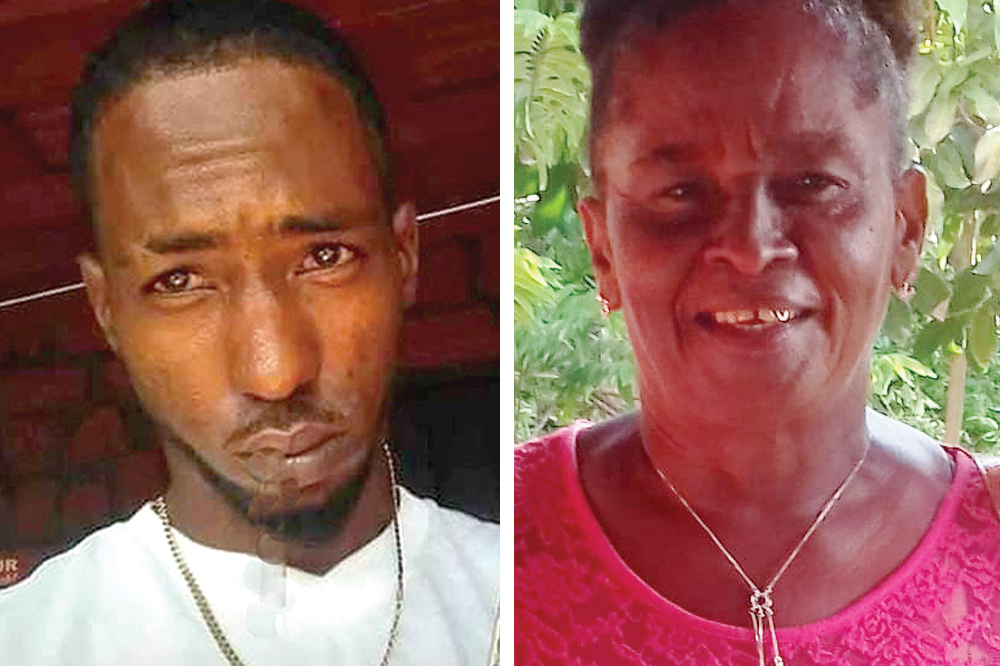 Front Page
August 7, 2020
Mother of man shot by cops doubts police account of events
The mother of a man who was shot and killed by police on Saturday, August 1, says she has many questions about her son's death and she does not believe a report published by the police.
Langley Park resident Jun Abbott was shot by police on Saturday, August 1, 2020, between 2 a.m. and 3 a.m. in Langley Park. He later died.
According to the police report, a group of police officers were returning from a function when they saw Abbott, who is known to the Police, walking along the Langley Park public road.
He had what appeared to be a gun in his right hand. The police alighted the vehicle, identified themselves to the deceased and shouted "stop and drop your weapon", the report from the police public relations department stated.
The report said Abbott did not obey the command, but instead, turned around and opened fire at the officers.
The police returned fire and the deceased began to run. The police gave chase after the deceased. Upon reaching in front of his place of abode, the deceased turned around and again opened fire at the police. The police returned fire and shot the deceased in his right thigh, the report stated.
It was alleged that Abbott ran to the back of his house, scaled two walls, and escaped.
Later that morning, police officers from the Georgetown Police Station searched for Abbott and his body was found in some bushes approximately 400 yards from his home.
The report further stated that a coroner's inquest will be conducted to investigate the circumstances surrounding the shooting. Commissioner of Police (COP) Colin John expressed condolences on behalf of the Royal St. Vincent and the Grenadines Police (RSVGPF) to Abbott's Family.
Speaking to SVG TV on Thursday, Nioka Abbott-Balcombe said she is not satisfied with the police investigations in relation to the death of her youngest son.
Abbott-Balcombe last spoke to her son on Friday night when he told her he was going out. She said when she woke up on Saturday morning, she saw his pair of slippers and hat in the yard, but she did not pay it any mind.
Abbott-Balcombe told SVG TV she learnt of Jun's death from her second son who told her what had happened, when she returned from farming on Saturday morning.
Speaking to SVGTV the bereaved mother said her home was searched during which time her blood pressure went up. She said she thinks it is strange that Jun ran along such a long stretch of road wearing slippers.
You could run in a slippers from there all that way to here? questioned Abbott-Balcombe while adding that she thinks her son was shot in the yard after which he kicked off his slippers and ran.
She also told SVGTV that neighbours said they heard four gunshots, but she herself did not hear anything.
I was told as the day went by, that after gunshots were fired they saw a white vehicle went back down the road then not too long after, the transport came up with a woman police and driver for the transport and they were searching on the ground, Abbott-Balcombe said.
Abbott-Balcombe has secured the services of a lawyer and that lawyer has already spoken to several witnesses. Abbott-Balcombe also told SVGTV that her son had several run-ins with the law and while she does not condone bad behaviour, she does not consider her son a gangster.
He loves to party, he is family oriented and he is a community person.
The police have branded him as a gangster, but my question to the police who are branding him as a gangster, I would like them to pull his file that they have on him and let them show to the public how much convictions does he have, Abbott-Balcombe said.
Using social media site Facebook, several residents of North Central Windward aired their views in relation to the police shooting, stating also that they are not buying the police's version of what happened.
A Facebook user going by the name of Juno Johnson wrote, My 2 cents on Juan (John) from LP police shooting, if 3 man in home clothes and unmarked car approached him and claimed to be police, I don't blame him for running, plenty man does pretend to be police then kill the target, yea we all know pardy a gangster, so naturally certain things come with that life, but that doesn't mean people will accept this story the police giving, dat mek only 3 outa the 5 sense ppl have, y'all police better turn dj n wheel and come again.
That initial post resulted in several other comments.
Shellicia Small wrote, the fact that they claimed he had a gun and shoot back but yet they still can't find the gun. The fact that they said they shoot him and left him and then go back in the morning to look for him! The fact that they claim he got one shot in his leg, but he still manage to scale 2 walls.
Janike Matthias commented, Am in Georgetown almost every other day….and all am hearing villagers saying is that they heard ONLY 3 SHOTS.