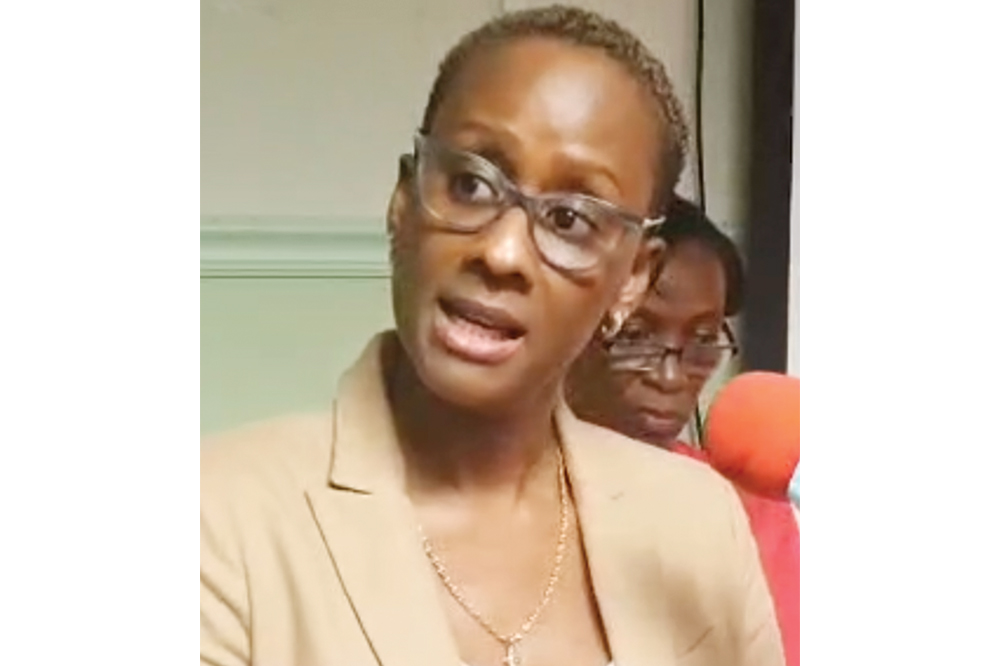 Persons seen in public after arriving in SVG had negative PCR tests – CMO
All of the persons who were reported to have been seen in public less than 24 hours after arriving at the Argyle International Airport (AIA) on Saturday, arrived in the country with negative COVID-19 PCR tests.
This was confirmed by Chief Medical Officer (CMO) Dr Simone Keizer-Beache on Monday night, two days after social media blew up with reports of persons not adhering to the 24-hour quarantine period put in place by the Ministry of Health.
On Sunday, it was reported that six of the 155 passengers who arrived on Saturday on American Airlines (AA) 945 flight from Miami had tested positive for COVID-19.
Saturday's flight was the first scheduled flight into the AIA since regular flights ceased at the end of March. Among the list of protocols attached to these flights is that persons who arrive in the country with a negative PCR test conducted no more than 72 hours before arrival would not have to go into quarantine.
However for passengers who arrive without a negative PCR test, one would be done locally, and those passengers would be required to submit to a 24-hour quarantine while awaiting their results.
Approximately 34 of the 155 persons on the AA flight arrived with negative PCR tests.
Swabs from the other passengers were tested at the local molecular laboratory on Saturday night and the results verified on Sunday morning by the Caribbean Public Health Agency (CARPHA) laboratory in Trinidad and Tobago.
Social media erupted in panic after it was reported that persons who were on the flight had attended popular liming spots, while others went to church and to visit sick relatives and friends at the hospital.
The CMO said they heard reports of the movement but the persons whose names were called were found to have adhered to the protocols in place by providing their negative PCR tests on arrival.
Dr Keizer-Beache noted that in terms of revising the protocols, they are looking at tightening the 24-hour quarantine by looking at different options to ensure that people stay in quarantine.
She said the ideal situation is to do what had been done prior to July 1, which is, 14 days quarantine for everyone, but that would mean there would be no value placed on arriving with a negative PCR test.
She noted also that the Ministry prefers for passengers to be tested before arrival, but the fact of the matter is that once you travel, you can be exposed to the coronavirus.
The CMO said that she is asking persons to exercise caution even if they tested negative before arriving here and do not visit with elderly persons, do not go to the hospital to visit persons and avoiding crowds like funerals and nightspots until at least until 14 days have passed.
Keizer-Beache said also that persons should wear masks when travelling and moving around to avoid the spread of COVID-19.
She said the situation calls for the effort of everybody as there is still a risk that those who test negative can later test positive.
"Wear your masks," she stressed.
Meanwhile, one person going by the name Sha Sha Jones on Facebook hit back at persons who accused her and her brother Nekes Jones of breaking the 24-hour quarantine.
"It has been brought to my attention that my brother and I are being accused of being irresponsible by breaking the quarantine protocols when we arrived in St Vincent and the Grenadines on Saturday.
"I would like to make it clear that we arrived in the country with negative COVID-19 results and were told by the medical personnel of the Ministry of Health that we were free to go and we do not have to quarantine," said Jones.
She further stated, "Who is issuing directives? The Ministry of Health medical personnel, or the COVID-19 experts on Facebook and Instagram?"
Jones praised the AIA process, and suggested that persons returning home get tested 72 hours before they arrive to assist in speeding up the process at the airport.
[UPDATED on July 15, 2020 at 2:24 p.m. to remove the part of the story that indicated that travellers from CARICOM would not be required to undergo a PCR test or fill out the questionnaire. The updated protocols from the Ministry of Health require ALL incoming passengers, including those from around the region to adhere to the same protocols.]]