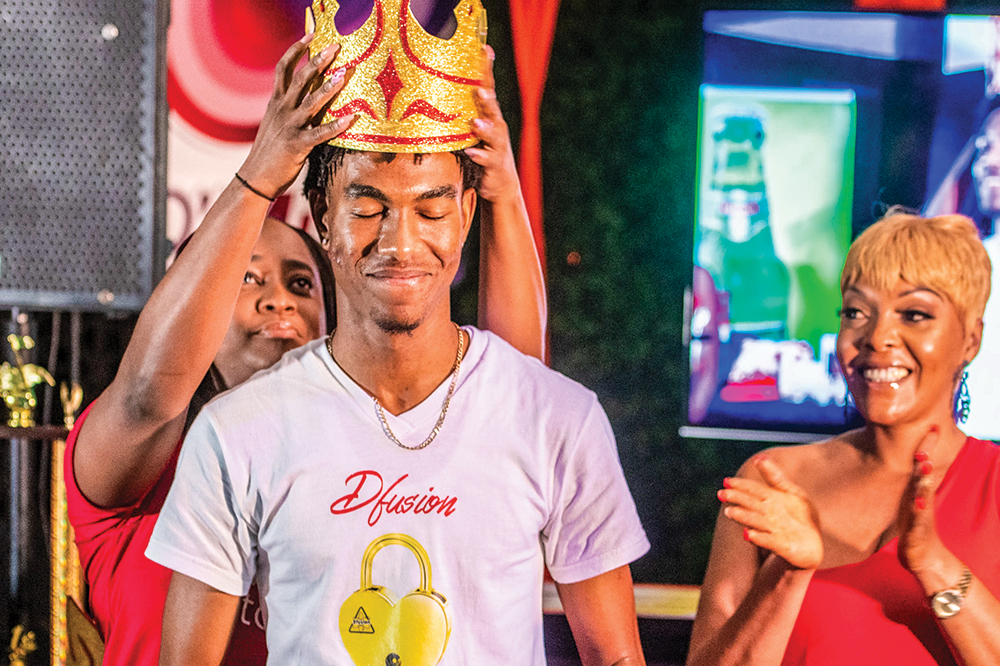 D'Fusion 'Lockdown' the 2020 Ragga Soca monarch crown
The COVID-19 pandemic seems to be good for something after all, as it gave Tyrique D'Fusion Thomas the idea for his winning Ragga Soca song "Lockdown".
"The song came about because of the whole COVID situation. I have other songs, but this one was relevant; I can't go outside, and no one can go outside," Thomas told SEARCHLIGHT on Monday.
The Barrouallie resident is the winner of the first ever Virtual Ragga Soca competition which was held at the Envy Nightclub on Saturday, July 4 and broadcast on Facebook.
Thomas said he went into the competition expecting to win so when he heard his name in first place, he was content and not overly excited, "because my character is humble."
Thomas said he has been doing music for five years, taking it seriously for three years and singing for 24 months. He released a parang last year called "Neighbor".
The former St Vincent Grammar School (SVGS) student who took part in the Junior Calypso and Soca Monarch competitions as a student said he is hoping to continue competing but right now he is focusing on his CAPE studies as a student of science at the St Vincent and the Grenadines Community College (SVGCC).
"My aim is to release great music and be consistent as it relates to the quality," Thomas said while thanking his manager Tedra Kirby, and his sponsors, Scenic View Apartments, Sphynx Industries and Kaviedes Hooper for mixing and mastering his winning track.
He also thanked the promoters, noting that the competition was a good initiative because Carnival was cancelled this year due to the COVID-19 pandemic.
"It gave artistes a chance to perform and I would like to thank them for that," said Thomas, the producer of a 2019 riddim called Sativa.
In second place in the Ragga Soca competition was Chewalee Johnson with "Plenty" while third wend to Javid Rouse featuring Derron Jamal 'Magikal' Rouse with "Road Stamp".
The other performers were Cleoptra – Dutty gyal, Homie – Full hundred, Kripted – Stress Free, and Slama London – Wurtless Worker. Michelle Soca – Pozition dropped out of the competition.
The first ever virtual Soca, Ragga Soca and Calypso monarch competitions were held over the weekend on dates that the national competitions would have been held if COVID-19 had not hit.
In the Virtual Calypso competition, Shena Collis and Chewalee Johnson tied for first position with 'Quashegunny' and 'Mas Debating' respectively. In third place was Glenroy 'Sulle' Caesar with 'Winning Habit' and fourth was 'Chico B' with 'In Quarantine'.
As a result of the tie, the $5,000 first prize was split with each person receiving $2500 dollars. They will also each receive a music video from Stv Online & Precise Lee Films.
In the Virtual Soca competition, first was Sick-O with 'No Cut', second was Chowminister with 'Sugar Daddy' and third, Tan Dre with 'Virus'.
The winner in each category received $5,000, a six-month data plan from Digicel, and a music Video from Precise Lee Films
Tokens of appreciation were awarded to second and third place competitors including a three-month and one-month data plan from Digicel respectively.
The competitions were viewed at STV Online on Facebook for free and sponsored by Hairoun Beer and Digicel. They came through a partnership between STV Online, Ignite Consulting, Envy Nightclub, and 4th Dimension Productions.
The organizers Steve Wallace (STV Online), Candice Sealey (Ignite!) and Lester Iroha (Envy Night Club) expressed their gratitude Computec and Comsport for donating the trophies for the winners and to Nelson Bloc for donating the crowns.