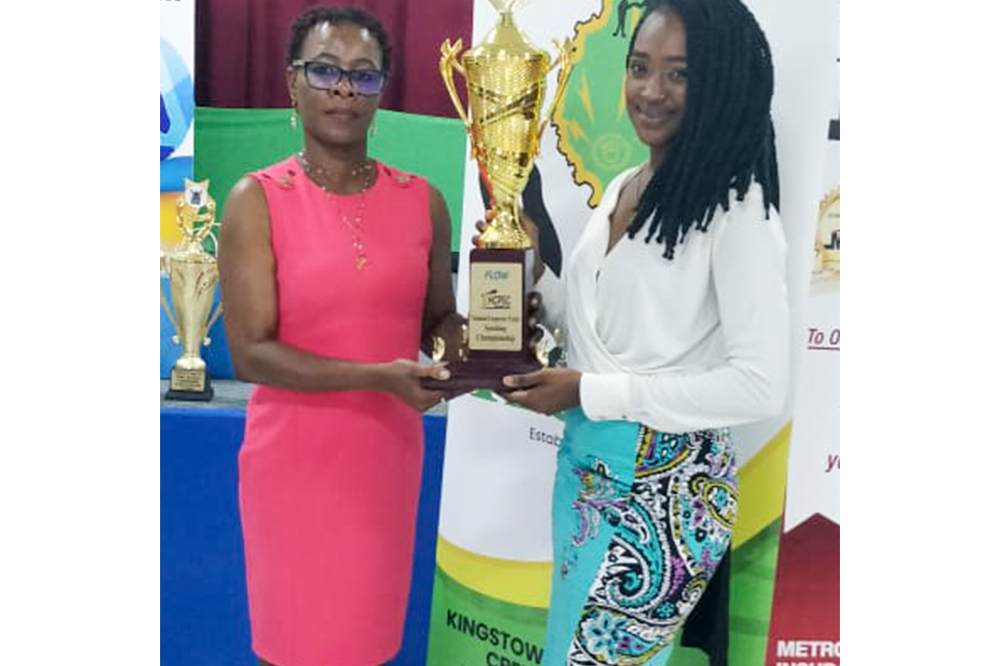 Youth leader wins Public Speaking title
by Bria King
Some people know Ruth Sheresa Stowe as a model. Others know her as a tutor and youth leader. And last Saturday, Stowe added yet another title to her name when she became the winner of this year's National Corporate Public Speaking Championship.
The final round of competition was held at the Russell's Auditorium where nine participants from various institutions spoke on the topic, "Corporate Social Responsibility plays a vital Role in St Vincent and the Grenadines".
"The goal wasn't really to win, it was to represent my company well as well as doing something for myself that I'm not used to doing," Stowe, who represented the Kingstown Cooperative Credit Union (KCCU) told SEARCHLIGHT on Wednesday evening.
The Public Speaking champion is no stranger to the stage as she had enjoyed a long career in modeling and has acted in several plays in Barbados, where she spent four years pursuing a double major in Economics and Law and a Masters in International Trade Policy.
She also enjoys writing in her spare time. But this is the first time that Stowe has competed in a competition of this magnitude.
"I have always played a background role as it relates to competition," she said. "The reason I decided to do this competition is because I wanted to do something different for once rather than being behind the scenes."
As KCCU's marketing officer, Stowe added that she also wanted to generate some publicity for the credit union.
She told SEARCHLIGHT that she has not yet fully grasped the feeling of winning the competition.
"I feel really good that I accomplished something by stepping outside of my box," Stowe said.
As a model with over a decade of experience, she added that she was also happy that persons were able to pay attention to her mind as opposed to her appearance.
"I'm so used to the attention on my modelling; 'Oh you have a beautiful picture, you have a beautiful walk', not necessarily on my intellect because a lot of people would look at me as if I'm just 'one of those pretty girls with no substance'," Stowe said.
In her presentation on Saturday night, Stowe likened corporate social responsibility to Caribbean folklore, 'La Diablesse' to make the overall point that corporate social responsibility can often embody something that is beautiful in theory but when practiced, is not favourable to the economy.
The public speaking champion, who has a daughter in Grade six, said that preparing for the competition was difficult, particularly because she was also preparing her daughter to sit the CPEA examinations.
And while she will not actively seek to participate in any other competition like this one anytime soon, Stowe intends to become a member of Toastmasters International.
For winning the competition, KCCU's marketing officer received $3000 along with other gifts and prizes.
She placed third in the table topics or impromptu segment, where she had to incorporate the sentence "And then there were three" into her speech.
Aviar Charles, who represented the National Insurance Services placed second while Nicolette Nichols, who represented the Treasury Department placed third.
Elingford Roban Jr of the St Vincent and the Grenadines Tourism Authority and Jada Ross from the St. Vincent and the Grenadines Squash Association were adjudged 4th and 5th positions, respectively.
In the table topics segment, Elingford Roban Jr placed first and won $500 while Terrece John from Coreas Distribution Ltd. placed second, winning $300. Ruth Stowe representing the Kingstown Cooperative Credit Union placed third.
Sylvorn Lavia, Royal St Vincent and the Grenadines Police Force and Shaniese Cole, Massy Stores were fourth and fifth respectively.
Andreka Samuel of General Employees Cooperative Credit Union was also a participant in this year's competition.
The Platinum Sponsor, FLOW gave each of the top five participants in the prepared speech contest a Samsung Galaxy Smartphone. All participants received gifts and certificates as tokens of appreciation.