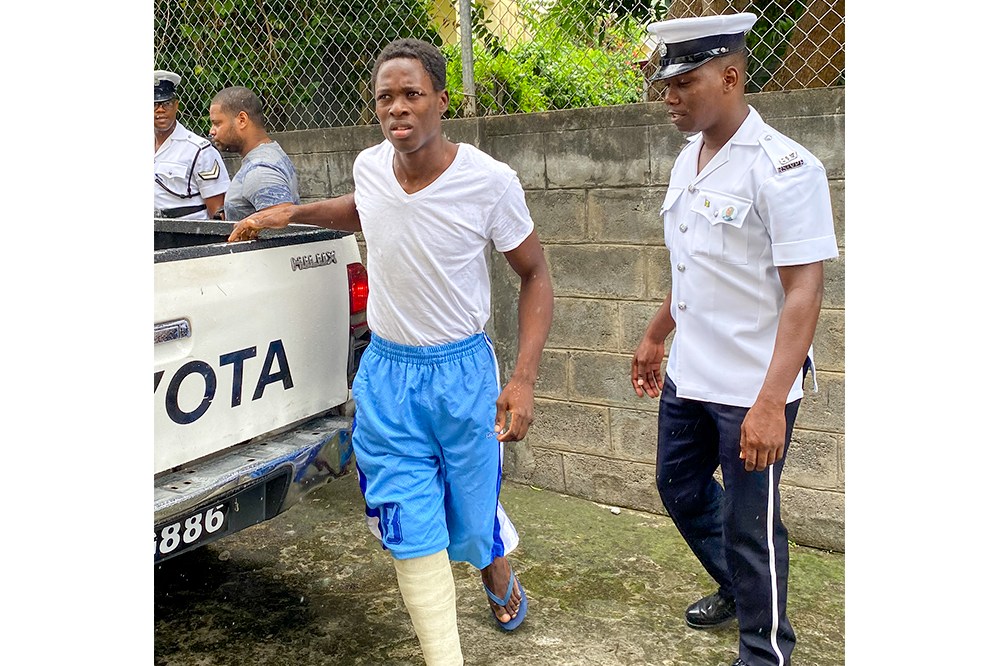 Youngster charged with murder of nine-year-old nephew
TZAN 'ZAZA' PHILLIPS has been charged with the murder of his nine-year-old nephew, as well as grievous bodily harm and damage to property charges.
After being hospitalized since the May 29 killing of his nephew Jamarie Phillips of Richland Park, Tzan first appeared at the Serious Offences Court (SOC) last week Thursday, June 25.
Tzan sported a bandage along the entirety of his right calf, where he received a gunshot wound at the time he was taken into custody.
It was necessary for him to keep this wounded leg on another chair so as not to bend it.
The indictable charge that he did, with malice aforethought, cause the death of Jamarie, was read to the 21-year-old Cotton Ground, Richland Park youngster, who is represented by counsel Duane Daniel.
It was also put to him that he damaged a windshield, valued $1350; the left front and rear glass, worth $1010; the right front door glass, valued $480; the roof, $475; bonnet, $350; and left side quarter panel worth $550, of a motor vehicle belonging to Osborn Ambris of Richland Park, and was reckless as to whether such property would be damaged. The vehicle, number plate P742, was allegedly damaged on May 29 at Richland Park.
The prosecution has indicated that these two charges are tied together, and as such Tzan was not required to plea at this stage for either. A preliminary inquiry was scheduled to begin on September 24.
However, the following day, Friday, June 26, the young man returned to the SOC, where it was read to him that he did, on May 29, in Richland Park, unlawfully and maliciously inflict grievous bodily harm on Vibert Nedd of Richland Park.
He is also accused of damaging one right rear view mirror, valued $450, the property Nedd.
Both matters are not being treated by the prosecution
as part of the same incident as the alleged murder, and as such the 21-year-old was able to enter a plea for the charges. Therefore, he decided to maintain his innocence and enter a not guilty plea.
These matters were transferred to the Mesopotamia magistrate's court for hearing on July 17.
Tzan thanked the magistrate as he returned to his seat.
Jamarie succumbed to chop wounds on his head, neck and hands on May 29, a day after his ninth birthday. His body was found at his home in Richland Park.
Jamarie has since been buried on June 14 at the Richland Park cemetery after a funeral service at the Seventh Day Adventist church at Richland Park.