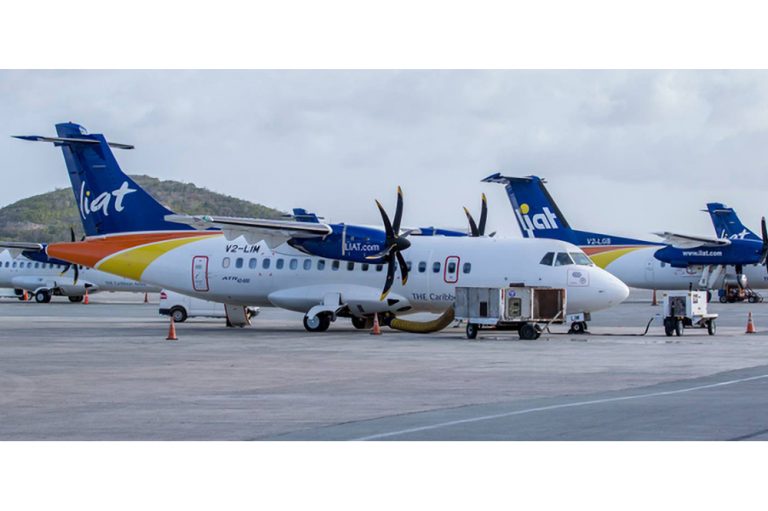 PM Gonsalves explores other options for air travel
Prime Minister Dr Ralph Gonsalves has tapped two locally owned airline companies to facilitate travel into and out of St Vincent and the Grenadines (SVG) as regional airline, LIAT moves into liquidation.
The decision to liquidate LIAT came on Saturday, following a meeting of the four major shareholders of the airline — Antigua and Barbuda, SVG, Dominica and Barbados.
Gonsalves said yesterday, June 29 on WeFM that the liquidation of the airline should move quickly and his priority at this point is ensuring that people can move freely into and out of this country.
"My essential concern is how do we utilise One Caribbean and SVG Air for us to move people, in and out of St Vincent and the Grenadines? — Visitors and Vincentians and to make the connections," he said. "…That's where my head is. So I met One Caribbean yesterday evening (Sunday, June 28). Today (June 29), I'm meeting SVG Air and of course, we provide some requisite support and facilitations."
Gaston Browne, the Prime Minister of Antigua and Barbuda, which is LIAT's largest shareholder said on Saturday that the COVID-19 pandemic has increased the airline's losses exponentially.
According to regional reports, Browne said that LIAT made a loss of about EC$12 million in 2019 and with planes grounded because of the pandemic, the company has had to make lease payments for planes even though there is no revenue.
The Antiguan Prime Minister said however that he could not see the region moving forward without a form of connectivity.
And sometime before the shareholders meeting on Saturday, Barbados Today reported that the Antiguan prime minister said "a decision will have to be made to collapse it and then maybe the countries within the region will have to come together to form a new entity".
Prime Minister Gonsalves, who is also the chairman of LIAT's shareholders said yesterday that he is aware that Browne has said he would like to see the LIAT name remain, should a new entity be established.
"He wants to see Antigua and Barbuda remain the new headquarters for whatever new entity arises. Well, my mind will get there on those issues, but my mind is now, how do we have access to and from St Vincent and the Grenadines, immediately and what can we do?" the chairman said.

Gonsalves said that there are some private sector entities in the region who may be interested in doing something as it relates to intra-regional travel. He also noted that Caribbean Airlines has done some work in that regard already but he was not sure whether they would expand.
The Vincentian prime minister said a meeting will be held with CARICOM where government leaders are likely to discuss regional air transportation.
"We must never forget in 1974 when LIAT 1974 was formed, even Jamaica which was far away and not served by LIAT had entered the picture with a few shares, with a few pennies, to show solidarity. I don't know what is going to happen in the wider Caribbean yet and we will see if other entities who are saying that they will put money in, but only if LIAT is first dissolved and something fresh come about, we will see what is happening there. We will also see how many private sector will come and put money in," Gonsalves said.
But he reiterated that his primary objective at this point was to ensure that people, both Vincentians and visitors are able to travel in and out of this country.