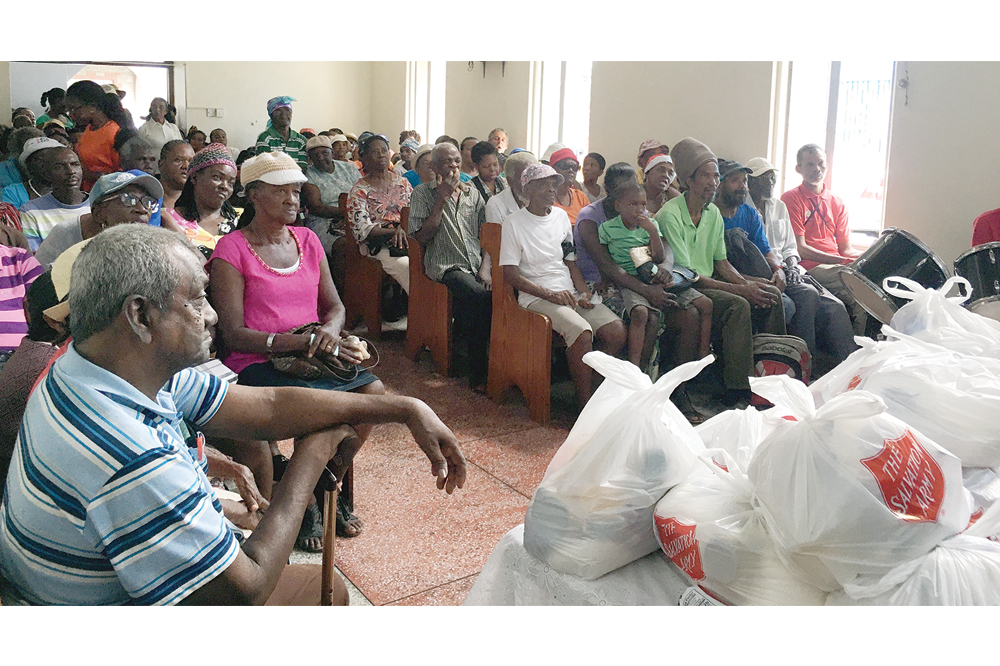 Front Page
December 20, 2019
Salvation Army brightens up season for needy
Persons filled the seats of the Salvation Army Chapel and several more formed a small crowd at its door on Tuesday, eagerly anticipating this year's distribution of parcels for the Christmas season.
Captain Germanie Gachelin, one of the commanding officers told SEARCHLIGHT that the organisation will distribute at least 700 parcels this year.
She said that some of the parcels had already been distributed to five facilities: the Mental Health Rehabilitation Centre, Lewis Punnett Home, Thompson Home, Caring Hands Comfort Home and the female prison.
And individuals attended the small service on Tuesday, tickets in hand to collect their individual packages.
"…This morning, we see God's will being played out in the way Salvation Army is reaching out to you and they have done so throughout the years," Governor General, Susan Dougan said in her address to the congregation.
She said that many people benefit from the organisation's soup kitchen and other contributions that they make both spiritually and physically to the society.
Dougan said "we cannot thank you enough for what you are doing for the people of St Vincent and the Grenadines."
The governor general urged those present to be mindful of several things: hope, the joy of Christmas, peace, good will and love.
She reminded the congregation that there was power in prayer and that in this Christmas season, they should pray to God, thank him for giving his son and embrace the love, peace and joy of it all.
"We have to remember that although I have a lot of things, there's always someone out there that I can share it with and although I don't have a lot, there's always someone out there that can benefit from the little I have to give," Dougan said.
She also urged persons to "look forward to the future. With God's help, you are going to make it through the challenging times and there is always someone there to help you. You just have to put your knees together and pray to the Almighty, ask for faith, guidance and to keep you in a path that would be his own design and will."
Captain Ernest Gachelin, a commanding officer said that the Salvation Army Christmas Appeal started 128 years ago in London.
He added that the organisation exists in 130 countries across the world and most still have the Christmas Appeal, which helps thousands of people.
"Surely, we would continue to do that until we cannot anymore. When that will be, I don't know. Maybe until when Jesus comes, but we understand, we cannot do it on our own, we have to get help from other people to help us and so we are grateful through al those who have supported us and continue to support us," the commanding officer said.
Roberta Samuel, who is popularly known as Tiny, said thank you and prayed for the Salvation Army on behalf of the recipients of the Christmas parcels.
This year's parcel included items such as rice, Crix biscuits, soap, toilet paper, deodorant and toothpaste.