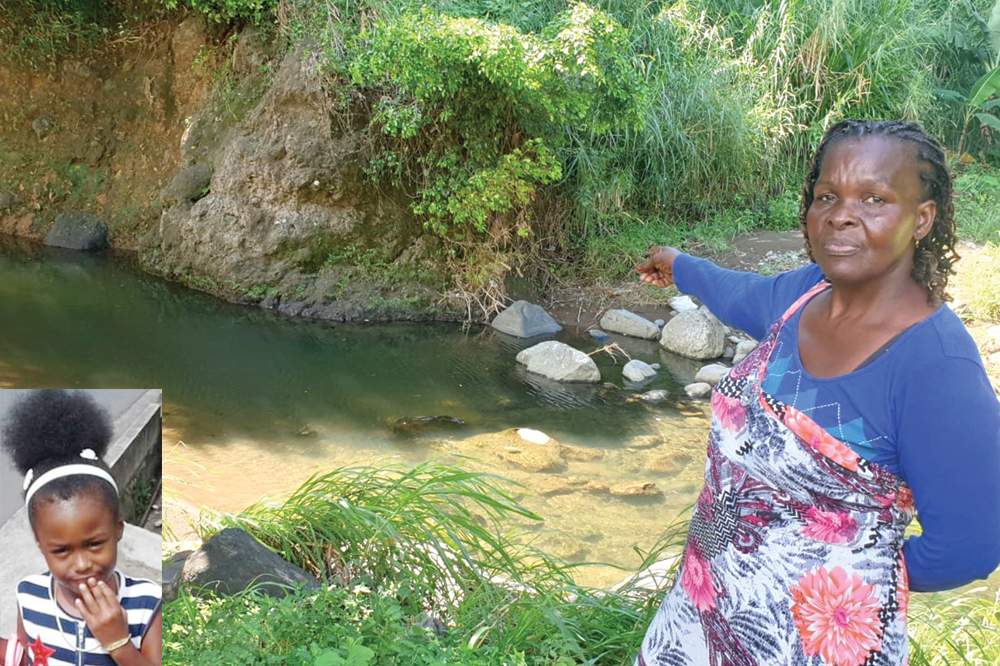 Front Page
December 6, 2019
Child drowns in same spot where uncle drowned 20 years ago
by Lyf Compton
Twenty years ago, Mary Browne left her two-year-old son Ravel at home in Penniston with a family member so she could travel into Kingstown to buy a pair of shoes to attend her mother's funeral.
While on that errand, she received a message that her son had somehow made his way to a nearby river and drowned.
On Tuesday, December 3, history repeated itself. Mary's seven-year-old granddaughter Roshanna Browne, whom she raised from a baby, drowned at the same spot that her son died. She was a grade two pupil at the Buccament Government School.
"Me feel me coulda just dead, but God say just have faith,' said Mary yesterday from her home in Francois, Vermont.
According to the bereaved grandmother, on Tuesday morning, she told her granddaughter to go to the home of one "Miss Henry" after school.
Food was left for Roshanna at Miss Henry's home, and the little girl was expected to eat and remain there until she was picked up.
However, Roshanna is said to have told Miss Henry that she preferred to be at her great aunt Norma Browne's home and so she left and met up with her two cousins, a five-year-old girl and a seven-year-old boy.
The trio then decided to go swimming at a popular spot just a few feet away from Norma's house, a deadly decision, as Roshanna drowned in a deep part of the river that claimed her uncle 20 years before.
She did not know how to swim but the two cousins who were with her are swimmers and are accustomed to the river.
Her grandmother who lost her right hand, and fingers on her left hand during a cutlass attack a few years ago when her then boyfriend wielded a blade against her, said it is as if she cannot find happiness.
"Every time me try to get happiness around, all the time me just ah feel some kinda sad news ah come," Mary told SEARCHLIGHT.
She said her granddaughter was "real nice" and would do a lot of errands around the house including preparing meals and laundry.
"She would say, 'Mommy you want me help you bathe? Leh me scrub you back'. All thing she been ah do fuh me. Me really miss she bad," said Mary holding back tears.
She said Roshanna's mother left her as a child, and her father went to Bequia to work shortly after, so she has raised the little girl as her own.
"Her birthday is January 5th, she woulda be eight and she was praying for that come so that she could see she birthday. She done telling everybody the 5th ah January is she birthday and they have to give she something for she birthday," Mary reminisced.
Mary said that on the day in question, she went to Miss Henry's house and was told that Roshanna had left for her great aunt's place.
"…so I run go down and I hear they saying the child down there drown and I say how she go drown just so?" Mary said while adding that she was told her granddaughter was fished from the river by a guy who goes by the alias "Beat-Out".
The dead child's great aunt Norma said she was shocked when she heard the little girl had drowned.
"I didnt know she was here," she told SEARCHLIGHT.
Norma said she was a short distance away from home selling craftwork, and she had no idea that the children had come from school and gone swimming.
She revealed that she decided to quit selling for the day and take a bath and that is when one of her grandchildren ran to her and told her Roshanna was under the water and she was not moving.
"They think she was diving but after they see she taking too long, they run for me," Norma explained while adding that she could not swim so she sent "Beat-Out" to get Roshanna from the water.
"He bring she out but she done dead. Her grandmother son drown there. I looking at that as a sign. I duh know why," said Norma.
She added, "I feel sad. I ain't catch myself as yet."
Norma said the area where Roshanna drowned is a popular spot for bathers and a few years ago, another child almost drowned there but was saved by a woman.
She said they usually supervise the children when they go to the area, but she was not aware they were there.