Posted on
Ball starts rolling on case involving anti-gay laws in SVG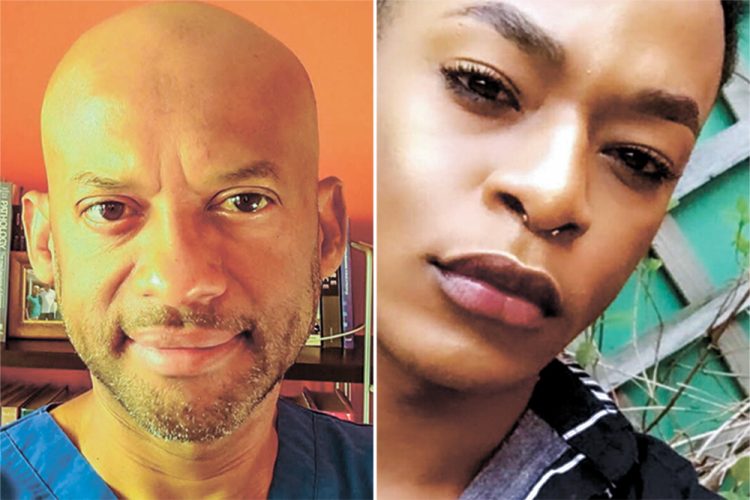 As the wheels begin turning in court for the hearing of the challenges to the anti-gay laws of St Vincent and the Grenadines (SVG), one of the claimants assures that he is committed to making a better situation for future generations of gay persons in SVG.
It was the debut court hearing at the High Court this Wednesday, for the claims filed by Vincentians Sean MacLeish, 53, and Javin Kevin Vinc Johnson, 22, two gay men who have been living abroad in the United States, and the United Kingdom, respectively.
The two men, who do not know each other, but are both living abroad because of their fear to return home, have simultaneously decided to file claims challenging the buggery and gross indecency laws of SVG.
Johnson, in a media release yesterday, stated, "I am very happy that this legal challenge has begun!". The 22-year-old who applied for asylum to the UK in 2017 due to his inability to continue living safely in SVG as a gay man, continued, "I am committed to making sure that what happened to me in St Vincent, doesn't ever happen again to future generations of Gay People. Thanks to all our legal team who are working so hard for our human rights."
MacLeish went further to say that Wednesday was a very important day, not only for Lesbian, Gay, Bi-Sexual, Transsexual and Queer+ (LGBTQ) persons who are Vincentian, but also "monumental" "for access to social inclusion and equality for all marginalized groups."
"Growing up and living in St Vincent as a gay man, I was made to feel insignificant and less than because of my sexual orientation. With so much progress in the world towards equality, very little has changed here, and I still see LGBT Vincentians being victimized and harassed because of who we love," the Chicago, Illinois resident explained.
MacLeish stated that they just wanted to be free of this discrimination and its obstacles which are fueled by the criminalization of homosexuality.
"I place my confidence and hope in the Judiciary to correct this inhumane injustice, because justice is a remedy for pain and a step towards healing and freedom," he concluded.
On Wednesday, attorney Shirlan 'Zita' Barnwell was present in legal representation of Johnson, and, with respect to McLeish, she was holding for attorney Jomo Thomas, who is in the US attending his mother's funeral.
Barnwell and Thomas filed the claims and affidavits on behalf of the two men, which state that they have been exiled from SVG due to the severely draconian and damaging effects of the anti-gay laws.
However, Queen's Counsel Jeremy Johnson, and Peter Laverack of 5 Essex Court, are advising both men, and are listed as the intended trial advocates. The QC and Laverack will seek to assert, amongst other points, that the dignity and autonomy of the two claimants are stripped by the buggery and gross indecency laws.
Further, that the laws, which have been in force since the colonial-era, violate multiple and overlapping rights in the Constitution, which are there to protect all Vincentians, no matter who they are or who they love.
Neither Johnson nor MacLeish were present in the court, considering Johnson has been living in the UK after applying for asylum, and MacLeish resides in Chicago with his partner.
In light of their living in other countries, Barnwell has made the application that the two attend the hearing of the proceedings substantively through Skype.
The defendant in the matter is the attorney general Jaundy Martin, who is out of state. Holding for him was counsel Karen Duncan-Gonsalves, who is assisted by Kesron Walters.
The decision was made that the two claims filed separately would be consolidated, and dealt with together for convenience as the issues in both overlap.
Neither side had any objections to this proposition made by Justice Esco Henry.
No more than 16 witness are set to be called, three for both Johnson and MacLeish, and no more than ten on the side of the attorney general.
The next task was to determine how long the trial will be, and the judge asked whether three days would suffice.
When asked by the judge if her cross examination will be extensive, Duncan-Gonsalves indicated that she cannot say at this time, but also that she does not think it will be extensive, but that it will be thorough.
Barnwell commented that a longer period, perhaps four days, or even a week should be set aside in the view of being more liberal, in the event that more time is required.
However, the question of how many days be set aside for the trial was not answered, and will instead be decided on November 13, when the pretrial review will be held.
Disclosure of evidence and all filing of documents is to be completed by October 4.
If Johnson and MacLeish are successful in their claims, SVG will follow Belize and Trinidad and Tobago, which have both seen successful challenges to their anti-gay laws, although, an appeal has been filed by the Catholic Church in Belize.