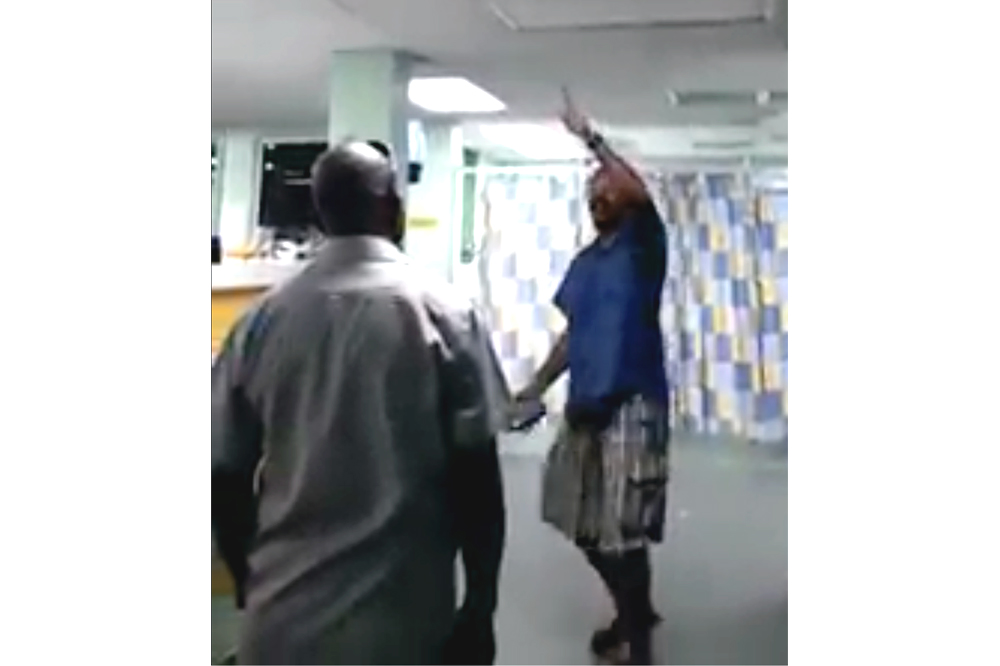 Front Page
September 17, 2019
How can you have a hospital with fungus in asthma bay? (+Video)
Dr Michael Goodluck, one of the District Medical Officers (DMO) assigned to the Calliaqua district, has blasted what he considers the bad state of the Accident and Emergency (A&E) Department of the Milton Cato Memorial Hospital (MCMH).
"This is tearful. How can you have a hospital with fungus like this in the asthma bay amongst other places," Dr Goodluck says in a video currently making the rounds on social media.
It is not clear when the video was recorded or who the female was who did the recording.
https://youtu.be/YpRm_zejX2k
Pointing at the roof, he adds, "as I talk here, I could be inhaling some (fungus). No Boucher, look at this and when you talk the truth they come and talking bout you try to make the prime minister look bad and all kinda stupidness. Look at that."
The Boucher referred to is president of the Public Service Union (PSU) Elroy Boucher who also works in the maintenance department of the MCMH. Boucher, also seen in the video, says nothing, while Dr Goodluck makes his statements.
"Look at fungus and Vincentians for the sake of labour love fraid to speak. This is ridiculous, this is an emergency room where you come to save lives and look at the place.
"I come in here to get a room to do dressing, the room so stink… I see cotton on the ground that wipe somebody sore foot. I don't know how it reach dey," the doctor rants.
He added that he went to the facility to have a look as he heard persons speaking on radio about the conditions at the A&E.
"…and we saving lives? Where? In here? Alyo making bare sport," Dr Goodluck said before storming out.
A Ministry of Health source told SEARCHLIGHT on Monday that the recording was seen by health officials and the comments are being looked at.
The source also said that although Dr Goodluck may have been unprofessional in his approach, he was not at work and he could argue that he went to the A&E as a private citizen and voiced his opinion.
This is the third time that Dr Goodluck has voiced his opinion in such a manner.
In an April 2016 recording, Dr Goodluck accused the Government of placing taxes on the healthier foods.
"The problem is, it's always expensive to eat healthy, you understand, and thanks to your wicked Government who you dying for, everything gone up, but you don't mind, do you, because you supporting Ralph.
"…I don't understand aryo young people. You all will be suffering under these people and aryo will still die for them. I don't understand how you all thinking," part of that recording had stated.
In another recording released in July 2016, Dr Goodluck could be heard once again making politically infused comments to patients about the ruling Unity Labour Party (ULP) and its leader Dr Ralph Gonsalves.
In the recorded rant, Dr. Goodluck told persons who had gathered at the clinic that the room that was being used to do patient checks was too hot and that they all should get together and ask the governing ULP for a fan.
"I'm telling you all, if it get too uncomfortable down there, I will have to stop, because the room is extremely hot and it doesn't have to be like that. All they have to do is donate some fans.
He could pull it out he pocket if he want to, because he supposed to love aryo, that nah what Labour love is? He could say, here, you vote for me, buy three fans, that not what he supposed to do?"