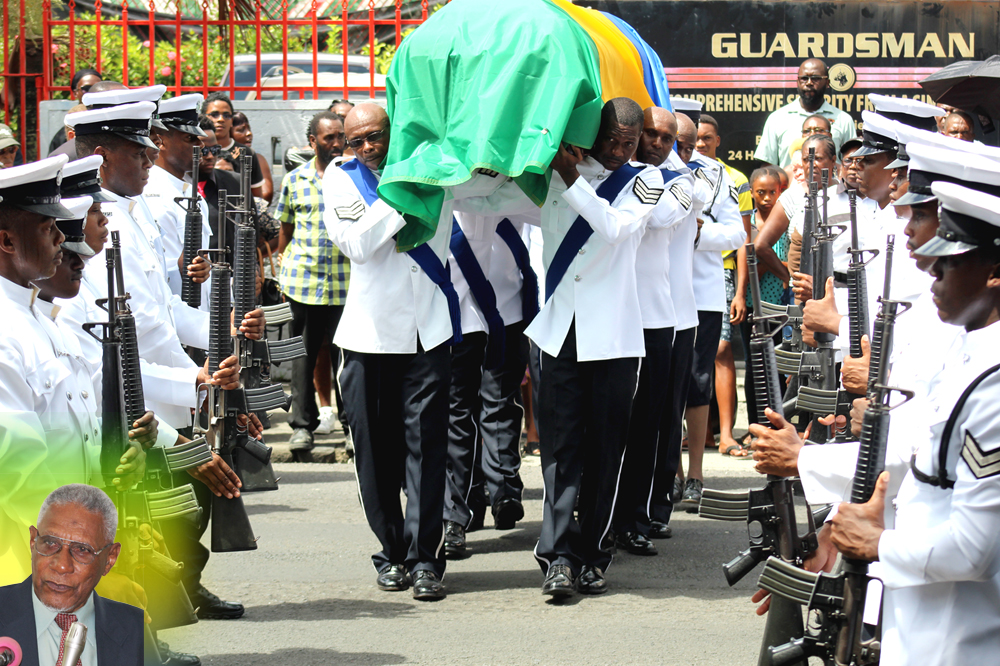 Front Page
August 20, 2019
Outstanding politician gets stately send-off
by Bria King
Sir Vincent Beache penned three epitaphs for himself before deciding on the one that was read at his State funeral yesterday.
The veteran politician died on August 5, eight days before his 88th birthday and was laid to rest following a funeral service at the Kingstown Methodist Church, which began at 2:10 pm.
Julian Francis, the minister of Transport and Works was tasked with reading the epitaph, of which he commented that "Sir Vincent Ian Beache was one of a kind. One may write a will, but there's not a human that I know that would document his own epitaph".
"Have no drums roll nor trumpet sound to hasten me where I am bound. Let silence reign upon my name, now I return whence I came. If truth be told, I do not care to be praised in death, now I cannot hear. Too oft, my name was vilified, my deeds were hardly recognised, unjustly blamed and criticised; deceased, I'm forthwith sanctified. No acclamations, please, no shouts. For once, let kindness still your mouths. Think not of this as bitterness, but more so that of truthfulness. No grudge, no malice do I bear, tis only said for conscience clear. At last, let sanctimony cease and leave my soul to rest in peace," it read.
It was said that Beache did not want an excessive send off following his passing and so, the veteran politician's funeral service was a short one, void of any lengthy tributes.
Prime Minister Dr Ralph Gonsalves delivered the eulogy, in which he chronicled Beache's political career, particularly as the third longest serving parliamentarian of this country after Sir James Mitchell and Ebenezer Theodore Joshua.
"Indeed, for the last 25 years, from 1994 until he left this earthly city, he was my closest comrade and friend. Sir Vincent was one of the outstanding political personalities in the modern history of St Vincent and the Grenadines. He is of iconic status. His political activism spanned the last 47 years of his life from 1972 until his death…," Gonsalves said. "Even after he retired from representational politics unvanquished in December 2005, he remained within the governmental apparatus spearheaded by his beloved Unity Labour Party as the trusted and wise advisor to the prime minister and as part of the leadership of several entities of the state."
Beache held the office of Leader of the Opposition for two different periods and acted as prime minister on several occasions. He was the first political leader of the Unity Labour Party.
Gonsalves, who succeeded Beache after he demitted the office of political leader of that party in 1998, said that the members of the party will always hold him in high esteem as "our comrade leader".
"I have absolutely no doubt that Vincent Beache is the best prime minister St Vincent and the Grenadines never had. The myopic and jaundiced critics of Comrade Vincent underrate this great man. Many hitherto have underrated him to their lasting detriment," the prime minister said.
"…He strongly supported me to succeed him and pledged to serve under my leadership. He kept his pledge. This is very unusual in politics, especially Caribbean politics. Usually, leaders either die in office or torment their successors, or sulk away grumpily into oblivion. Not Vincent Beache. He joyously served in any assigned or chosen position for the greater good of the collective."
He listed several fond memories that he had of his friend in Parliament, in Cabinet and at meetings of the central executive of the ULP; at a river cook in South Rivers; in the retelling of stories; and in his company while he sipped on "his pepsi, his metaphor for a much stronger brew".
And Gonsalves, to a packed church, droves of people sitting under tents set up in the churchyard and the masses viewing the service via livestream, unashamedly expressed his love for Beache and said that he would always love him.
"In short, comrade Vincent lives in me, in the way my deceased mother and father do. I shall always love him. My love for him is ever as a fixed mark that looks on tempests and is never shaken. Over a decade ago, his thoughtfulness and generosity impelled him to give me a pair of his leather sandals to wear on the occasion of my foot injury. I still have the sandals and I still seek to fill his shoes," he said.
The message at yesterday's service was delivered by Methodist lay preacher Monty Maule. An emotional Glen Beache, Beache's youngest son and chief executive officer of the St Vincent and the Grenadines Tourism Authority, also made his way to the podium to speak briefly about his interaction with his father before his passing.
The ceremony was presided over by Reverend Adolf Davis.
Having been accorded a state funeral, Beache's body lay in state at the House of Assembly for five hours before his funeral. There were few dry eyes during the viewing of his body and several members of his family and officials, including Prime Minister Dr Ralph Gonsalves could be seen wiping away tears and shielding their teary eyes with eyewear with dark lenses.
Family members and officials were present inside the chamber from before 9 am to pay their final respects to the statesman while members of the public came in droves from 9:45 am so that they too could say goodbye to the veteran politician.