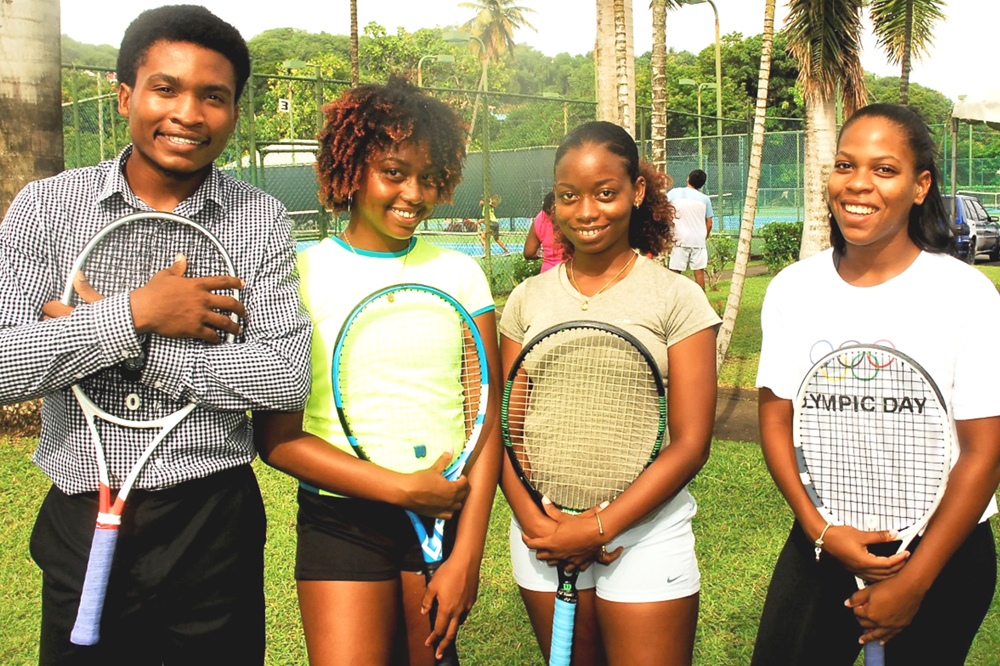 Front Page
August 20, 2019
Coach elated tennis twins awarded scholarships to US
by Robertson Henry
Tony Boyea is one happy tennis coach, as two of the players he has coached over the years, have left St Vincent and the Grenadines on tennis scholarships.
The two – Amarlia and Gabrielle Benn, along with Myka Williams, and Josh Mounsey, all left the island on Saturday bound for the United States, to begin their tennis scholarships.
According to Boyea: "I am feeling very elated for Gabrielle and Amarlia Benn. As a matter of fact, they are my goddaughters, and I had coached their mother way back in the 1980s."
Karen Anderson, the mother of twins Amarlia and Gabrielle Benn, became the number two tennis player in St Vincent and the Grenadines. She represented her country in a number of tournaments playing singles, doubles, and mixed-doubles.
Boyea noted that both Amarlia and Gabrielle possess tremendous potential and "going to the States would only enhance their capabilities."
The journey of the Benn twin sisters, along with Myka Williams and Josh Mounsey, despite the negative aspect of they leaving a void to be filled, hopefully by up and coming players, has great significance for the development of the game in St Vincent and the Grenadines.
Boyea pointed out that the Benn twins are two of the top female players in St Vincent and the Grenadines at present, and in recent national championships, Gabrielle came out on top. This is despite being beaten in the semi-finals by her sister.
"I think that they are going to be good ambassadors for St Vincent and the Grenadines," said Boyea of his goddaughters, who will be attending Ave Maria University in Florida.
Myka Williams will be attending the University of Sciences in Philadelphia, while Josh Mounsey will be studying at the St Thomas University in Miami.
The tennis coach for the Ave Maria University who is Brazilian, was so impressed with the Youtube videos of the twin sisters tennis potential, that he wanted them to be part of the institution's tennis squad for the coming semester.
Both Amarlia and Gabrielle Benn are expected to be thrust into tennis action next week. They have been scheduled to represent the Ave Maria University in a tournament the week following their arrival.