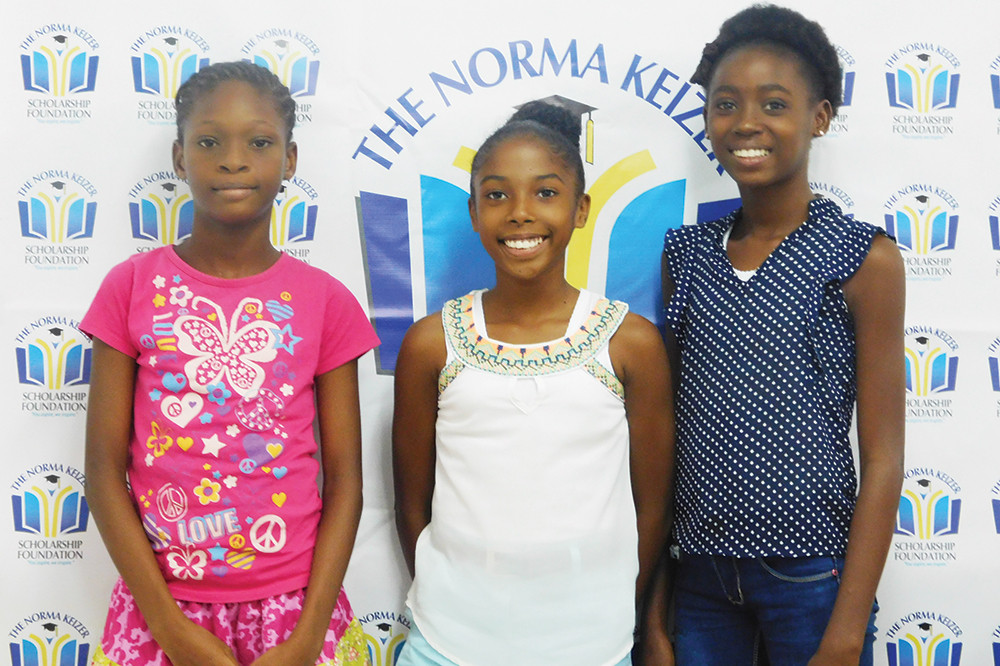 Front Page
August 16, 2019
More students benefit from The Norma Keizer Scholarship Foundation
This year's recipients of scholarships and bursaries from the Norma Keizer Scholarship Foundation (NKSF) have been encouraged to keep focused and work hard to achieve their goals.
At a small ceremony on Monday, August 12 at SEARCHLIGHT's office at Lower Kingstown Park, Kizanique Jack, a former student of the Langley Park Government School; Kate-Lynn Bobb, of the Stubbs Government School; and Amanda Henry, formerly of the Clare Valley Government School received full seven-year secondary school scholarships, while Kyarra Sandy, Apollos Duncan, Elvanique Horne and Samella Young received one-off bursaries.
Clare Keizer, secretary of the NKSF congratulated all of this year's recipients, who were chosen from 36 persons who applied.
She said it was a difficult process because "everybody is in need and all of the students who applied performed well in the Caribbean Primary Exit Assessment".
"I wish you all the best in your academic career and life. Parents, I just ask you to please support your children, as I imagine you have already been doing. I don't mean just support them financially, but also emotionally; help them with their journey. We all know life is not easy, so you have to keep supporting them as they move along," Keizer said.
The Norma Keizer Scholarship Foundation was started in 2015 as part of SEARCHLIGHT's 20th anniversary celebrations to honour the late Norma Keizer, the newspaper's first editor and a past headmistress of the Girls' High School.
"We thought this would be a very good way to honour her legacy and we are confident that all the children who would receive scholarships and awards today are worthy of the assistance and will help us to keep Mrs Keizer's legacy going," the Foundation's secretary said.
Jeanette France, a member of the NKSF board, was instrumental in choosing this year's recipients. She said that it was a difficult process, but involvement in extra-curricular activities helped some students to stand out.
France told the students that they have to continue doing well if they are to maintain their scholarships as their reports are reviewed every term.
"Having taught at Girls' High School and Boys' Grammar School for many, many years, I know what the competition is like and you're going to go out there to meet a lot of competition…," she said. "I just want to talk to you about responsibility, because sometimes when you get a scholarship, you believe that is the end of it…. Really and truly, that is the beginning because for you to maintain that scholarship and for you to do well, you're going to have to work extremely hard."
France further encouraged parents to encourage and support their children so that they may continue to do well.
"You cannot depend on teachers. Teachers are there yes, to work with your children during 8 to 3 or whatever the time is. It is the home really. Look at all of the children who excel at school and you would find that a lot of the help is coming from home. Not because you can't help them with the physics or the chemistry or whatever, you can help them by encouraging them and if you see them needing extra help in anything, get someone who is good at that, to get them the help," she said.
Parents of recipients also joined in with words of gratitude and encouragement, during yesterday's ceremony.
Camiller Bobb, mother of Kate-Lynn Bobb thanked the NKSF, saying that sending children to school is an expensive task, especially when you have more than one child in school.
"I also want to wish all of the children here the best. As a teacher, I can say that school is very difficult and it's not something to be slighted," Bobb said. "You have to make the most of your opportunities that you are given and whatever assistance your parents find for you. Please do not get distracted by friends. You're in school for a reason, work hard, your parents are there if you need any help, your teachers. Don't be afraid to ask."
Petel Sandy, mother of Kyarra Sandy, also thanked the NKSF and she too encouraged students to stay focused and keep their eyes on the goals they hope to achieve.
Peggy-Ann Duncan, mother of Apollos Duncan said the bursaries and scholarships will go a long way in helping to provide for the recipients and like the other parents, she encouraged the students to keep focused and study hard.
To date, through fundraising and sponsorship, the NKSF has been able to award 12 full scholarships to secondary school entrants that run for a duration of seven years. The Foundation has also given 16 one-off bursaries and one three-year university bursary to a student who completed her studies at the University of the West Indies St Augustine in the last academic year.