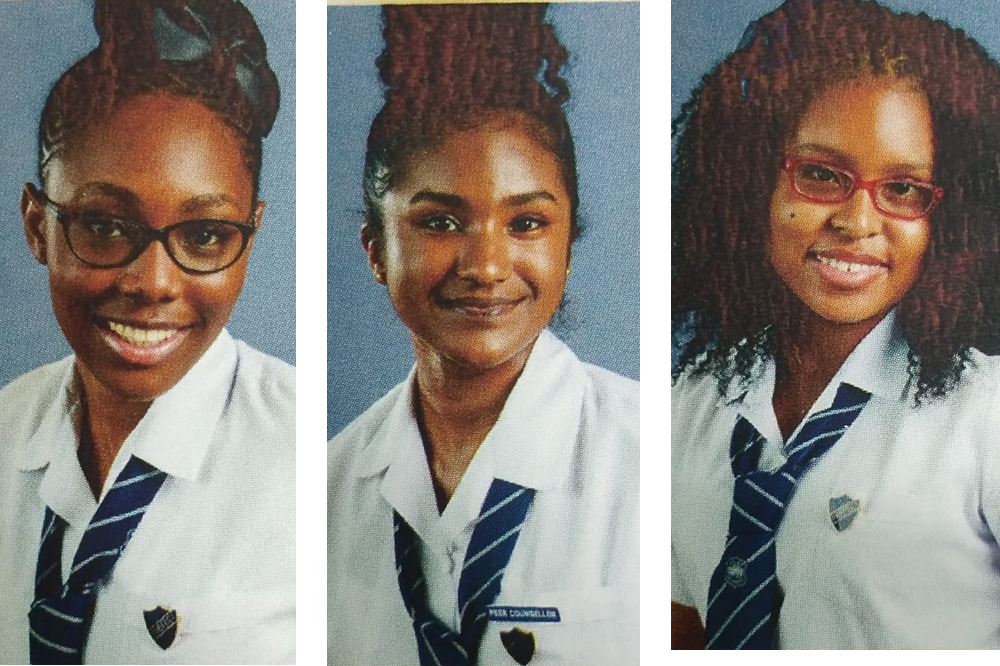 Front Page
August 16, 2019
GHS students cop top three spots in CSEC exam
One of this country's top performers in the 2019 Caribbean Secondary Education Certificate (CSEC) exam is advising future students to not wait until the last minute to start preparing like she did.
Lonyé Browne, having passed 15 subjects with eight grade ones, six grade twos and a grade three, is one of three students of the Girls' High School recognized by the Ministry of Education as having returned exceptional grades for St Vincent and the Grenadines.
And despite her showing in the regional examinations, she told SEARCHLIGHT that she waited "too last minute" to prepare.
"…Prepare in advance and don't wait for last minute like I did," she said. "Do past papers, they can help, especially the multiple choice because some of them were very repetitive…make sure you go in with good SBA and lab marks. That's important because it helps a lot so that even if you don't do so well on your exam, you have your SBA and lab marks to help you.
In addition to what she advises, Browne said she read her notes and used study guides to help her prepare for exams.
The 16-year-old received grade one passes in Chemistry, EDPM, English Language, Information Technology, Physics, Accounts, Spanish and Theatre Arts. She also has a grade one pass in General Mathematics, which she sat in the fourth form. She received grade two passes in Biology, Economics, English Literature, French, Geography and Social Studies and a grade three pass in Additional Math.
"I feel good. Of course there's always room for improvement but I am proud of myself for passing all of my subjects," the daughter of Duel Andrews-McMillan and Vidal Browne said. "I have to thank God for making all of this possible, blessing me with the ability to do all of this, for blessing me with the people in my life like my mommy and my family, my peers at school, whoever helped me study, whoever I helped to study…it helped all of us in the end. "
Browne, who was a prefect and peer counsellor, said that part of the reason she did as many subjects as she did was because she has not yet decided on a specific career path.
She says she intends to attend the St Vincent and the Grenadines Community College in the upcoming school term, although she is still unsure of what subjects she will do there.
Happiness and relief are two emotions that another top performer, Adiah Holder felt when she found out that she received 13 grade ones and a grade two in this year's sitting of the CSEC examinations.
"I had to study a lot. I prayed a lot. I did not expect it. It is because of God why I did so well," the 16-year-old told SEARCHLIGHT this week.
The top performer received grade one passes in Additional Math, English Language, English Literature, Information Technology, Chemistry, Biology, Physics, History, Spanish, Principles of Accounts, Principles of Business, Geography and EDPM.
She also sat General Mathematics in the fourth form for which she also received a grade one pass, giving her a total of 14 grade ones. She received a grade two for French.
"I think when I was in form four, I was not really sure about the career path I would choose so I did sciences and a little bit of business," Holder said when asked about her reason for sitting 14 subjects.
Academic success is not new for the teenager as she was one of the top performers for the first ever sitting of the Caribbean Primary Exit Assessment (CPEA) in 2014.
Holder recently started playing tennis and was involved in swimming and playing the violin before exams but said that she "had to stop all of those around exam time. I had classes almost every afternoon so my week was packed".
And to students who will sit the exam in the future, she says; "God first in everything that they do, work diligently and be disciplined".
Holder told SEARCHLIGHT that she is still undecided when it comes to what career she will pursue. But it is her intention to study the sciences at the St Vincent and the Grenadines Community College, Division of Arts, Science and General Studies.
This country's third top performer is Zuania Baptiste, who received 12 grade ones and two grade twos in this year's sitting of the CSEC examinations. Baptiste was out of state up to press time and could not be reached for an interview.