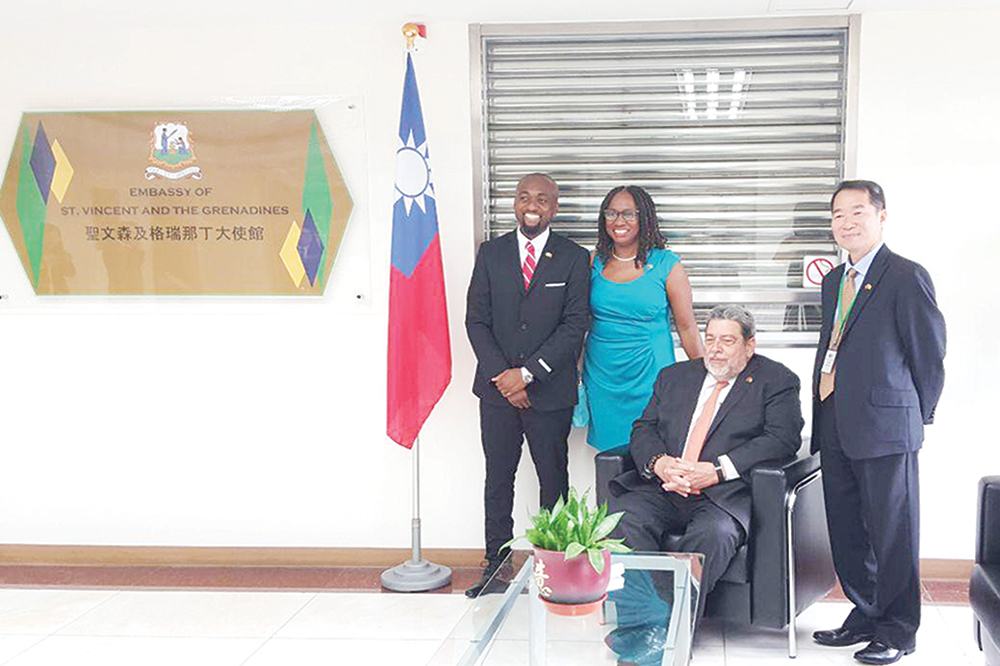 Front Page
August 9, 2019
SVG opens Embassy in Taiwan
This country's Embassy in the Republic of China (Taiwan) is now open, with Prime Minister Dr Ralph Gonsalves unveiling the plaque during an official ceremony.
"I expect the new embassy will contribute to a further strengthening of relations between our two countries, and add great value to the bilateral diplomatic ties," remarked Gonsalves during the event held on Thursday, August 8.
Gonsalves and his delegation are in Taiwan on a one-week visit for the opening of the Embassy and to meet with Taiwanese officials, including President Tsai Ing-wen.
The Embassy is located in a building in the Diplomatic Quarter in Shilin District of Taipei that accommodates a number of other embassies belonging to Taiwan's Pacific and Caribbean allies.
"The Embassy bears testament to the fact that our bilateral relations have reached a major milestone, thereby opening a new chapter in our future cooperation," said Vice President of Taiwan Chen Chien-jen.
The Taiwan government looks forward to working with its Vincentian counterpart to promote the sustainable development of both countries and the well-being of their people, said Chen.
He added that he anticipated a deepening and more diversified partnership in the future through the efforts of SVG's ambassador in Taiwan, Andrea Bowman.
"I believe bilateral relations between the two countries will be deepened and Vincentians in Taiwan will be taken better care of," Chen said, after expressing appreciation of Kingstown's efforts to "overcome difficulties" in opening an embassy in Taiwan.
At present, about 130 Vincentians live in Taiwan, mostly students Bowman, a career educator, has as her second in command Elroy Wilson, a foreign service officer. Two other persons, most likely Taiwanese nationals, will be employed at Embassy to fill the positions of clerk/receptionist and driver, Minister of Foreign Affairs Sir Louis Straker told SEARCHLIGHT recently.
"The establishment of this embassy is a tangible indication of the commitment and trust shared by our nations," Bowman said, describing the Embassy as "a new home in a space where it feels a sense of belonging."
"One does not establish a home if one intends to move on the following year," she added, reaffirming Taiwan-SVG relations.
The Prime Minister's delegation to Taiwan also includes his wife Eloise; his daughter Isis Gonsalves; calypso monarch Shaunelle McKenzie; former National Insurance Services executive Mineva Glasgow; Roslyn Johnney, a resident of the Prime Minister's constituency; and a member of the Prime Minister's security detail.
The newly opened embassy in Taiwan is the fifth one SVG has established around the world, demonstrating "the high regard" the two countries have for their diplomatic relations, according to Gonsalves. This country's four other embassies are located in Washington D.C., Havana, Caracas and Brussels.
The opening of an embassy for SVG in Taiwan is considered long overdue by some, as Taipei's embassy in Kingstown was opened in 1983, two years after Taipei and Kingstown established diplomatic relations.
Prior to the establishment of its embassy in Taipei, Kingstown handled bilateral affairs and took care of its nationals in Taiwan through an honorary consul and sometimes with the help of Saint Kitts and Nevis' mission in Taiwan, headed by Jasmin Huggins. The responsibilities were later assumed by Peggy Carr, a Vincentian resident in Taiwan, whose efforts were recognized by Gonsalves on Thursday.
The new embassy comes at a time when Beijing is stepping up its suppression of Taiwan's participation in international events, Focus Taiwan reported.
Since President Tsai took office in 2016, five diplomatic allies — Sao Tome and Principe, Panama, Dominican Republic, Burkina Faso and El Salvador — have severed diplomatic ties with Taipei and switched to Beijing.
l Also see Photo on Front Page