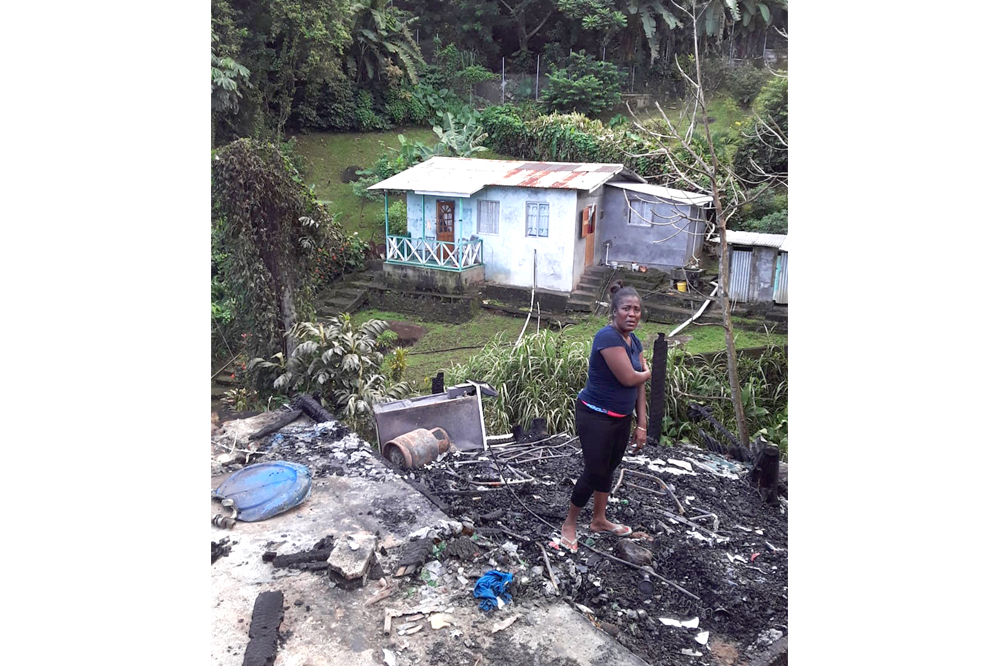 Front Page
August 6, 2019
Mother pleads for help after fire destroys home
A mother of four is calling for justice and the public's help after her Green Hill home burnt to the ground on Emancipation Day in what she suspects to be an act of arson.
Susan Phillips told SEARCHLIGHT yesterday that she is seeking assistance from the public and the Prime Minister after losing everything when her two-bedroom plywood home burnt down last Thursday.
While she is grateful that no one lost their lives in the fire, she said it destroyed all of her and her children's clothes, her children's school items, a laptop, cell phone, jewellery, furniture and multiple appliances.
"I wasn't there when the fire started because I was at Peter's Hope by my children them father house and I got a phone call…that my house got burned," she said.
The Green Hill resident said that she lost her job as an auxiliary officer in April and has been having difficulty keeping up with mortgage payments at a local credit union.
She added that the house, which cost her approximately $17,000 to build, was situated on family land and she does not have a deed because other relatives also have houses there.
"I'm in a very bad state. I'm in a situation where I don't even know how to think of myself right now. I heard people house got burned already and I never know it felt like this because if it wasn't for the mercy of God, I would have already gone to do something out of the way," she said.
As her voice cracked with emotion, she said it wasn't a good situation to be in as she has had to be moving house to house since the incident.
While Phillips said that she has no known enemies, she noted that a close relative had threatened more than once to burn her house down.
And she believes that the relative is somehow involved in what happened.
"I went to CID but I find CID is very lackadaisical. I'm not saying that they're not doing their work but they haven't picked up anybody as yet and I gave them four names I could think about who could have done this to me," she said.
Phillips' friend, Rackel Spring had been living in the home for the last six months as well. And she too, lost many of her belongings in the fire.
"I feel bad," she told SEARCHLIGHT, noting that she was at work when a friend called and told her that the house was burning.
Phillips said she would be grateful for any assistance that persons would be willing to provide.
"I'm asking for justice and I'm asking the public at least if they could help me because…I don't have anywhere I can go and say live," she said.