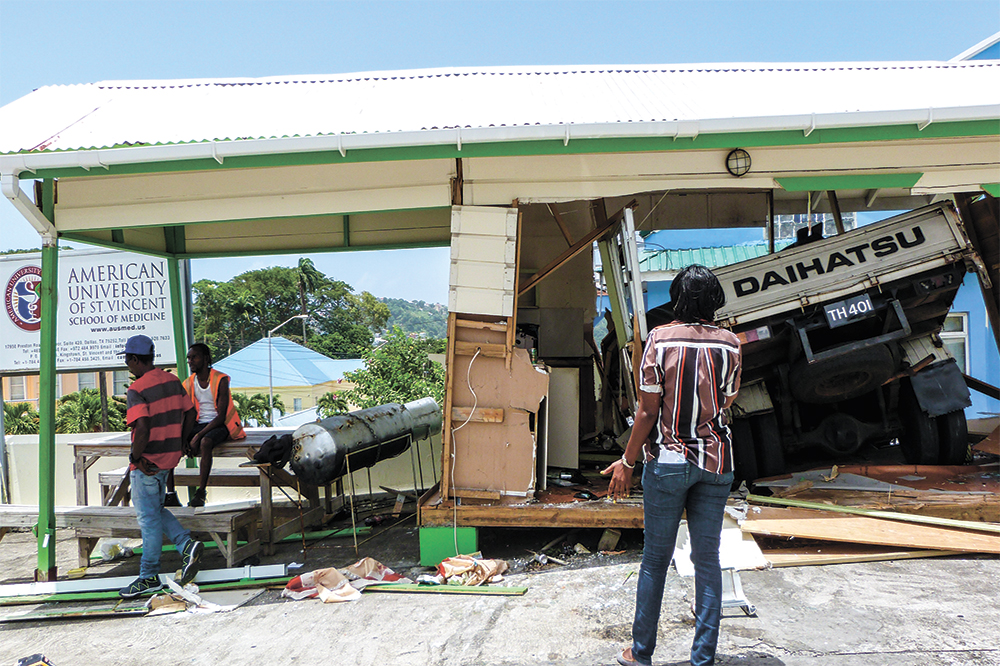 Front Page
August 2, 2019
Runaway truck smashes through tuckshop at American University
Many are lucky to be alive after a truck, said to have lost its brakes, plowed through the gate of American University at New Montrose before smashing through a tuckshop where two women were.
According to reports, at around 10:30 am last Friday, a truck, plate number TH401, was being driven by Owen Lewis of Campden Park as it travelled downhill into Kingstown to deliver boxes of Pinehill juice to Coreas Distributors Ltd.
The driver reportedly lost control of the vehicle as it approached the American University and the Central Water and Sewage Authority (CWSA). It drifted into the other lane, and smashed into a green vehicle that was travelling up the hill, turning it 180 degrees to face the direction it had come from.
That collision not enough to stop the truck's fast descent and it then smashed through one half of the gate of the American University compound, taking it clean off its hinges.
The truck crossed some more distance across the grounds of the University, before mowing down the board structure that was the tuckshop, and coming to a rest just before a low wall separating the University from a blue house below.
Two women were in the tuckshop at the time of the accident.
A witness at the scene of the accident said on hearing the screeching and loud noise when the truck hit the tuckshop, they ran out to see what was happening. After this the women started screaming.
One of the women works at the shop, and another is said to visit her frequently. While one woman was lucky enough to be in the part of the tuckshop that was not directly hit by the moving vehicle, she received a cut. Apparently, a fridge had to be moved to free her.
The other woman was in the section of the shop that was directly hit, and it is said that she was in front of the vehicle, and was worried that her legs were broken.
Inside of the truck was the driver and his conductor. The driver was said to be trembling, with pain to his knee after the collision.
All five persons, including the driver of the green vehicle that had been hit, were taken to the hospital. It has been confirmed that there were no serious injuries.
See also Back Page