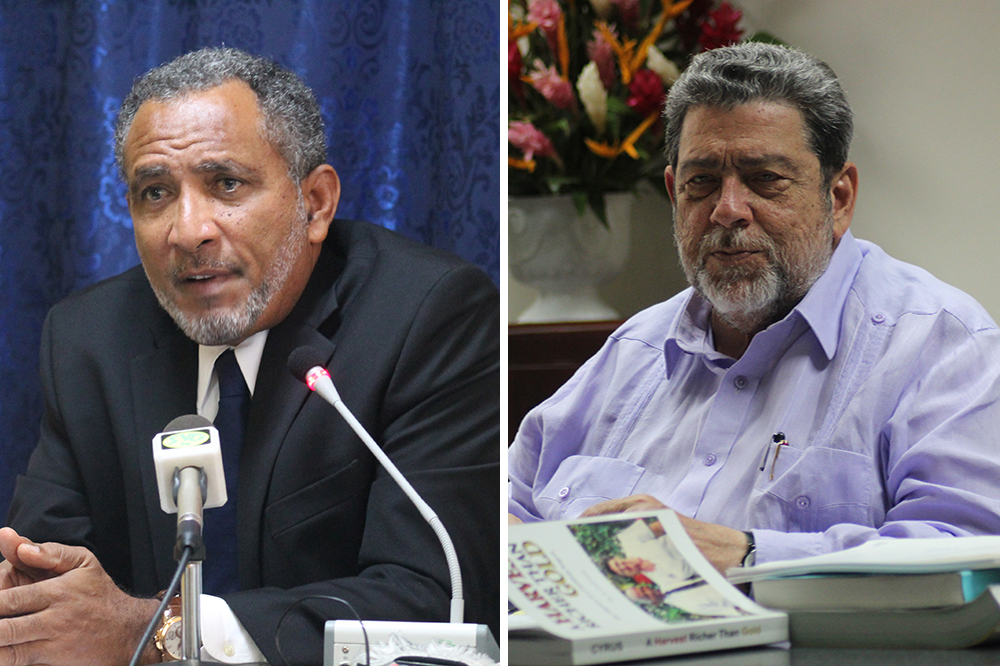 Front Page
August 2, 2019
Parliamentarians take 'hands off' approach to buggery and gross indecency
Parliamentarians here are seemingly prepared to let the court decide on whether buggery and gross indecency laws in St Vincent and the Grenadines are unconstitutional.
It was announced last Friday that two gay men have filed court proceedings to challenge St Vincent and the Grenadines' "buggery" and "gross indecency" laws, which criminalise homosexuality.
Opposition leader, Dr Godwin Friday, during a press conference this week, commented briefly on the matter, which he said he learned about through the media.
"It's not unexpected because it's something that has been done in other parts of the Caribbean as well. The matter is in the courts, so I'm not going to get much into it, just to say that the applications that have been made to the court, that is the right of anyone to apply to the court if they feel their rights have been violated and the process will work its way through," he said.
Friday, in response to a question on the issue, said that it is a very contentious matter. He also said that the laws, practices and attitudes change overtime in different societies and each society has to move along at its own pace.
Prime Minister Dr Ralph Gonsalves also commented on the issue while speaking on radio last Sunday.
The prime minister said that whether it is a male buggering a male or female, the provisions of the current buggery laws say that this act is illegal. And the case addresses whether persons can be allowed to do this in the privacy of their homes once it is among consenting adults.
A successful challenge of these laws took place in Trinidad and Tobago and a similar case has also been filed in Dominica.
Gonsalves said that he has also heard of intentions for a case to be filed in Jamaica.
When it was suggested that he amend those laws in anticipation of the outcome of the case in SVG, he responded in the negative.
And he added that everyone has a right to ventilate their grievances in court and it is up to the court to give a verdict on the matter being ventilated.
"Clearly the gay and lesbian community have decided, internationally and regionally and I'm making this comment in an objective manner and I'm not making any comment other than objective, I'm not expressing a view. They have clearly decided to test the constitutionality of these laws and in Belize, the court said it's unconstitutional to have this law to prevent persons from engaging in these activities in private among consenting adults," Gonsalves said.
The prime minister believes that whatever the outcome of the cases in Dominica and SVG, it can determine how the OECS goes forward on such matters as well.
"…It will be an OECS decision so it will apply because all the legal provisions, constitutional provisions are similar and the legislation is basically similar and if the legislation is unconstitutional here and in Dominica, you can say it will be unconstitutional in Grenada, Antigua, St Kitts and so on…" he said.
Javin Johnson, 22, and Sean Macleish, 53 are the Vincentian men who have challenged SVG's anti-gay laws.
Both men, who have been advised by Jeremy Johnson QC and Peter Laverack of 5 Essex Court, London, assert that their dignity and autonomy are stripped by these laws.
They have filed claims with Affidavits stating that they have been exiled from St Vincent and the Grenadines due to the severely draconian and damaging effects of these laws.
In 2017, Johnson successfully claimed asylum in the United Kingdom having established that he could not live as a gay man in St Vincent. Macleish is a Vincentian resident in Chicago, Illinois.
Macleish has publicly advocated to Prime Minister Dr Ralph Gonsalves for the removal of these laws so that he may return home with his partner, but to no effect.
The two claimants are unknown to each other, having separately decided that now is the time for decriminalisation. They say that these laws violate multiple and overlapping rights in the Constitution, which are there to protect all Vincentians, no matter who they are or who they love.
The challenges were filed by local lawyers, Zita Barnwell and Jomo Thomas, listing English barristers Jeremy Johnson QC and Peter Laverack of 5 Essex Court, London, as the intended trial advocates. 5 Essex Court was instructed by a team at Hogan Lovells, which includes Charles Brasted, partner, Tom Smith, senior associate, and Iris Karaman, trainee solicitor.
The two challenges are expected to be heard together in the High Court in Kingstown. The British Privy Council may have ultimate say on these colonial-era laws, as St Vincent and the Grenadines still sends its appeals to the old imperial court in London.