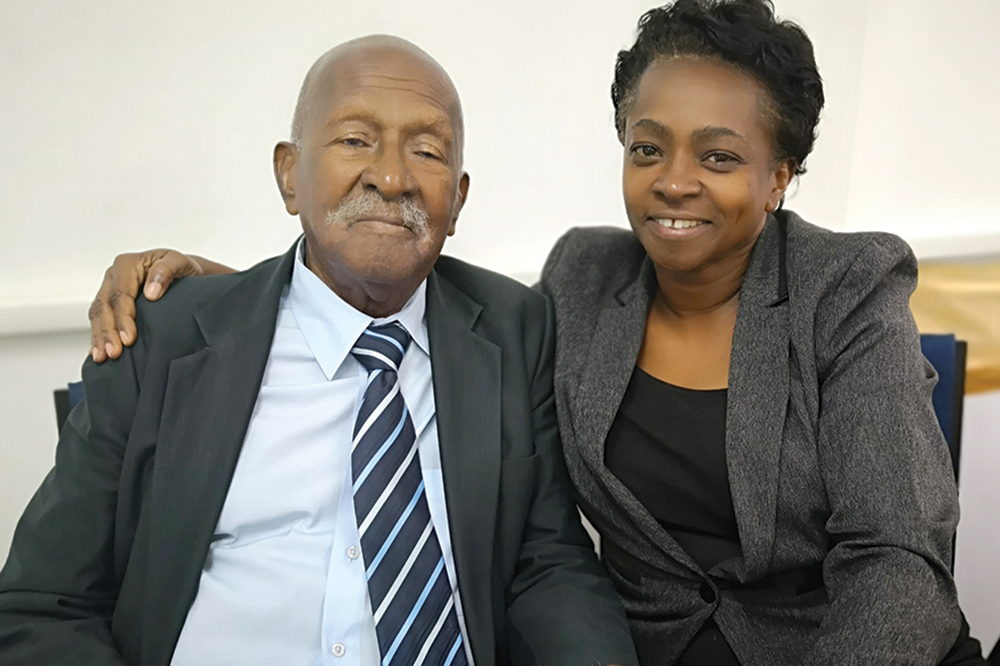 Woman opens Pandora's box, finds her biological father (+ Video)
Determined to learn about her presumed Garifuna ancestry, a former diplomat stumbled on evidence that led to her father's identity, opening a proverbial "Pandora's Box," and changing the course of her life forever.
Doris Debra Williams-Charles, a retired public servant, originally from Vermont, recently shared with SEARCHLIGHT, the amazing story of her three-year search for truth.
"I knew somehow, from the documentation offered to me by eight international companies, that I was looking for both my mother and my father…This was no figment of my imagination. I really did not have any named biological father and possibly no named biological mother as this unfolded. Do not get me wrong. I had grown up with parents," Doris shared.
In 2010, Doris Williams-Charles was assigned to the position of Minister Counselor/Deputy High Commissioner/Deputy Head of Mission at the High Commission for St Vincent and the Grenadines in London, United Kingdom.
While in London, she began working with others to document the Garifuna culture and was encouraged to take a DNA test to give legitimacy to her claim of having descended from the Garifuna people.
"I purchased a kit," and after a six-week wait in the second half of 2016, the results arrived.
"Among my many findings… I discovered that I was NOT a Garifuna descendant. I was confused and devastated simultaneously. I can't explain it any other way."
But Doris was to find out something even more earth shattering.
"While still in the UK, my second DNA test in 2017 produced some more startling results. I found that I was 'excluded genetically' from my known paternal siblings. On my maternal side, however, I was still not able to trace any direct links there either so, I communicated all this to some of my known relatives and friends in St Vincent."
According to Doris, the news about her DNA results was twisted by some to say that she had disowned those who loved her, and thus began what she described as the darkest period of her life.
"… I had stumbled upon the truth of what was substantively me and I needed help to assess and process it all. I became so afraid of what I had found.
"I am positive that I walked through the darkest period of my life. I did so only with the prayers of those who had come to love me for taking such bold steps. I needed to know more about the new me that I had found. I was determined and held on to the belief that one day; some day I was going to know the truth about my ancestry. I chuckled off and on; cried some days but never giving up on my search."
She was hurt by the response of some of her loved ones, she told SEARCHLIGHT.
"Vicious and cutting to my core, were some of the words expressed about me and my search for the truth about me …
"As the days progressed, my conviction was strengthened and I knew somehow, from the documentation offered to me by eight international companies, that I was looking for both my mother and my father. God had allowed me to unearth a most precious gem of truth. Indeed, this was no figment of my imagination. I really did not have any named biological father and yes, possibly no named biological mother. This was not received very well and understandably so. I wish here to acknowledge that my known "mother" along with my stepfather, and my "father" were responsible for my education and upbringing. They had cared for me at all material times. The villagers in the community of Vermont assisted them in this mammoth task and I owe them a debt of gratitude forever.
"However, as a student of research and with a renewed and dedicatory prayer life, I questioned relatives and friends repeatedly; checked with several institutions and communicated every bit of information about my DNA findings. I tried to persuade many that I had stumbled upon the new me. Many did not believe me at all," Doris said.
"My search intensified because I was so sure that at least one of my birth parents had to be alive somewhere. Most of my DNA cousins led me on a trail leading to Tobago, Grenada and the Grenadine islands. I felt it in my entire being and when I expressed this to some of my friends, they began to view me with much concern for my mental health. They would either hug me or pray for me … I experienced a major separation or rupture in my known family.
"The thing is, I held to the belief that I was on the right path. I had the facts before me as well as the support of prayer partners. I pressed on each day. I would not give up.
"Having ended my tour of duty in the UK, I returned home but with the same conviction. I was determined to find my biological parents."
Just six weeks ago, in June 2019, Doris had a major breakthrough.
A woman who was living in Tampa, Florida and who was born in Scarborough, Tobago uploaded her DNA to the same company Doris had used three years ago.
Almost immediately, they were 100 per cent matched to have one of the following relationships with each other: grandparent / grandchild, half-sibling, or aunt / niece.
"We were matched at 1722 centimorgans. The woman was about three years my senior and through the process of elimination, we both arrived at the possible connection as half siblings."
Doris said the Tampa resident also uploaded her DNA to another company she (Doris) had used and the result was even higher. This was 1948 centimorgans.
The centimorgan is the unit of measure for one's DNA that is shared across segments.
"We had 90-shared segments. My blood 'ran' cold," Doris related.
"Her name was Jaclin Frederick. My name is Doris Debra Williams. We were located miles apart yet. I reasoned that both of us must have had a parent in common. The person may be dead or alive. I kept my faith alive. This must be it! I breathed really hard. "What is this at all?" Doris said she mused to herself.
"Who was this woman and why had she of all persons matched with me at such a high level? I did not know her. Jaclin would later relate that she had expressed the same sentiments on her side of things."
Jaclin Frederick is the daughter of veteran lawyer John Horace Bayliss Frederick and sister of lawyer and political activist Vynnette Frederick.
Jaclin told SEARCHLIGHT that after speaking with Doris, she too felt a strong connection and she made arrangements for Doris to meet Bayliss, who will be 95 years old in September.
"I arrived at Mr Bayliss Frederick's home/factory in Cane Grove on Sunday, June 9, 2019. His eyes held mine and there was something quite strange that was exchanged between us. Maybe it was a spiritual adjustment of sorts," Doris related.
"Could it be that I had found my father? I dismissed the thought immediately….
"We spent a busy day together and as we parted, instead of just making a small wave and saying a "gentle goodbye", Doris said something pushed her to give a special shake hand. "I pressed his hand to my cheek as my final words then were, I wish you a most pleasant onward journey."
"What a loving old man, I thought. He had a deep spiritual conviction and it was a blessing to have listened to him," she said.
That very evening, Doris said someone told her that she should discontinue her search because it was causing so much pain to others.
"I told them that it should not be so and that I too was pained by my searches, but why should I not know the truth about myself?"
However, during a telephone conversation with Bayliss one day later, he said: "Let me tell you this my dear lady, there is no doubt in my mind that you have to be my daughter. I claim you as mine."
"I laughed at first then I had to express how I felt. "Are you serious Sir? It is not like you have to say this…He assured me that he did not need any test to prove that he is my father."
Doris said that is when Bayliss shared about a relationship he had in the early 1960s with a lady who had worked for him and his first wife as a live in maid at a house in the Fort Charlotte area.
"What lady?" Doris said she asked.
Bayliss said her name was 'Veta Straker' from Vermont. After it was noised about that Veta was in a relationship with him, she was asked to leave her job for obvious reasons. However, some time later, Bayliss found out that Veta had given birth to a child, and subsequently left for Trinidad and Tobago. She may have been sent abroad given the circumstances.
But 'Veta Straker' was not the name of the woman who had raised her and who, for most of her life, Doris had believed was her biological mother.
"I had to know. I had to push the lid off the pan and spill some of what was left therein. 'So who was Ms. Veta Straker?'" Doris said she insisted.
"When I questioned Mr Frederick, he said that given the circumstances, he believes in hindsight, that Veta may have given the baby away to a sister or a relative for its care unbeknown to him. He claimed that he was unaware of the existence of that baby until the day Doris walked into his life."
Doris said she pondered on these things.
"… Oh God! Please God. I was crying because this could be me. People told me to leave it alone. Now this! I thanked Mr Frederick and Jaclin. I prayed my loudest that this old man was not making up the story. Of course, I thought that I was going to prove him wrong. After all he was an old man and maybe, just maybe he might not have had a sustained detailed memory of yesteryear. Then again, what about that centimorgan count?" Doris reasoned with herself.
"On July 2, 2019 I sat next to Mr Bayliss Frederick on my couch. I prayed first as I struggled with a bit of anxiety to open that 'telling' white envelope. The results were here. I knew that a response could be either negative or positive. I took a deep breath. I prayed again, silently. He was anxious. I felt a knot in my stomach. Maybe I needed to have a drink of water. … I was not sure what to expect and hoped for the best," Doris related.
"DNA Diagnostic Center. White envelope. Another of Bayliss's daughters, Vynnette Frederick was holding a camera and then I hurried on. …. I read it as I opened. There!
"Paternity probability: 99.99998%"
Doris said that she was stunned by the results.
"My sister Vynnette gave a shout of triumph! "Boop! Boop! Boop! Daddy! … Doris is your daughter." For a few minutes, it was all a blur. He touched my hand and then grasped it and pulled me gently to him. I reached across the small space and hugged my biological father for the first time ever …" Doris said.
"Oh praise God, praise God. No more pains. No more pains. My pain is gone," Bayliss said.
"My father, my Dad asked that the results be framed. He expressed the greatest pleasure of being my father," Doris said.
"I will love the man who gave me my biological origin, my life after God. Daddy calls me DeDe! I am his new baby girl. I feel so very blessed to have him and all my siblings in my life. Thank you Daddy and to all who believed in me and supported me on this journey."
But Doris said she is not done yet as she needs to know about Veta Straker and how she (Doris) came to be raised by her parents, one of whom is still alive. Whether or not Veta Straker is my biological mother, I will find the answers that I am looking for, as always.
Doris's birth certificate gives her date of birth as December 7, 1963, but the name listed as the birth mother is not 'Veta Straker'. She also wonders how accurate is her birth date, as circumstantial evidence suggests otherwise.
"There are more questions than answers," Doris told SEARCHLIGHT, while encouraging others to continue to question their own ancestral origins when in doubt.
"Please continue to search and be prepared for an unprecedented journey also."