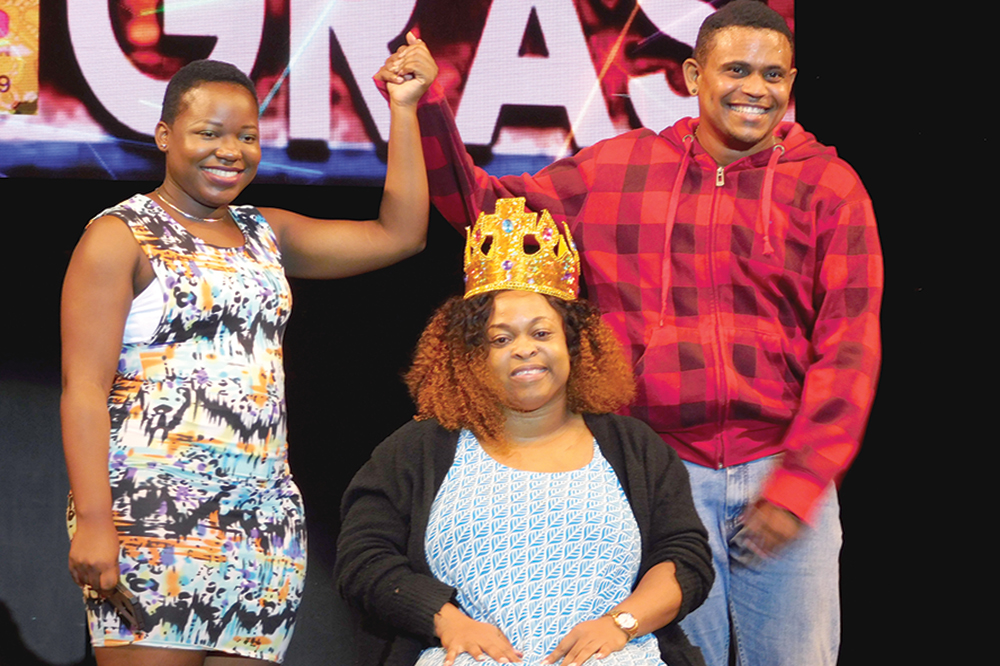 Shaunelle does the double
Two crowns in one year after a 17-year gap was enough to make Shaunelle McKenzie, crowned Calypso Monarch 2019, cry tears of happiness.
McKenzie's young daughter happily embraced her excited mother after the crowning, which took place after results were tallied for the 12 contestants who sang 24 songs at Dimanche Gras 2019 held at the Victoria Park last Sunday night.
"It's just years, after years, after years of trying, and disappointments and finally," she commented to the media emotionally. By the end of the interview, her face was wet with tears.
McKenzie, who has been singing for 26 years took the Queen of Calypso crown this June 23 after being denied it in 2018 by Joeana "Nubian Princess" Christopher. McKenzie had also previously made it to the finals of the Calypso competition four times, placing third in 2013 and 2017, and second in 2018, but dropping out in 2016. However, her achievements date back to the time when she used to compete in Junior Calypso competition, and won eight crowns.
"My hard work has finally paid off," the songstress stated in the wee hours of Monday morning.
McKenzie sang two songs for the judges, "What is Your Role?" being her first, and "Crown Me Now," her second.
"Crown Me Now" was born out of some emotion after the Queen of Calypso crown slipped from her grasp last year, she informed.
"The second song was a bit personal for me in that I gave my writer that idea after I didn't win the Queen of Calypso. So I actually gave that idea off of emotions, and it paid off for me in the end," she summarized. For this song she entered the stage in a casket, which the Calypsonian admitted was scary for her. "I was so nervous, like even shooting the video in the coffin was nerve racking for me, like lying there like 'Oh my God, I'm in a coffin.' It's something I don't think I will ever do again," she confessed.
Her performance for "What is Your Role?" began with a skit in which persons were shown in a church setting, and a suggestion was made for the church to go out into the community. This was quickly, and comically, pushed aside by the "Pastor".
Speaking about her songwriter, Crystal Cummings-Beckles of Barbados, and the idea for her first song, McKenzie informed, "When I gave her (Cummings-Beckles) this idea last year, we had a lot of rape, children being molested, and I said, "Crystal, I wanna sing about the Church, I wanna know where they stand on certain things, where is the church in society?"
The Calypsonian said that the writer put a different spin on it, but captured the main idea which was, "Why aren't we hearing the Christian community more as it relates to crime, children being molested, violence against women…"
The songstress dethroned the 2018 Calypso Monarch Zamfir "Man Zangie" Adams who has four crowns to his name at the National Competition. Adams could be seen leading the stunned McKenzie onto the stage after the results were announced, with his arm over her shoulder.
He had to settle for second place this year, although making the Calypso fans especially excited with his up tempo song "Born for This," which was a declaration that "Man Zangie was born to sing Calypso."
Robert "Patches" King took the third spot, and Shena Collis came in fourth.