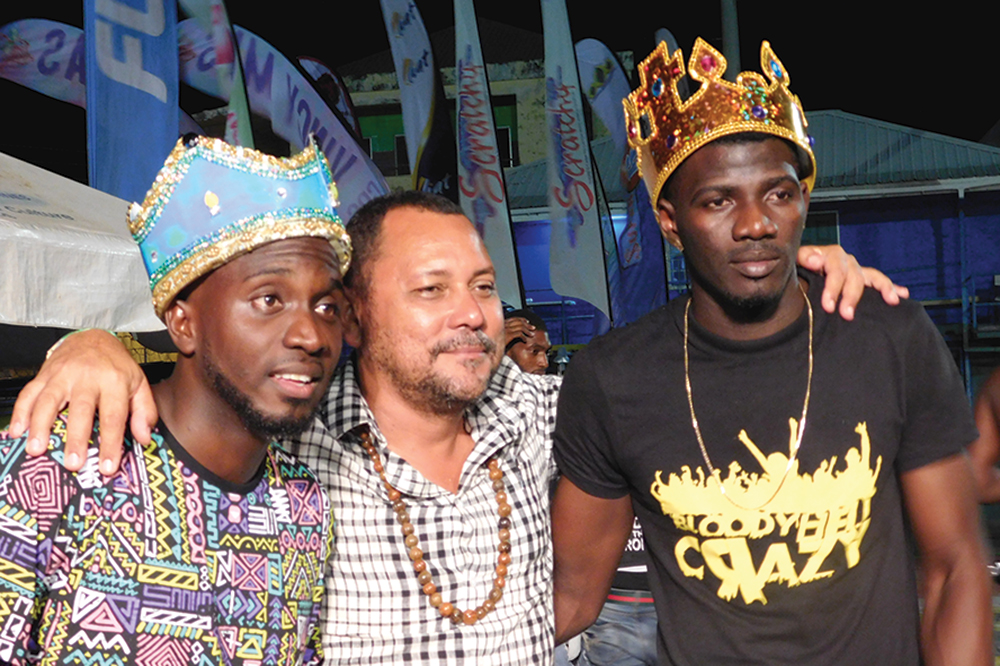 Hance grooves his way to Ragga Soca title
Hance John has once again proven that he's in the Soca top class, singing his way to the Ragga Soca 2019 crown last Saturday with his song about the "uptown party with the downtown vibes."
John, known for his catchy melodies, with hits like "Déjà Vu," and "Sugar Mammi," the song which won him the Ragga Soca monarch crown in 2017, competed against nine others at the Soca Monarch Competition on July 6.
Moments after being crowned by the reigning Miss SVG, Sharikah Rodney, the 27-year-old singer revealed, "I'm happy, I'm elated…is a blessing."
"God is so good, you know. It is really a blessing to be here once again," he commented, noting that it feels like he's been there before, with a reference to his previous win and his song "Déjà Vu."
The competition was fierce on the Victoria Park stage, with popular figures like Delroy "Fireman" Hooper taking the stage with "GPS", and artistes like Chewalee with his supporters in the crowd dancing with plastic rum bottles and flags to his song "Rum Cheaper than Woman". In the end, Fireman had to settle for second place and Chewalee, third.
Fimber "Fimba" Jardine, the reigning Ragga Soca monarch who overtook the competition in 2018 with "Funky Business", entered the competition this year with "Neighbour."
However, John stated that his competition was himself. "It's not to be boasting or full of myself, but when we go out here to perform, our only competitor is ourself. We respect every artiste, and we appreciate what they're doing, and we respect talent," he stated, commenting that his team knew they were capable of achieving their mission.
John's loss last year was not going to knock him back. "I know I was very close in terms of recapturing the crown and regaining the crown. It's just a matter of coming back again because sometimes you get defeated or you lose and you would want to give up, but this is not the case, or that is not the case with Hance John," he assured.
The Ragga Soca monarch's success in the Soca arena began with his four wins at the junior calypso level. John, whose experience has been growing since he first began singing in 2003, has also written songs for Delroy "Fireman" Hooper and Shaunelle McKenzie.
His recent song "Uptown Party" is meant to represent a "best of both worlds", merging concepts of the uptown or exclusive parties, and the down town vibes. The quadrille riddim was produced by Mark Cyrus and Darron Andrews.
John was joined by a number of dancers on stage, in a range of costumes, and there were painted depictions of dances and parties in the background. Confetti shot from the stage was his aid in engaging the crowd.
This performance which was a "great one" for John, was said to taken a lot of hard work. "We spent a lot of late nights preparing for this, into morning. Actually we leave the stage like after four, minutes to five in the morning rehearsing here in the park, so was a lot of late nights and pumping," he explained. In fact, he commented that he and the team wanted it to be more than a performance, but a production, and he felt that they executed this.
John thanked his team, including Island Network, and his family.
His daughter, he commented, "is really the highlight of my success here tonight, because I want to make her proud."
Next year's soca competition will see him again, John assures, "Most definitely I'm coming back, God spare life, most importantly, once God give me health and strength."