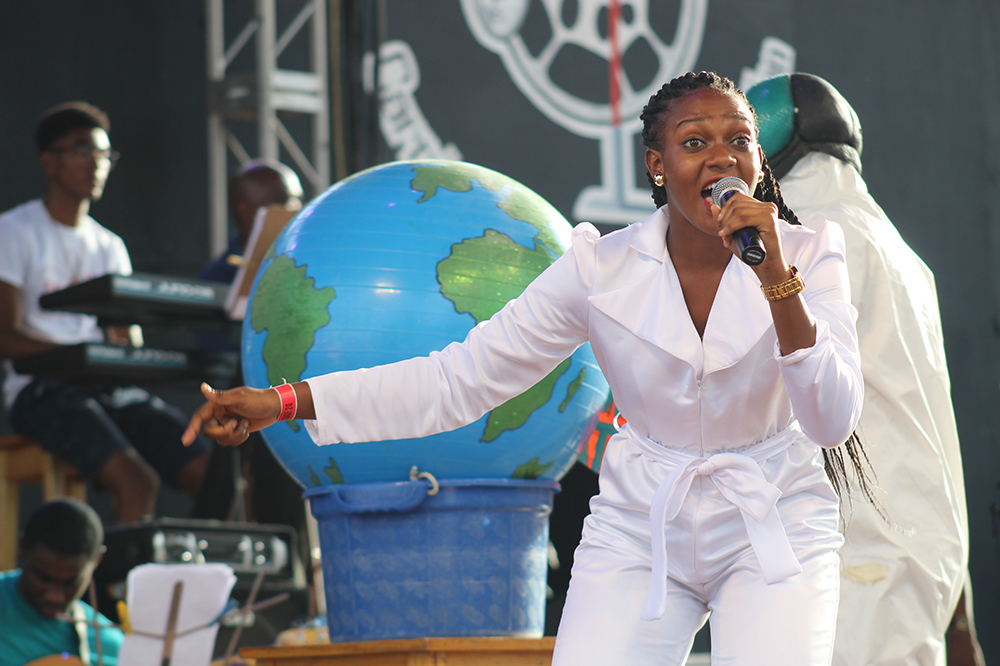 Singing Kristy releases 'Global Monster' for 7th calypso crown
The junior calypso competitions said goodbye to Kristiana Christopher this week with the teenager taking her seventh crown.
Kristiana is the 2019 winner of the junior calypso competition's secondary school category, a feat she achieved last Tuesday during the competition at Victoria Park.
Performing a song on climate change called "The Global Monster", Kristiana beat seven other calypsonians. The song was written by her father Wallace Christopher.
"Hard work and determination. A lot of practice and experience in the tent," is what Kristiana, singing since she was eight, attributed to her success this year.
She added that she felt good about being able to compete at the tent level and also about taking part in the National Queen of Calypso competition.
"I really went for the experience to push out my song and get people to understand it a little bit more. I did not feel bad when I did not win because I stumbled so that was maybe why," she said, while adding she is hoping that one day she is able to beat her aunt Joeana Christopher in competition.
The Layou resident, when questioned about the calm demeanour she and her brother Kristian Christopher are known for, she answered, "Nothing duh bother we. We accustomed to this."
At Tuesday's event, her brother won the primary school category for the fifth time.
Kristiana said that she thanks her mom, dad and other family members, especially her brother for always motivating her.
"Most of the time, I am a person who would get fed up if I have to start over a song a lot during practice, so he (her brother) will tell me 'Kristy don't behave so, just go back and get the thing'," said the 17-year-old.
This year, Kristiana also placed second in the junior Soca competition with "Shell down the place".
If the rules remain the same, this is Kristiana's last time competing in the junior calypso competitions as she has just graduated from fifth form.
The rules currently make students from the St Vincent and the Grenadines Community College (SVGCC) ineligible to compete as juniors, hence the absence of last year's winner Damian 'Boney Man' Noel from the competition.
In second place was Christopher Bacchus of the St Martin's Secondary School with "It Taking Too Long" while third place went to Ronella Lavia of the West St George Secondary School with "I Love Calypso".
The other competitors were the Thomas Saunders Secondary School's Tia Wyllie with a song called "Youth of the Nation", Angellica Corke of the Troumaca Secondary School with "Legacy", Bevorn Baptiste of the Sandy Bay Secondary School with "Where were you", Grennon Nero of the Sandy Bay Secondary School with "Boots Licker" and DaleAnn Nero of the Sandy Bay Secondary School with "Stop Posting".