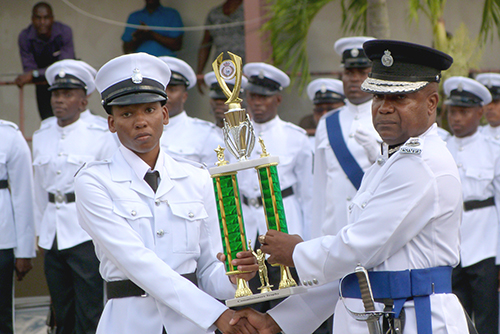 Smart cops several awards at police passing out ceremony
by Katherine Renton
The 78 recruits who took their oaths of office last Thursday were "unbreakable" during training and will remain so in the future, stated their Valedictorian Ria Smart.
Woman Recruit Constable (WRC) Smart delivered her address at the 37th passing out parade for new recruits at a ceremony held on the grounds of the Old Montrose Police Training School.
When her name was called, Smart emerged from within the ranks of the recruits, all of who had been standing for hours in the hot sun. She marched precisely to the podium, causing the audience to be impressed with her movements and express such.
Smart was first in the course, and was bestowed with the awards for best at psychology, best at police duty subjects, the title of best recruit, the Dr Cecil Cyrus trophy, the Commissioner's trophy, and the baton of honour.
Second place went to recruit constable(RC) Enrique Munroe, who copped the Commandant award, and the title of best at drill. Third place, taking the Chief Instructor's Award, was Silvanas McKenzie, who was also declared the best at physical training for the males, and best at disciplined subjects.
McKenzie shared the title of best in Self Defense with recruit constable Kenroy Campbell.
The most disciplined recruit went to WRC Onika Lewis, while the most improved was RC Wyon Cato. Best in sociology was RC Shammah Jack. The best at physical training for the women was WRC Shavica Thomas.
The passing out parade took place after a period of six months of training with "sleepless nights, hours by the gate, early morning runs, more rules than we ever thought was possible," as Smart described it.
Commandant of the Police Training School, Superintendent of Police (SOP) Benzil Samuel, noted that the course began on January 3, 2019, and that it began with 80 recruits. One male was asked to withdraw because of disciplinary and other issues, the SOP informed, while a female was transferred to the police tailor shop "because of her expertise."
The 78 recruits passed, and received training in many areas with included, power and mode of arrest, care, custody and rights of prisoners and detainees, domestic disputes, judges' rules, statement taking and report writing, to name a few. Additionally, psychology, mental health, and gender affairs were among other types of subjects taught.
"One can agree that six months is not sufficient time to fully train for the field of policing, but I am happy to say the time spent was intense and rewarding," Samuel stated.
Smart agreed with the sentiment that the time of training was intense. She commented, "This was not an easy six months, we had many trying times, many frustrations, but we were unbreakable, and we will remain this way throughout our policing careers."
She said that she and the recruits were not used to being told what to do, when to do, and how to do it. "…And simply asking permission for literally everything. When to get up, eat, sleep, I tell you, everything," she emphasized, saying there were some things she would not even mention.
Smart injected more humour into her speech, by disclosing that their instructors would say "That man dey, you lock up" whenever they were caught doing something wrong.
"The amount of time I heard "You lock up" these past months, I wouldn't be surprised if it got road march for Carnival 2019," Smart joked, although she herself remained serious, maintaining a professional demeanour, and not cracking a smile throughout.
The recruit revealed that there were many times when they wanted to give up, but then they remembered why they started their journey, and that their purpose was to become "great police officers of St Vincent and the Grenadines."
"Up to this day I am still wondering how I made it this far, the others would say the same. However, we are still here. The unbreakable recruits of course 37," she reiterated, and attributed this to the quick transition they had to make from "civilians" to police officers.
In the end she encouraged her colleagues that in the future, "Although our roles may seem simple and small, our efforts will make a difference. Let us continue to be the united and unbreakable Course 37."
SOP Samuel said the recruits will be sent to different departments in the police force for in service training after taking their oaths last Thursday, June 27.