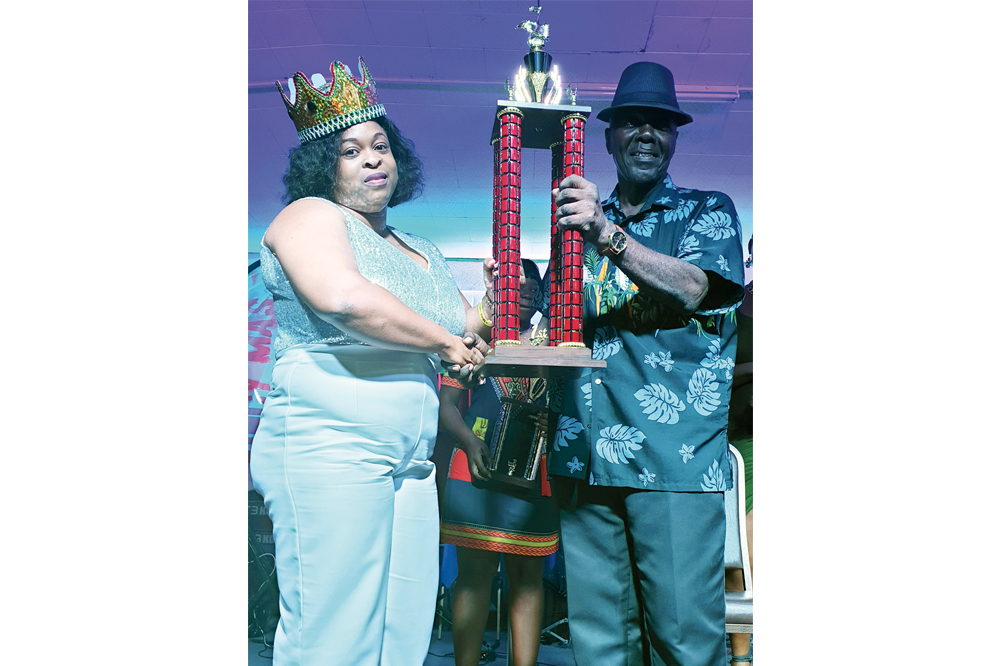 Persistent Shaunelle wins National Queen of Calypso competition
After years of trying for a senior calypso crown, songbird Shaunelle McKenzie has finally overcome that hurdle.
On Sunday night, McKenzie, with her song "What is Your Role?", out sang 14 other competitors to take the top spot in the National Queen of Calypso competition held at the Russell's Auditorium at Stoney Ground.
"Hard work pays off. That's all I could say. I've been working so hard and it's finally paying off and I am grateful," a humbled McKenzie told SEARCHLIGHT minutes after being crowned.
McKenzie is a legend of the Junior Calypso Competition, having won eight crowns. She has made it to the finals of the National Calypso Competition on four occasions, placing third in 2013 and 2017 and second in 2018. She dropped out of the finals in 2016.
She was second last year in the National Queen of Calypso competition, having been outdone by Joanna "Nubian Princess" Christopher.
McKenzie's winning rendition was written by Barbadian national Chrystal Cummings-Beckles. She has been writing for McKenzie for the last five years.
The Calliaqua resident, who is also into the semi-finals of this year's National Calypso Competition said that winning her first crown for 2019 has given her a boost going into the Friday June 28 calypso semis.
"I am feeling ready going into the next round," she commented on Sunday, amidst criticism from some members of the audience that she didn't deserve the crown.
Commenting on the background noise, McKenzie said, "sometimes I guess people don't understand what it's like'.
"Last year other persons were shouting the same thing and I expect that my competitors' fans are out there rooting for my competitors and my fans are happy tonight and are rooting for me and I am just focusing on the positives and not really what people saying. It's just a matter of opinion."
McKenzie's advice to people in competitions is not to give up.
"I tell people all the time, keep trying because God knows I have worked hard over the years and been disappointed a lot of times, and people sometimes see you one year and they don't know what you have lost over the years to actually arrive here and that is what I focus on."
Last year's winner, Joanna "Nubian Princess" Christopher placed second with her song "Move On" while third place went to Shena Collis and her song "Queens".
The other competitors were Phylicia "Nubian Empress" Alexander (Make Every Day Count), Denise "Lady D" Stephens (When You Think Ah Bush Ah People), Rolmina "Rolie" Matthews (Cancer the Destroyer), Ronella "Singing Ronella" Lavia (Calypso Education), Marvo "Lady Marvo" Morgan (Don't Lose It), Moesha Thomas (My Advice), Kristiana "Singing Kristy" Christopher (De Global Monster), Cleo "Cleopatra" Hendrickson (Frienemy), Gillian Smart (Protect our Children), M'Riah "Siah" Robertson (They Ain't Care), Cecile "Lil Bit" King (Mother SVG), Bianca "Bria" Matthias (Change The Script) and Stacy Kelly (Heads Up).
Natasha Nurse, also known as "Sexy Suzie", Trinidad and Tobago's 2019 Calypso Queen and Shernelle "Skarpyon" Williams were the guest acts at Sunday's show.